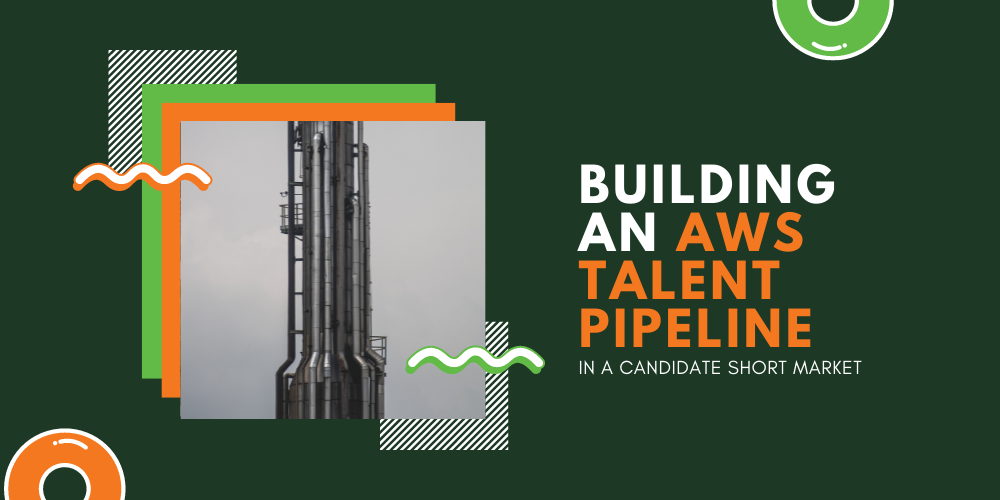 There's no getting away from the skills gap that's affecting most employers of AWS specialists right now. In a talent-scare market such as this, you need to find a number of ways to attract the best people. Not only that, but you also face the challenge of keeping them happy in settings also that meet your business needs—for example, identifying in advance whether a hire needs to be a permanent staff or just for project-based applications.
The Smithsonian Science Education Centre projected that in 2018, 2.4m STEM jobs would go unfilled in the US. In the years since that gloomy estimate, demand for cloud products has mushroomed, without an influx of professionals to mirror that increase.
Why it's difficult to hire tech professionals
When it comes to AWS talent, this is a specialized and incredibly in demand skill set which requires a deliberate recruitment strategy in order to attract the best talent. The balance of power has tipped away from employers in recent years, as professionals have their choice when it comes to looking for their next opportunity. As a result, these candidates are at an advantage to ask for more: more money, more flexibility and more perks on the job.
Alongside that, your business growth and productivity can stagnate if recruitment needs are not addressed quickly. Unfilled roles are simply a lost opportunity that will cost you money—the value of unfilled IT jobs has been estimated to be worth over $20bn to US industry alone, with tech being one of the biggest victims of this figure.
As IT is at the heart of business growth and innovation, your recruitment strategy for these roles also pivots on these two core business needs. So, to help drive your organization forward, we're going to look at the different ways to hire AWS talent to cover both your long-term and short-term business goals.
How to find that hidden tech talent
In short, to create a pipeline of candidates when talent is scarce, you need to appeal to what these hard to find professionals want. It goes without saying that compensation is going to be at the top of the list, especially in tech, where poaching and the war on talent is commonplace. Take Amazon for example, who has doubled its maximum base pay $350,000 for some corporate and tech employees because of the stiff competition.
However, that's not to say it's the only factor that will help you attract professionals, and it doesn't have to be a blind bidding war. For example, resources such as the Jefferson Frank Careers and Hiring Guide: AWS Edition can help you sense check salaries for AWS staff across a number of roles around the world, to help arm you with the knowledge you need during salary negotiations. Not only that, but as the world's largest independent survey of AWS professionals on the planet, it'll give you unrivalled access to other data, such as the perks and benefits that employees want.
How to build a talent pipeline
If you're responsible for hiring talented AWS professionals, you need to find ways to make sure your employees are happy and motivated in their roles.
Here are a few insights to help you develop a sustainable strategy around building a talent pipeline.
In-house training/upskilling
Continuous learning is high on professionals' agenda, both to keep progressing in an ever-evolving ecosystem, and to market themselves as a standout talent in the industry. In fact, 84% of professionals surveyed in the Careers and Hiring Guide believe that certifications help candidates stand out in a competitive job market.
By offering in-house training and regular opportunities to up-skill you are more likely to attract and retain talent. Plus, your current tech talent will be able to able to adapt to your evolving needs. While the worry may be that you're investing in something that makes professionals more valuable to other organizations, the reality is that keeping them engaged boosts your chances of retaining them, and making sure that value benefits you.
So, how do employers go about contributing towards the cost of certifications? Well, almost half (48%) are paying for them in full, a further 11% partially contributed to the cost, with a further 6% saying they have more than one certification and some were paid in full with others being partially covered by their employer. In short, if you aren't contributing to your team's professional development with AWS certs, you're in the company of 35% of employers, which essentially leaves you in the bottom third when it comes to one of the most attractive benefits you can offer an AWS professional.
Those that reported earning an increased salary after their certification received an average pay rise of 25%, which demonstrates its tangible benefit for employees, beyond the value that increased skillset brings to your own AWS implementation.
Ready to hire now?
We have thousands of the best administrators, developers, and consultants available on the market.
Take a look
Training and development
Creating regular L&D opportunities is vital, whether that's arranging training courses, paying for certifications, or just carving out time in their schedule. While salary is important, training and development is increasingly among the top reasons why candidates are looking to change roles.
So, what training and development are AWS professionals seeking? According to the Careers and Hiring Guide, it's AWS-specific technical training (including certifications), Machine Learning and AI, and advanced technical training (including implementation, coding and scripting).
Professional growth is closely tied with job satisfaction; your future talent wants to keep learning throughout their career, and will look for roles that create these development opportunities.
It's also a great way to add further skillsets to your AWS team, without having to find them externally.
Using a training provider
Speaking of building your tech knowledge in-house, 51% of those surveyed have cross-trained into AWS, having worked with a competitor product before moving into the AWS ecosystem.
By using a training provider, you can access talent that can be trained for your specific needs and equipped to work in a real-world environment, rather than just to pass an exam.
For example, cloud training provider Revolent prepares its cross-trained 'Revols' for the AWS certification exam, but also gives them plenty of hands-on experience with assignments similar to what they'll experience when they work for a client site.
By working with a training provider that cross-trains professionals in AWS, you're gaining access to skilled AWS professionals as soon as they hit the talent market.
Permanent staff
By hiring permanent AWS professionals, you can focus on longer-term goals and sustainable growth. Jefferson Frank's guide found that a third (33%) of freelancers who responded would consider swapping to a permanent role over the next 12 months.
Job stability and security, a competitive salary and career progression opportunities (all 64%, respectively) are the top three factors that are most likely to woo a contractor into a permanent role. While there's a perception of contractors being highly compensated and not willing to give that up, the reality is that there are many factors that can mean it's not for everyone—particularly in the face of the uncertainty the last two years have thrown upon us.
Similarly, despite that reputation for higher earning potential, 39% of permanent AWS professionals would not consider working as a freelancer. Of those, 54% favored the security of being permanent staff, 53% liked the predictable income and 42% are happy in their current role. That last one may be the most poignant, as it shows the power of retention in an industry where candidates hold the upper hand in recruitment.
If you do want to create a compelling package for a permanent role, you might want to capitalise on training opportunities that are factored into an employee's compensation package, as this is a benefit that a freelancer might not get.
Also, take a look at your employer branding and make sure that it's clear that as part of your company (rather than just working for themselves), they'd be part of a larger purpose, whether it's your internal culture or the difference they'd be making in the world. And finally, weigh up why you need this hire: as we're about to find out, it's not always the only option.
Contract staff
Taking on a contractor can often be a useful way to flex your internal resources, in circumstances such as migrations or urgent installs, to help meet short-term business goals. It can be a more expensive option immediately, but you can bring in someone with the specialist skillset you require now, without having to find work for them (and continue paying a salary) later.
Just over a third (36%) of the permanent talent surveyed said they'd consider switching to freelance/contract work in the next year, according to the hiring guide. The top three reasons for this include a higher earning potential (74%), flexible lifestyle (56%) and the opportunity to work on different projects (53%).
Of the 43% of contractors who wouldn't consider taking a permanent role in the next year, over half say they earn more as a freelancer (58%), they like working for themselves (47%) and prefer the flexibility that comes with freelancing (47%).
To attract contractors, promoting flexibility in their role is going to be important; particularly remote working and minimizing extended travel and on-site visits.
This also extends to their working hours and their ability to devote time to other projects too. Cloud specialists are in such demand now, that there's a good chance your implementation won't be the only one they're working on, as they balance more than one project at once. By championing autonomy, they get to enjoy the feeling that they're working for themselves.
Work with experts
Hiring AWS staff on your own can be difficult and expensive, especially in such a competitive market. Using a specialist recruiter like Jefferson Frank can be advantageous, bypassing the HR headache and outsourcing hiring to experts who are embedded in the AWS community.
Working with a staffing agency (such as ourselves!) saves the legwork of working out a full hiring strategy on your own. Recruiters can get results fast because they live and breathe this ecosystem. That means you'll have in-depth market knowledge of what attracts AWS professionals (and how to hire them) at your fingertips, rather than simply guessing the best approach based on your own results.
From our own experience, we work with organizations around the globe to help them hire the best AWS-certified professionals in the industry. We've matched thousands of candidates with their dream roles, which gives us an unrivalled knowledge when it comes to finding people. No matter the vertical you're in or the role you're recruiting for, we've been there, done it, and know what makes people tick.
By working with an expert, you'll get a deeper understanding of the platform and the ways industries use it.
The bottom line
Building your AWS talent pipeline is key in a candidate-short market. Reflect on the suggestions above. What are your strengths and weaknesses in attracting and retaining top talent, and what are your short and long-term goals with your AWS infrastructure?
This could be your best way to figure out the best solutions to address your unique needs. In a sector where it feels like you're constantly fighting fires, taking the same approach to hiring isn't always the best solution.
Having a combination of weapons in your recruitment arsenal, such as prioritising training and development and working with a recruiter with a strong track record, can be a leap in the right direction, when every unfilled vacancy is a lost opportunity for your business.
Get more exclusive insight into hiring AWS professionals
From diversity to work perks, certifications and platform trends—The Jefferson Frank Careers and Hiring Guide: AWS Edition has you covered.