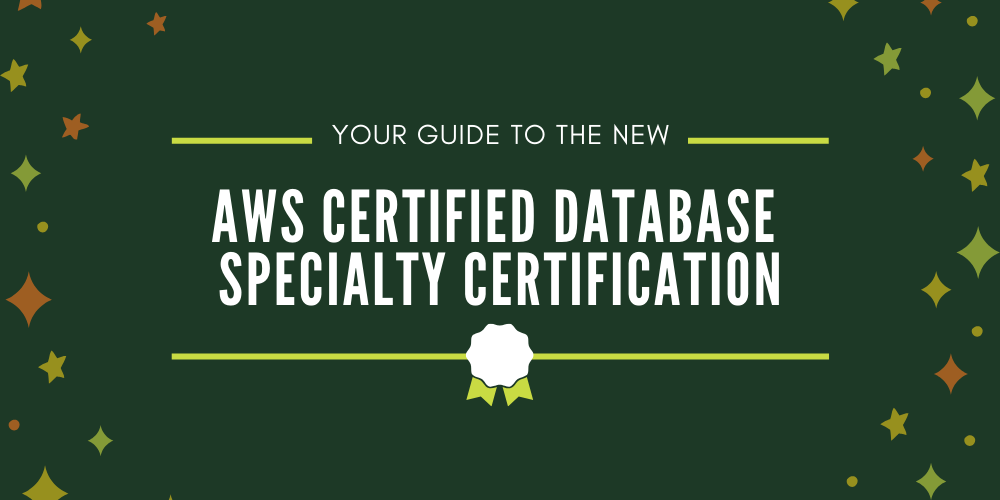 Hold onto your hats; there's a new AWS certification in town.
Data is now the most valuable commodity on Earth. As more organizations seek to exploit theirs, it's no surprise that demand for cloud professionals with database management skills is on the up.
To ensure its certification offerings accurately reflect the practical needs of the cloud ecosystem, AWS has created the Database – Specialty certification, the first AWS credential to focus explicitly on database technology.
Designed to test the skills of those working in database-related roles, the new cert will, according to AWS, validate "a comprehensive understanding of the breadth of AWS database services and how to accelerate the use of database technology to drive business transformation."
That means participants can expect to see questions related to the design, migration, deployment, and maintenance of AWS database services, as well as queries on essential factors like access, security, and optimization, including how to automate database-related admin tasks.
The certification applies to those working with both on-premises and AWS databases.
Registration opened on March 10, 2020, with the first exams scheduled to take place on April 6.
Who is it for?
AWS developed its Specialty certifications to rubber-stamp in-depth expert knowledge across a range of niche cloud fields. They aren't for the generalists; you'll need to have a practical working understanding of database technology to land this badge.
There are no prerequisites for the exam, though AWS does recommend you have:
Typically, those sitting for this certification will be Database Administrators, Data Platform Engineers, Database Developers, and Solutions Architects.
---
---
What do you need to know?
The exam for this certification is broken down into five subject areas, each weighted to reflect how much of the test will feature said topic.
Domain 1 covers Workload-Specific Database Design, taking up the most significant chunk of the exam.
This domain will assess your ability to select the right database tool or service for different types of data and workload, as well as how you determine the best strategies for disaster recovery and ensuring high availability.
You'll also need to prove your ability to design database solutions that are high-performing, compliant, and scalable, and be able to cost up database solutions to ensure you're getting the most value for your organization.
Domain 2 is all about Deployment and Migration: automating database deployment, preparing data for import, and executing and validating a successful data migration.
Domain 3 encompasses all things Management and Operations. This is your business-as-usual aspects of running a database and making sure it's properly optimized.
You'll need to showcase your ability to perform maintenance tasks and processes, determine backup and restore strategies, and manage the operational environment of your database.
The fourth domain covers Monitoring and Troubleshooting. To ace this section, you should know how to plan and set up monitoring and alerting strategies to track your database health accurately.
You'll also have to be able to troubleshoot and resolve some of the most common issues that can arise with your databases, as well as optimize it for maximum performance.
Last but not least, Domain 5 involves Database Security. This section will cover questions on encrypting data both at rest and in transit, evaluating the best audit solutions, and determining access and authentication controls.
You'll also need to prove that you can recognize potential security vulnerabilities and know how to fix them.
In terms of the products that might crop up, AWS offers a pretty wide range of database products and services; any one of them could make an appearance on this exam.
It's unlikely that even the most experienced cloud database pro will know every one of these databases inside and out, so reading through the FAQs for AWS's core database products is an excellent place to start:
Check out our latest AWS database jobs here
About the exam
The exam you need to pass to earn this certification is known as DBS-C01. As it's a Specialty-level exam, it costs 300 USD to take.
It's a multiple-choice assessment that you'll need to attend an official test center to sit. You'll have 180 minutes to complete the exam, with a required pass rate of 75%.
You'll find out right away whether or not you've made the grade; if you don't pass the first time around, you can retake the test after 14 days, and there are no limits on how many times you can sit it.
Each attempt will cost you the full registration price, however, as there are no discounts on re-sits.
How do I prepare?
AWS offers a heap of training options to help you prepare for the AWS Certified Database – Specialty exam, and many of them are free and can be done in your own time.
The four-hour AWS Database Offerings course, for example, can be done online, and covers many database technologies and architectures, before introducing you to a range of AWS database services.
Like the exam itself, there are no hard prerequisites for this course, though AWS recommends that you've already completed the AWS Cloud Practitioner Essentials course.
The AWS Learning Library is packed with short digital courses to help you round out your database know-how.
Here are a few that will come in handy if you're thinking of taking on the AWS Certified Database – Specialty certification:
There's also a free exam readiness course explicitly designed to help you prepare for the AWS Certified Database – Specialty test. The course covers the exam overview and structure, domain areas, and gives you access to sample questions.
If you prefer an instructor-led learning experience, you can join an AWS classroom course.
You can do these in person at various locations across the US, Europe, Russia, Japan, and Mexico, or online via a virtual classroom setup.
These courses run over three days and cost around 2,100 USD.
On the Planning and Designing Databases on AWS course, you'll learn how to plan and design both relational and nonrelational databases, and hear about design considerations for hosting databases on Amazon EC2.
It covers AWS relational database services like Amazon RDS, Amazon Aurora, and Amazon Redshift, as well as nonrelational database services such as Amazon DocumentDB, Amazon DynamoDB, Amazon ElastiCache, Amazon Neptune, and Amazon QLDB.