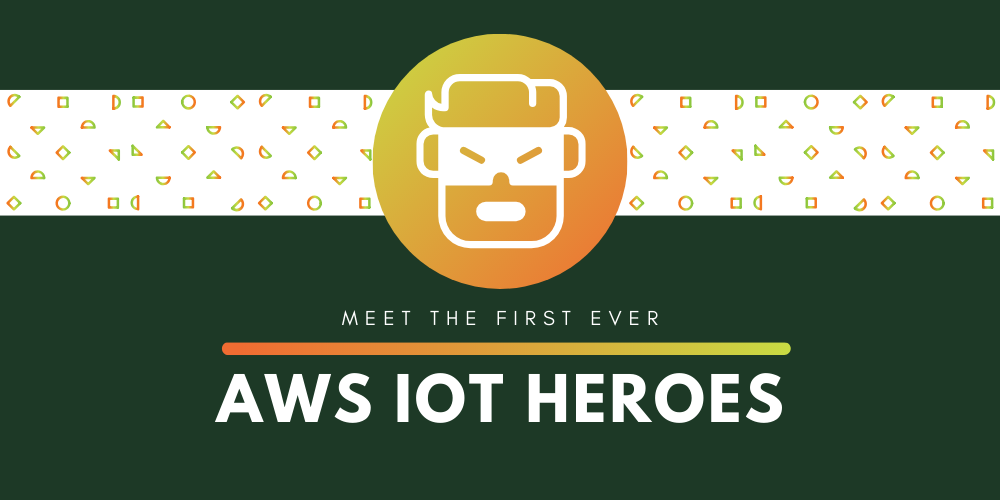 Last month, AWS announced a brand new category in their AWS Hero program—IoT Heroes.
Since 2014, the AWS Heroes program has been highlighting and celebrating the work of passionate AWS experts and evangelists across the world, who use their knowledge to support the development of others in the AWS community.
Over the past few years, AWS has added new sub-groups to its AWS Heroes program to better reflect the mounting number of specialisms found in the cloud space.
In February 2020, AWS revealed the first-ever IoT Heroes, who joined a rapidly growing stable of Community Heroes, Container Heroes, Data Heroes, Machine Learning Heroes, and Serverless Heroes.
The IoT Hero category was created to recognize the input of leading IoT technologists "who passionately drive the growth and success of the embedded, cloud, and analytics community."
The IoT Heroes were chosen by AWS for their dedication to helping IoT enthusiasts of all shapes, sizes, and skill levels develop innovative IoT solutions, either through creating and sharing open-source code, writing technical content, or contributing to user groups and conferences.
Let's meet these fantastic pioneers of the IoT world.

Stephen Borsay is an IoT Engineer based in Portland, OR.
An electronic hobbyist who loves nothing more than sharing his enthusiasm with other IoT aficionados, Stephen is well-known for democratizing IoT and embedded systems, working to make the technology understandable and accessible to people of all skill levels.
His time as an IoT Engineer has seen Stephen tackling the development of tech such as microcontroller units and field-programmable gate arrays. Today, he mostly focuses on AWS IoT and device-to-cloud integration projects.
Stephen is a prolific knowledge-sharer, authoring community IoT projects and creating and publishing online learning content and tutorials on platforms like YouTube, Udemy, and Hackster.io.
His learning materials are essential reading for professional developers, those looking to use AWS IoT to create business solutions and for budding, entry-level IoT enthusiasts.
As if that wasn't enough, Stephen is also the founder of the Digital Design meetup group, which hosts regular meetings to deliver hands-on IoT training in Portland.
Keep your eyes peeled for Stephen's new course, Serverless IoT on AWS, which is due for release later this month!

Independent Embedded Software Developer Hein Tibosch is a talented software developer specializing in embedded applications.
He also has a knack for developing web-connected audio devices.
This Bali-based IoT wizard has more than 17 years' experience in the field and is lauded for his contributions to the FreeRTOS community.
A fervent super-committer to the FreeRTOS project, Hein's been using his wealth of technical know-how to help create solutions and share them with others for the past eight years, driving adoption and supporting the work of embedded developers in the process.
Earlier in his career, Hein trained in cognitive science and AI before discovering his passion for embedded development.
He got his start in the field of IoT working with Microprocessor Units and writing medical applications on Linux. He was later introduced to the world of MCUs on FreeRTOS.

As Chief Innovation Officer at Philadelphia's Chariot Solutions, Don Coleman builds software on the foundations of AWS services.
Not only does Don work to reinvent existing technology and pave the way for the products of tomorrow, but he also uses his experience with IoT projects to share his expertise and help others employ AWS to solve their IoT challenges.
Don is a regular speaker at tech events and user groups, spreading his knowledge about technology like NFC, Bluetooth Low Energy, and LoRaWAN.
An author and instructor, as well as an accomplished speaker, Don teaches IoT skills to graduates as part of NYU's ITP program in Brooklyn and has co-written a number of books, including Beginning NFC and Make: Bluetooth.

Based in Perth, Western Australia, Nathan Glover is a DevOps Consultant at Mechanical Rock.
Throughout his time in the IoT space, Nathan has also worked as a Hardware Systems Designer and Embedded Developer, helping developers to get ideas to market faster by improving testing and deployment processes.
Nathan is a Cloud Native architecture nut, and regularly shares details of his successes and his lessons learned with fellow enthusiasts on his blog.
Committed to removing obstacles to learning by showcasing practical examples of what can be done with cloud services, Nathan has published several online courses to help budding cloud pros get to grips with Amazon Alexa Skills and AWS IoT.
Nathan's passion for all things cutting-edge tech is near-boundless: when he's not writing about IoT or teaching others, he can be found building IoT-enabled toasters, developing embedded systems vehicle tracking, competing in online security events, and acting as Technical Director for his local animal shelter where he's utilized AWS tools to improve form processing systems.
How much should you be earning as an AWS pro?
The Jefferson Frank Salary Survey provides a unique insight into the Amazon Web Services community. Get your free copy now.
Download the report