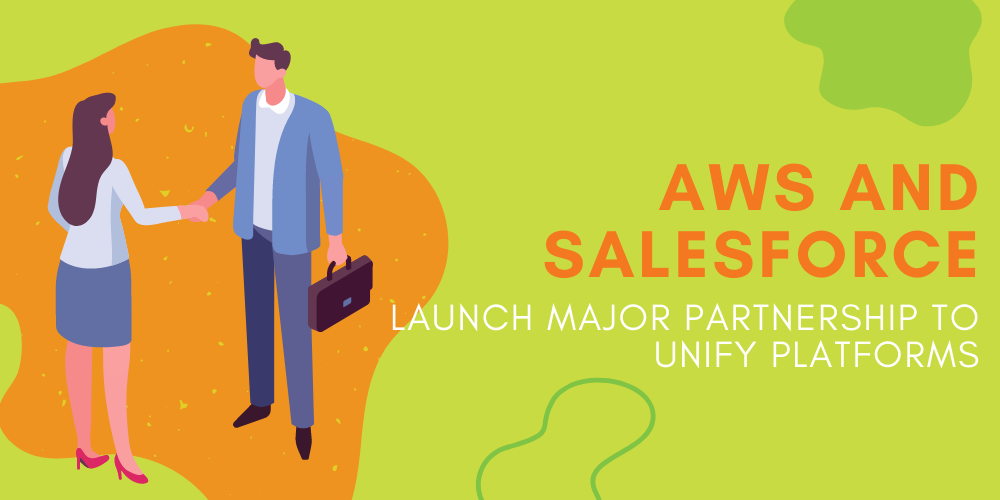 AWS has announced an extensive new partnership with Salesforce that promises to integrate the two platforms in several new ways.
The partnership will make it easier for developers working with both technologies to build and launch apps, leverage AWS cloud services within Salesforce, share data, and connect workflows.
These developments aim to help customers of both platforms use their capabilities together to seamlessly create and deploy intelligent business apps.
New, pre-built applications that leverage AWS and Salesforce Customer 360 will also be made available, enabling customers to utilize AWS voice, video, and AI services natively within their Salesforce business apps.
Using these new and enhanced unifications, developers will now be able to build custom applications on AWS and natively funnel Salesforce data and workflows into their apps. Likewise, Salesforce developers can integrate AWS data and workflows into their Salesforce apps, eliminating the previous need for significant custom integration code.
AWS voice, video, artificial intelligence, and machine learning services will also be available to embed directly in Salesforce sales, service, and industry vertical apps. These off-the-shelf offerings allow customers to purchase ready-to-use apps from Salesforce and use the AWS services integrated into those apps on a pay-as-you-go basis.
These solutions, delivering new capabilities across sales, solution architecture, and customer support, will be generally available from 2022.
New developer tools:
New low-code and click-to-launch development tools for creating custom applications, able to pull data directly from Amazon RDS or Amazon S3
Secure, real-time data transfer between AWS and Salesforce, allowing easy automation of workflows
Simplified security and access setup, allowing users to sign in to Salesforce from AWS and vice-versa
New applications:
Pre-built applications and add-ons that leverage AWS services for voice, video, and productivity with baked-in AI/ML functionality, such as virtual call centers pre-integrated into both Sales Cloud and Service Cloud
Ability to deliver new digital experiences by leveraging AWS technologies including Amazon Chime SDK, Amazon Textract, and Amazon Comprehend, among others, from directly within Salesforce Industry Clouds
AWS and Salesforce first announced their global strategic partnership five years ago, and have long been intertwined; AWS is Salesforce's primary public cloud provider and uses Salesforce as its own CRM platform.
The tech giants have already produced several products that combine their respective services, including Service Cloud Voice, Private Connect, Government Cloud Plus, and Intelligent Document Automation. This move marks the most significant expansion in integration between the two to date.
"We are taking the partnership to the next level by integrating our offerings so developers using both AWS and Salesforce can build unified applications much faster and simpler than ever before," said new AWS CEO Andy Jassy. "With this partnership, we are significantly simplifying developers' lives and empowering them to develop applications however they want, from wherever they want globally, at any scale."
Salesforce Chair and CEO Marc Benioff called the collaboration a "milestone partnership for the technology industry," stating that it would allow customers to supercharge Salesforce Customer 360 and achieve a new level of success.
"With a more strongly unified Salesforce and AWS platform, our customers around the world can create a single source of truth across sales, service, marketing, and commerce, and achieve success from anywhere."
Want more info about the AWS market?
In our Careers and Hiring Guide, find out you should be paying for AWS professionals in your area.