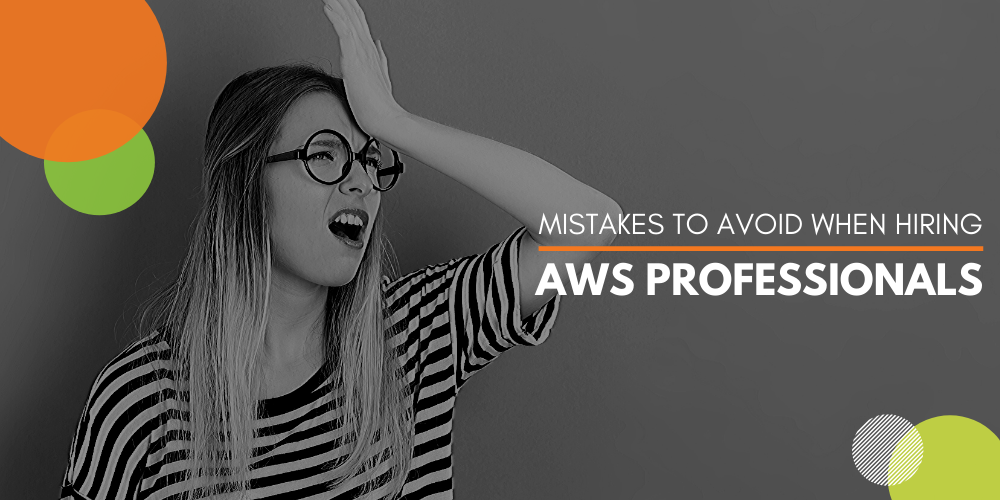 Amazon Web Services is the most widely used cloud service in today's market. Thousands of businesses use the cloud platform to build their infrastructure, develop apps, store and secure files, analyze data, and even create robots.
Using the world's leading public cloud has many benefits; you get access to reliable products, limitless innovation, and a global community of peers to share knowledge and best practices with.
One of the challenges of utilizing a cutting-edge and fast-developing platform, however, is finding the talent you need to get the most out of it.
Hiring in any corner of the tech sector can be a minefield; low unemployment, ever-changing skillsets, and the need to authenticate technical aptitudes can all throw down additional obstacles in the process of onboarding great tech professionals.
In the AWS space in particular, demand for skilled cloud professionals far outstrips supply, putting extra pressure on businesses looking to hire and retain the talent required to implement and run an efficient and effective cloud environment.
With talent thin on the ground, and business-critical systems in play, making a misstep in the AWS professional hiring process can have severe consequences for your business. Luckily, our AWS staffing experts have shared some of the biggest mistakes organizations can make when hiring AWS pros, and offered their advice on how to avoid them.
Losing sight of the job at hand
One of the most common mistakes our experts see organizations make when trying to hire AWS talent is letting the process overshadow the objective.
Everyone working in tech will have experienced the dreaded scope creep, and the recruitment process isn't immune to it either. When building a profile of your ideal candidate, let your cloud goals lead the way. Think about what you need your candidate to deliver and work backward from there; getting bogged down in thinking about additional skillsets will only cause you to lose sight of your ultimate goal.
So, before you even put pen to paper to create a job spec, make sure you fully and completely understand what you want to be delivered at the end of all this, and keep that target front and center throughout the hiring process.
More AWS talent than anyone else
Take a look at our database of pre-screened AWS professionals and take the first step toward landing the best administrators, developers, and consultants in the market.
Take a look
Failing to compromise
The cloud talent pool isn't bottomless—sure, there might be an AWS developer out there with two degrees and ten years of experience working in the pet insurance industry who also speaks German, but can you find them? Can you afford them? Do they actually want to work for you?
When you're laboring under the shadow of a growing talent gap, in a sector where the skills that businesses need change with the seasons, you need to be flexible.
When you're sorting your "must-haves" from your "nice-to-haves," it's critical that you're realistic about what a candidate really, truly needs to be able to achieve your goals. Think about where you could bend and where you need to stand firm.
Your job spec should be a guideline, not a template. Be too rigid about your requirements, and you risk losing out on great candidates, so be prepared to probe a little further than what's on their resume and find out what else they know, what kind of experience or knowledge they have that might make up for shortcomings in other areas.
Not verifying technical skills
Things move fast in cloud tech. New products crop up, developments are made, languages and techniques fall out of favor. That's why it's crucial to verify a candidate's technical know-how. Recent certifications are, of course, a reliable indicator that a candidate has the theoretical knowledge to do the job, but it's also a good idea to see how they put that knowledge into practice to solve real-world problems.
There are a few ways you can do this: have them work side-by-side with a potential co-worker for an afternoon on a real project; ask them to take a coding test; if you have a few candidates to assess, arrange a mini-hackathon.
But don't get too hung on up testing; having a technical conversation is often better than an exam.
If you or someone in your business has the technical know-how to talk in detail about your plans and how they can practically be achieved can give you a much fuller picture of what a candidate knows, as, unconstrained by the rigid formatting of a prescribed test, they're free to bring up other subjects and explore other avenues.
In cloud tech, there's often more than one way to crack an egg, and having a conversation helps you get an idea of a candidate's rationale and how they approach problems.
Underestimating the importance of culture fit
Bad hires cost time and money; in a sector where talent isn't easy to come by, hiring an employee who doesn't work out can be even more devastating to your business.
Sometimes, despite your best efforts to size up their skills, an employee won't perform as you'd hoped. But in many cases where the hire turns out to be a bust, it's merely a case of poor culture fit.
Your candidate could have all the skills and experience your heart desires, but if they don't gel with your team or with your business as a whole, it can be doomed from the start.
Failing to look at a candidate as a person rather than a laundry list of technical skills can backfire wildly, so take the time to assess whether a candidate "clicks" with your business; do they share the same values? Do they like to work in the same way? Can you see them getting along with their colleagues?
Looking for top AWS talent? We make it easy.
Tell us what you're looking for and we'll put together a job spec that'll attract professionals with the skills and experience you need.
Share your spec
Dragging your feet in the hiring process
On average, it takes around 56 days to hire a new tech employee—but top candidates only stay on the market for ten.
Bloated timescales are something that we've seen upend a great hire time and time again. If you've honed in on a strong cloud candidate, you can bet your bottom dollar that you're not the only business that's interested. It's a candidates' market out there, and those with desirable skills will have no shortage of options when it comes to finding a new role.
Nothing kills a great hire like time, so don't hang around or keep candidates waiting. Once you've scoped out potential candidates, make it a priority to get them in for an interview, and don't drag your feet on a decision.
Keep in touch with your candidates at every stage of the process; don't keep them in the dark. If they feel that you're taking too long or not communicating enough, they'll go elsewhere. Remember that you're selling yourself as an employer throughout this process, so be decisive and be engaged.
You should aim to turn around a hire as soon as possible. Within days if you're hiring a contractor. When it comes to recruiting AWS talent, time is money, and you can't afford to waste it.
Casting too small a net
What does your dream AWS employee look like, and where do you find them? If you think there's a right answer to either of these questions, you're setting yourself up for failure.
In a candidate-short market, you need to think outside the box to make sure you're getting the best choice of professionals. After all, if you only look to the same ponds as everyone else, you'll be fighting over the same few fish.
Engage with local user groups and techie clubs, go to AWS events and conferences, offer to host meetups and hackathons; all of these moves will help you engage with your local AWS community and grow your network of potential candidates.
Be smart when you put together your job ads, too; you could be deterring great candidates without even knowing it. Avoid using subtly coded terms like "ninja," "rock star," and "recent graduate" that might put off women, or older candidates.
Don't add in more stipulations about the type of person you're looking for than are absolutely necessary; culture fit does not mean hiring a homogenous team, and letting unconscious bias seep into your ads can turn off any candidate who feels they might not be valued and supported by your business.
Trying to hire on the cheap
In life, you get what you pay for, and hiring an AWS professional is no different. It's fine to have a figure in mind when it comes to salary, but that figure has to be based in reality and reflective of real market rates for AWS candidates in your area.
It's not about what you want to pay, and it's not about how much your budget-setter thinks you can afford to pay; the market dictates the going rate, and if you need great talent who'll make an impact in your business, you need to get out the checkbook.
Lowballing a candidate will not only squash your chances of hiring that professional, but it'll also get you a reputation for being at best uninformed about the AWS market, and at worst, miserly and unreasonable to work for.
If you absolutely can't stretch to average market rates, you'll need to be creative to position yourself as a tempting option for AWS professionals. What else can you offer a candidate? What kind of attractive benefits can you provide that might drive them to accept a less competitive rate? Today's professionals highly value things like remote or flexible working, so don't be afraid to open a dialogue and find out what perks your candidates want.
Not trusting your AWS professional
If you've managed to dodge all of those pitfalls and successfully onboarded your dream AWS hire, congrats! Here's one last bit of advice for you: trust them to deliver. Listen to their expertise and consider their advice. You're paying for their experience; make the most of it.
Practical advice from AWS experts to help you weather the storm
With extensive insights, advice, and best practices from cloud leaders, our brand new white paper is the ultimate guide to optimizing your business with AWS.