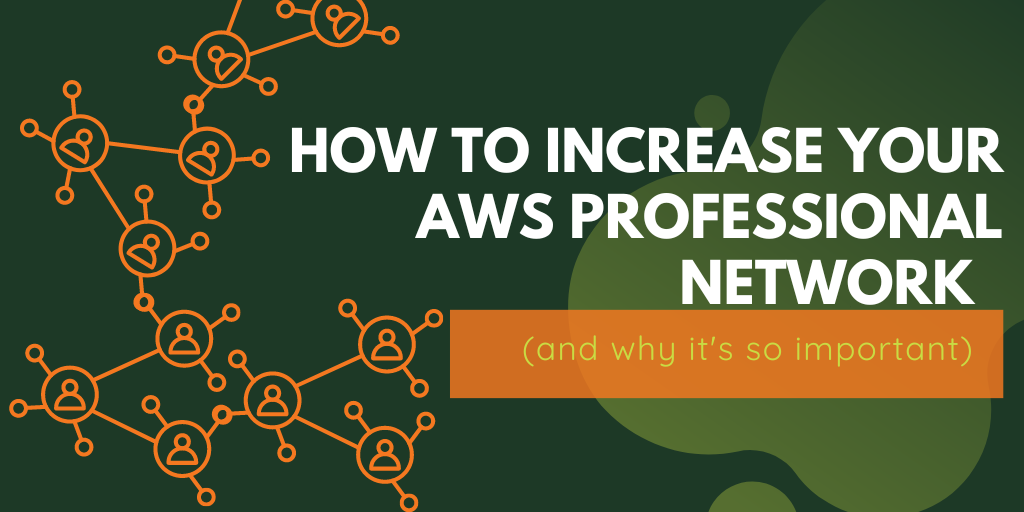 It's hard to avoid the word 'networking' in today's professional world.  
Building a social network of business interactions and relationships has become all the rage, with the emergence of LinkedIn revolutionizing its popularity and potential.    
And while 'putting yourself out there' to grow a professional network may not be everyone's favorite activity, the fact remains: networking is important.  
And it's no different when it comes to the Amazon Web Services (AWS) community. But in a fast-paced, saturated, and specialist space like AWS, how do you build a consistent and valuable network of like-minded professionals? And just as importantly—why should you bother putting in the time and effort to do it?  
Why networking is important for AWS professionals
More job opportunities 
With the skills gap creating an influx in demand for cloud talent that remains unfulfilled, it's safe to say that AWS professionals have plenty of options on the job market already.  
But with research showing that 7 in 10 jobs are not advertised publicly and as many as 80% of jobs being filled through personal and professional connections, networking can help tech professionals open the doors to a larger variety of opportunities.   
The Jefferson Frank Careers and Hiring Guide: AWS Edition demonstrates just how important career progression is to the AWS professional, with over half (52%) of those surveyed reporting that a lack of career and promotional prospects would motivate them to consider a new role.  
While networking isn't an absolute necessity for AWS professionals who are stepping into the job market, it can be an effective way to increase the amount and variety of opportunities available to you, maximizing your potential for career progression in a role that will feel most fulfilling, as a result.  
Of course, the benefit for contractors is a little more black-and-white: networking is a super-impactful way for freelance AWS professionals to expand their client base.  
Networking can also benefit your career development longer term. By having more opportunities available to you, you'll be able to gain greater exposure to a greater variety of projects — experience that 87% of respondents in our Careers and Hiring Guide found important in influencing an AWS professional's earning potential.   
More learning opportunities  
That's not to say that networking is only valuable to AWS talent on the move. Building a professional network also benefits the 42% of AWS professionals in permanent positions who expect to be working for the same employer in a year's time, according to the guide. 
The bigger your professional network is, the greater your exposure to new ideas, new conversations, new perspectives, and new information on all things AWS. Being active in the community is an invaluable way to build your knowledge and hone your skillset—and in such a rapidly evolving industry, it's crucial to keep your finger on the pulse!  
Right now, little over half (54%) of AWS professionals are satisfied with their training and development, but by organically building knowledge from the forefront of industry conversations, you'll be able to learn more and upskill faster, making your training and development go further.  
Whether this translates into additional AWS certifications or an improved proficiency in your work, employers value talent who are enthusiastic about bringing more to the table and will likely reward you, as a result.  
More soft skills  
Networking can also help you to build and strengthen a desirable set of soft skills, including: 
Confidence:

social interaction is

Networking 101. Though this can understandably be daunting for some professionals, the more you network, the more confident you'll become in reaching out to contacts, partaking in conversations, asserting your ideas, and being proactive in making your voice heard. 

 

Communication:

growing your professional network requires plenty of back-and-forth interaction, and this can help to strengthen your communication skills. This doesn't just mean that you're more comfortable with conversation openers and small talk (although this can be pretty useful, too!), but also that you're able to communicate important or complex ideas in a clear and comprehensive way. And better yet

—

the more variety you achieve in your professional network, the stronger you will become in communicating with a wider range of audiences, with varying levels of technical knowledge. This is invaluable in any AWS role where you must work with a range of stakeholders across tech and non-tech teams. 

 
The ultimate resource on careers and hiring trends in the AWS community.
The Jefferson Frank Careers and Hiring Guide: AWS Edition provides a unique insight into the Amazon Web Services community.
How to network as an AWS professional
To increase your AWS professional network, we recommend you take a triple-pronged approach; connecting with contacts, sharing your thoughts, and attending AWS events.  
Connect  
Connections are the very DNA of your professional network, but don't just take a blanket approach—quality always trumps quantity (although a combination of the two is the dream scenario!).  
Internal connections
It's easy to forget that, even without intending to, you've likely already begun building a professional network, made up of your employers, clients, and work colleagues past and present. This also includes any relevant school, college, or university alumni.  
Don't overlook your internal and pre-existing connections; these are the foundations from which you can begin to grow your professional network. Remember to champion quality over quantity here—it's not about reconnecting with everyone you know but establishing relationships with those who provide the most value to you, and vice versa.  
AWS connections
Of course, the core of your networking should consist of those within the AWS community—not just people who operate within your specialty, but contractors and employees from end-users, partners, and ISVs across the entirety of AWS.  
The best place to find these AWS connections? LinkedIn.  
LinkedIn and networking have become all but synonymous, and with 80% of the platform's 850 million users believing that professional networking is vital for success, it's easy to see why.  
LinkedIn has made it easier than ever to connect with professionals across the globe, which is great news for the 82% of AWS professionals who worked remotely full-time during the pandemic, as well as the 45% of AWS professionals looking for a job that offers at least a day of remote working per week.  
With a polished-up profile, look to reach out and connect to active and enthusiastic members of the AWS LinkedIn community. Of course, this should be about more than just upping your connection count. Try to form meaningful relationships with these connections, which starts by dropping them a message.  
How to message a connection on LinkedIn  
To make authentic and purposeful connections with the AWS community on LinkedIn, keep these top tips in mind when sending your initial message: 
Conduct some research

– research your connection to gain a little insight into who they are and what you might talk about. Find a piece of their work you admire and let them know why. This proves you're interested in making a genuine connection, and that you're not just spamming everyone!

 

Introduce yourself briefly

– don't overdo your intro, but be sure to mention who you are, what you do, and why you want to connect, and subtly imply why you would make a good connection.

 
Ask a question –

asking a question can be an effective way of enticing a response. Don't be generic here; this is a great opportunity to ask a technical question that demonstrates knowledge and genuine interest.

 

Always say thanks – 

don't fall at the final hurdle and remember to always show a little gratitude. 

 
Share 
Remember: networking is a two-way street. To build an active professional network, you need to be active yourself.  
Your aim is to be visible in the AWS community, so look to participate in conversations and contribute to ideas and collaborations. Again, be sure to be purposeful in your approach, and always try to add value—don't just say something for the sake of saying it! 
To find these discussions—especially early on when your network is small—look to follow AWS community's leaders, top talent, and biggest influencers.  
Be sure to initiate discussions of your own, too. Do this by sharing something original, even if it's just a unique thought, perspective, or insight on a trending topic in AWS. Not only will this help you to reach a wider audience, but it will also make you a more attractive connection.  
Oh, and don't forget that the community and your network don't exist solely online—be active in the real world by sharing your enthusiasm and expertise first-hand!  
Attend
The best way to build your professional network offline it to attend events. And off the back of the pandemic, many industry events have become a great way to build a network virtually.  
This doesn't just mean attending dedicated networking events (although these, of course, do serve their purpose). There's networking potential at any AWS conference, talk, lecture, presentation, exhibition…we could go on!  
A report from Great Business Schools found that only 39% of professionals socialize more online than offline, meaning that the majority on meaningful connections are still made in person.  
That being said, our Careers and Hiring Guide found that three-quarters (75%) of the AWS community planned to attend an online/virtual event this year, compared with just 31% who planned to attend in person. While the convenience of online events plays a part here, apprehension around the pandemic was no doubt the biggest influential factor, and it's likely that more of the AWS community will be back to in-person events in the coming year.  
Whether you prefer to attend online or in-person, AWS events still hold a tonne of networking potential. If you're attending in person, don't be afraid to ask questions, approach people, and chat with those around you. If you're attending online, search the event or relevant hashtag on socials and join in the conversations online—you'll likely find a wave of like-minded people eager to expand their network too!
A list of upcoming events and webinars from AWS can be found on the AWS site.   
On the lookout for great jobs in AWS?
Register today and get the latest jobs sent directly to you inbox.