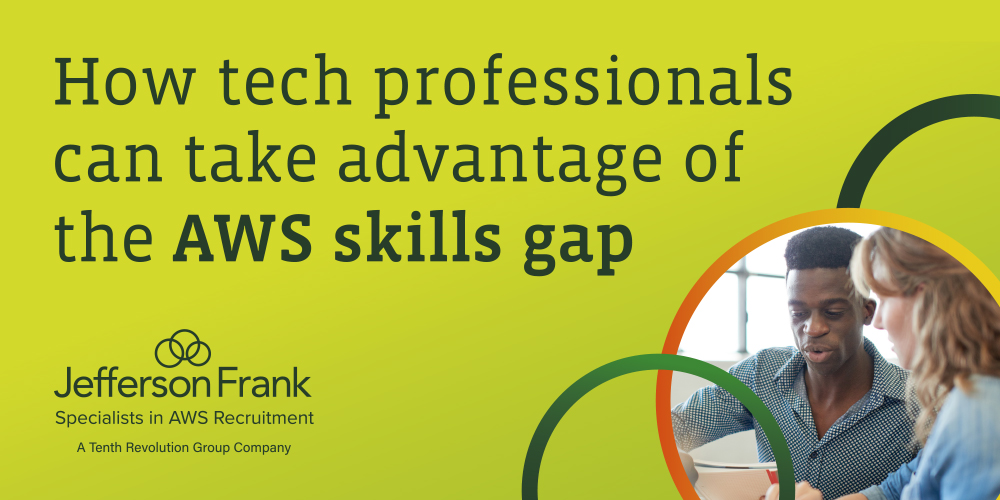 The tech skills gap means talented Amazon Web Services (AWS) professionals hold the aces when navigating the AWS job market.  
Organizations are desperately overhauling and investing in their digital infrastructure, whilst struggling to find the talent to power those projects. As a result, job seekers on the hunt for career opportunities in AWS can leverage their in-demand skillsets to take advantage.  
This helps you to find a position that ticks all, not some, of your boxes. 
However, making the most of the AWS skills gap requires tech professionals to understand their market value. But to do this, professionals need to understand what the AWS skills gap is, why the industry is currently faced with this crisis, and what this all means for them.  
In this blog post, we explore how tech professionals can use the current staffing shortage to their advantage.  
What is the AWS skills gap?
The AWS skills gap describes the imbalance between the demand for expert cloud computing talent and the current supply of AWS professionals.  
Gartner report that IT executives consider the tech skills gap to be the most significant adoption barrier to 64% of emerging technologies. That's up 60% from 2020, accelerated by The Great Resignation and a sharp increase in demand for cloud services throughout the pandemic.  
Pair this with the rapid uptake of Amazon Web Services, which grew 37% year-on-year in Q1 of 2022 and currently boasts a 33% market share of the cloud computing space, and it's easy to see how the problems arise.  
This trend only looks set to continue, with an ever-increasing number of businesses set to implement AWS solutions. This is driven by the desire to reduce costs, improve functionality, increase global capabilities and more.  
Whether you're already well-versed in AWS or you're an IT professional looking to upskill, now is the time to evaluate how you can take advantage of the cloud computing skills shortage in order to open the door to better job opportunities and the rewards that come with them.  
On the lookout for great jobs in AWS?
Register today and get the latest jobs sent directly to you inbox.
4 tips for taking advantage of the AWS skills gap
With AWS talent so in-demand, there's no time to waste for tech professionals currently operating in or considering joining the ecosystem. But how can you make sure you're best placed to benefit from the demand for AWS specialists? Here are our top four tips that you can begin implementing today. 
Gain certifications and bolster your skill set
To take advantage of the AWS skills gap, tech professionals first need to know what's in high demand. Then, they need to offer it. This will place candidates in stronger positions to negotiate their own demands with prospective employers.  
The high demand for talent has led to a wide range of career opportunities in AWS across a diverse spectrum of industries. 
Those already working within AWS have a unique opportunity to use the cloud computing skills shortage to position themselves as a highly desirable candidate. To do this, talent should ensure they've obtained the must-have AWS skills and experience needed to bolster their demand further. 
For example, according to the Jefferson Frank Careers and Hiring guide: AWS Edition, while not vital for a career in AWS, 84% of professionals believe certifications help them stand out in the job market. Employers tend to favor proven experience and technical skills, so candidates should also arm themselves with relevant expertise in common AWS product types and important DevOps and Big Data-related skills. 
AWS and tech skills currently most in-demand include:  
Compute 

 

Storage 

 

Database 

 

Serverless

 

Containers

 

Java 

 

Python 

 

GoLang

 

Kubernetes 

 
If you have the skills listed above, there's a strong chance you'll find the switch to AWS reasonably straightforward, and with demand growing, there's never been a better time to get your foot in the door. 
Many tech professionals have already made their move. 51% of those surveyed in the Jefferson Frank Careers and Hiring Guide: AWS Edition cross-trained into AWS, having worked with a competitor product before moving into the AWS ecosystem. 
Research salary benchmarks in your area
A strategically optimized AWS resume and pressure from the ever-widening tech skills gap places professionals in a strong position to negotiate a better salary.  
As with any career path, there is a range of factors that can affect your earning potential when seeking career opportunities in AWS. Years of IT experience, exposure to large projects, and years of technical experience with AWS rank among the most influential factors in determining pay according to the professionals we surveyed.  
It's safe to say that it'd be wise to utilize this data to better understand your own market value and leverage it to negotiate a more suitable salary. Your expertise is invaluable in the current market, so ensure your pay fairly reflects this.  
Once you know your value, it's time to start thinking about whether you wish to seek a higher salary from a new employer, or with your current one. In the Careers and Hiring Guide, 88% of employees successfully obtained a pay rise after negotiating with their employer. 
67% of the tech professionals that received a pay increase working for a partner organization reported that this was because the increased demand for AWS professionals had upped their market value. Similarly, 44% of professionals who received a pay rise working for an end user reported the same reasoning.  
 This shows the commanding position the AWS skills gap places many tech professionals in. It's also likely the reason why 52% of those that have never previously negotiated their salary intend to have such a conversation with their employer this year.  
Of those AWS professionals who did decide to move into a new role, 76% experienced a salary increase. When changing jobs, these respondents received an average pay increase of 25%. Again, this is a testament to the salary opportunities available to professionals within the space.  
To capitalize on the AWS skills gap, tech professionals should ensure they're partaking in conversations and negotiations with employers surrounding pay.  
Consider your non-negotiable perks
As businesses battle it out to overcome the tech skills gap, the most attractive perks for AWS professionals are being implemented across more businesses to help them compete for the talent.  
In fact, 85% of permanent employees tell us that, salary aside, workplace benefits are important when deciding whether they will accept a job.  
Work perks can vary significantly within the AWS space, particularly when it comes to the type of organization you work for. Tech professionals should look to evaluate a wide range of options to find a role that meets (or even exceeds) their preferences and requirements.  
The most enticing perks offered to AWS candidates according to our Jefferson Frank Careers and Hiring Guide include: 
Four or more weeks of paid time off (PTO)

 

Bonuses (monthly/bi-annual/year-end)

 

Flexible working hours 

 

Health insurance 

 

Retirement saving plan/401(k)

 
As the tech skills gap contributes to an increasingly competitive AWS employer market, we're also seeing the emergence of less conventional workplace benefits, such as:  
Remote working perks have been high on the agenda for most since the pandemic and are reshaping the future of work for AWS teams. For example, 82% of AWS professionals tell us that the ability to work remotely in their role is important to them.  
While many professionals have now begun returning to the office, the introduction of remote working has undoubtedly sparked a new appetite for more flexible working arrangements.  
This isn't just about closing the doors to your office, either—46% of AWS professionals would prefer a hybrid working arrangement, and while 38% favor fully remote working, there are 16% that said they'd prefer to work five days in the office.  
With the AWS skills gap providing candidates with a wide scope of opportunity, tech professionals should take the time to find a position that offers them the right perks and flexibility. Look to complement your existing commitments, lifestyle, and preferences. 
Pair with the right AWS recruitment partner
Knowing how to take advantage of the AWS skills gap is only the first step. For success, tech professionals need to know how to put plans into action.  
A specialist recruiter will take the time and stress out of finding you your next opportunity, which is why this is quickly becoming the favored method of job seeking for a growing number of AWS professionals.    
As we work with businesses day in and day out finding people their dream AWS roles, we know the ecosystem better than most. By utilizing strong industry knowledge and business relationships, we're able to go further than anyone else in making sure we match the right candidates with the right employers. 
Of course, there are other ways to find a recruitment partner, but you can read our expert insights article on how to choose an AWS recruitment partner to begin the hunt for your dream AWS role. 
Explore our current AWS job vacancies and sign up to job updates by email to get started today.  
Read more insights from AWS professionals.
The Jefferson Frank Careers and Hiring Guide: AWS Edition provides a unique insight into the Amazon Web Services community.