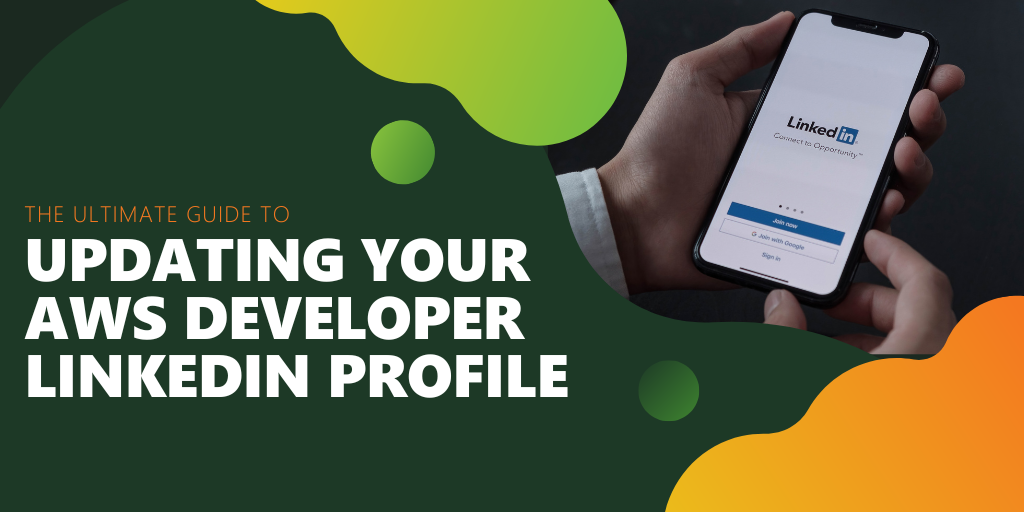 With a community of over 850m members and 58m companies across the globe, LinkedIn is a staple of the professional landscape.
The social platform has already reshaped the way professionals network, upskill, and sell online, but LinkedIn's biggest impact is the role it has played in revolutionizing the hiring process. In fact, six people are hired on LinkedIn every single minute.
It's for this reason that the platform has become the go-to for job hunters seeking new opportunities and top talent looking to keep their options open. But how do you optimize your LinkedIn profile to catch the eye of recruiters, hiring managers, and decision makers?
In this guide we're showing Amazon Web Services (AWS) developers exactly that, offering our top tips and tricks on how to turn your stale profile into one that showcases your  AWS skills and certifications, and that opens the doors to more career prospects and progression opportunities.

LinkedIn profile tips: the basics
No matter if you're an AWS specialist or a professional technophobe, the fundamentals of a good LinkedIn profile remain the same. Ensure you've got the basics right to avoid falling at the first hurdle.
1. Pick the right pictures
Picking the right pictures to showcase your LinkedIn profile is key to not getting lost in the crowd, and can make all the difference to your visibility and perceived approachability. As a recent survey found, eight in ten respondents believe candidates' LinkedIn pictures help them get to know the candidate better, while a further 80% believe it's an important ranking factor.
Snap the perfect profile pic
Start by selecting your perfect profile picture – this is the main photo associated with your account.
You strive to present the best version of yourself in a job interview, so look to make a similarly strong first impression with your profile picture. Don't underestimate the importance of this: 71% of recruiters in the aforementioned survey admit to rejecting a candidate because of their LinkedIn profile picture at least once, despite suitable qualifications.
Choose a professional profile picture that ticks all the boxes; one that's recent, high quality, and shows off your smile. Oh, and it should go without saying, please stay clear of Snapchat and Instagram filters. Instead, stick with the filter options provided by LinkedIn.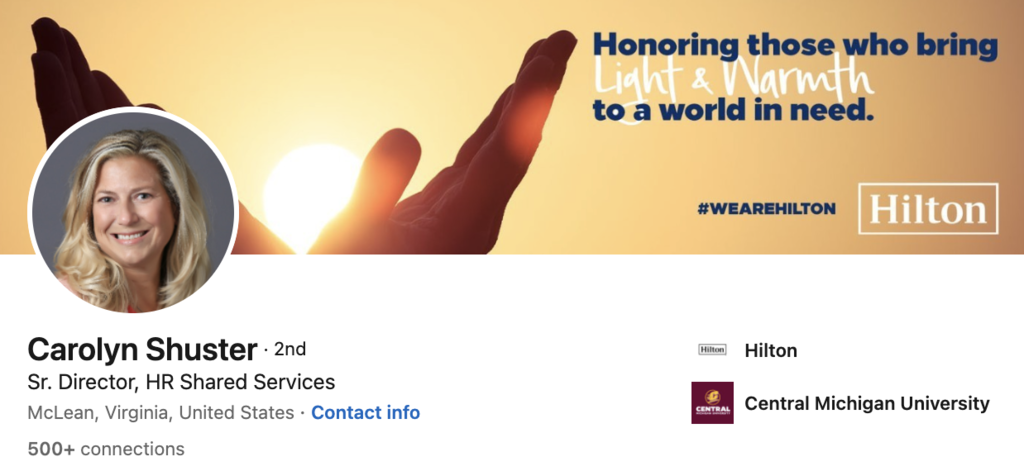 Don't forget a background pic
It's easy to forget about your background picture – this is the banner image displayed across the top of your profile.
While this isn't a necessity for a personal LinkedIn profile, adding a background image can be an easy way to grab attention and stand out from your competition.
This might be a picture of you in action, your current company's logo, or something else that represents you, your profession, or your values  – there's no set rules. If you're struggling to find something suitable, you can even pick a royalty-free image that catches the eye. Just try to keep it relevant; something that provides context to your profile and communicates something that matters to you.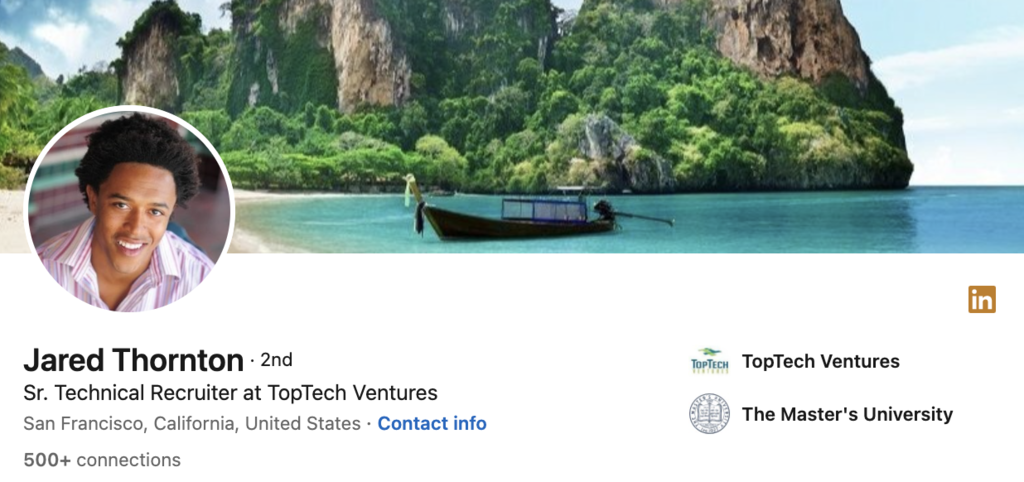 2. Add a job title (even if you're between roles)
Your job title is displayed directly beneath your name on your LinkedIn profile and is sometimes referred to as your profile's 'headline'.
If you're currently employed, this is where you should list your current job title and employer name. If you're between roles, list the roles you're seeking. Try and be specific as possible to attract the right eyes, or keep it general if you're open to a number of different avenues.
For example, AWS talent seeking work in a specific area of development should use specific job titles like 'Back-End Python Developer', whereas developers happy to work full stack or across the ecosystem can use the universal title 'AWS Developer'.
Positioned at the very top of your profile, this section is one of the first things visitors landing on your profile will see. With this in mind, don't be afraid to take the opportunity to also detail your primary skills and experience, providing it's kept short, snappy, and relevant.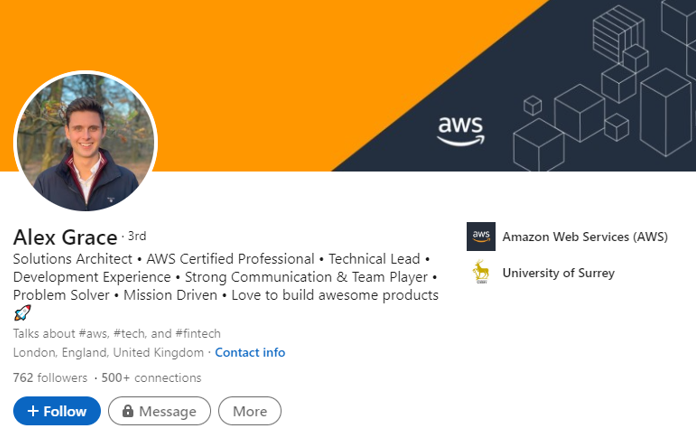 3. Grow your network organically
Growing your LinkedIn network is super-effective in boosting your profile's reach.
Be sure to do this organically, though. An endless onslaught of invites is a sure-fire way to shadow ban your profile and make the wrong first impression with connections. It's also counter-intuitive to your overall goal; you want to grow your network, but the focus should be on the quality of your connections, not the quantity.
4. Stay active
Finally, be sure to actually use your profile to keep it vibrant and visible.
This doesn't take much. Simply engaging with and sharing the content you enjoy will be enough to keep your profile active.
Try to add your two cents into industry conversations where possible, too. Not only will this grow your organic reach and visibility, but it'll also effectively demonstrate your passion for and knowledge of your industry.
Again, this is where the quality of your connections comes into play. Connect with fellow industry talent and follow the major players in your space to keep up to date and have your say in the latest discussions and debates.

AWS Developer LinkedIn profile tips
With the basics nailed down, it's time to optimize your LinkedIn profile for AWS Developer roles. Essentially, the aim is to transform your LinkedIn profile into an AWS resume that showcases the very best of your talent.
Think of it this way: on your resume you need to talk to talk, but your LinkedIn profile needs to prove you can walk the walk. So what makes the perfect LinkedIn AWS Developer resume?
Well, when surveying full stack developers in the Jefferson Frank Careers and Hiring Guide: AWS Edition, we found that years of IT experience (96%), exposure to large projects (87%), years of AWS experience (70%), education (65%), and certifications (55%) are the most important factors impacting your earning potential in the role.
So, look to optimize your LinkedIn profile around these three core qualities of in-demand AWS Developer talent: skill, experience, and education.
Skills section
LinkedIn offers you the chance to add skills to your profile, selected from their extensive collection of skill filters. You can find this section towards the foot of your profile.
Not only are these skill filters an efficient way of quickly communicating your core skillset, but they're also an effective way of attracting recruiters and hiring managers. In fact, 40% of companies on LinkedIn now rely on skills filters to identify relevant candidates. Hiring managers at those companies are 60% more likely to find successful hires than those not relying on skills as part of their hiring strategy, too.
This is likely the reason LinkedIn members added 268m skills to their profiles in 2021, 22% more than the year before.
There's a wide range of AWS related skills available for AWS Developers to choose from, including:
AWS Lambada
AWS CloudFormation
AWS Elastic Beanstalk
AWS EC2
AWS CodePipeline
That's not forgetting wider development skills, with options like:
Cloud development
Cloud application development
Software development
Python
PL/SQL
Front-end development
Don't forget that you can verify the skills you select with an online skills assessment provided by LinkedIn. Successful completing this helps to establish trust and expertise, and also rewards you with a Verified Skills badge you can proudly display on your profile.
That badge doesn't just look great on your profile, either – according to LinkedIn data, it also makes you 30% more likely to be hired for the roles you apply for.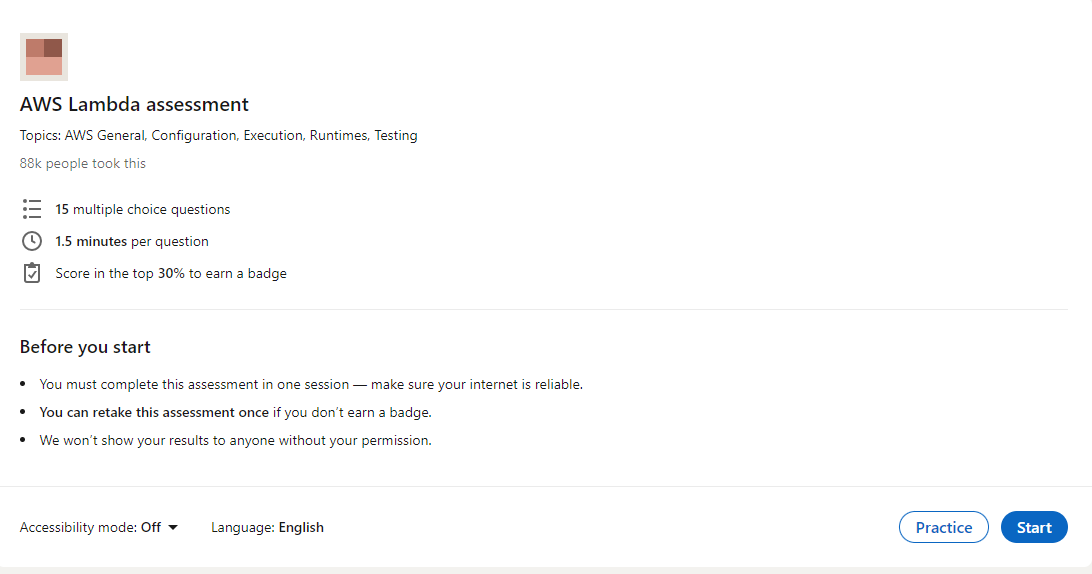 Experience section
In the AWS community, experience matters. In fact, just 1% of those surveyed in our Careers and Hiring Guide didn't believe experience was important in determining your earning potential.
To get the very most out of your AWS Developer profile update, look to emphasize your experience at every opportunity. Of course, the most natural place to do this is your profile's 'experience' section.
Detail every position you've held so far in your career, including any relevant involvement in additional projects. Don't just list your title, employer, and timeframe then call it a day, however.
With each entry you add, you're able to provide extra details about the role in the description box. Make the most of this space by explaining the achievements, experiences and skills you gained throughout your time in each position, listing the most important in bullet points to ensure they're read at first glance.
You have 2000 characters to play with here, meaning you have plenty of additional space to provide context to these experiences. Don't just tell your profile visitors that you're efficient in making serverless applications, confident in developing command-line interface or effective in troubleshooting code modules. Instead, address the how and why to validate your skills, experience, and knowledge, and demonstrate how you use them in action.
To most effectively optimize your AWS Developer LinkedIn profile, align these achievements, experiences and skills with those most sought-after in your chosen job role. For example, AWS Full Stack Developers should look to include proven experience with:
HTML5
CSS3
JavaScript
GitHub
Container technologies including Docker and Kubernetes
Programming languages including Java, PHP, Python, Ruby, or .Net
Databases such as MySQL, MongoDB, Oracle, and SQLServer
Be sure to include your professional experience that precedes AWS, too. Time spent in Junior Software Developer, Front-End Developer, Back-End Developer, Web Developer roles and more all serve to prove your longer-term experience and expertise in IT.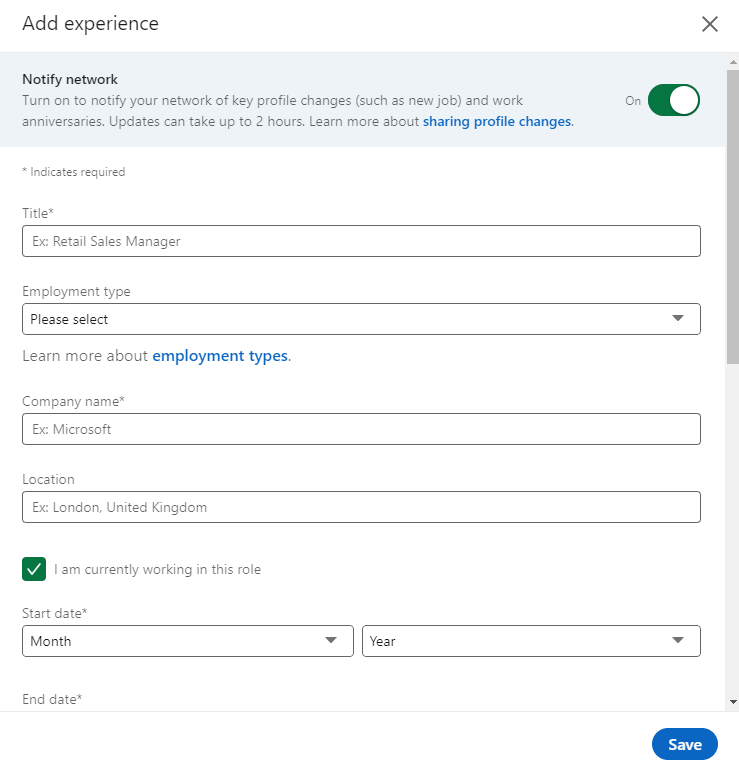 Summary section
Your AWS Developer profile summary is your opportunity to tell your story to the professional world.
This description box resembles the 'about me' section of other social profiles, and provides an opportunity to humanize your profile and communicate more about who you are. It's this that leads to profiles with summaries receiving up to 3.9 as many views as those without.
With this in mind, don't be afraid to showcase some personality in your summary. Don't fret too much over this, it's far from a necessity, but take the chance to inject a bit of you wherever it seems most natural.
That's not to say you should only stick to the professional. In an age where company culture and values are so important to both organizations and professionals, giving profile visitors an insight into who you are outside of the workplace gives you a better opportunity to find an employer that aligns with your identity and beliefs.
Your summary has a 2,600 character limit, meaning you have roughly 370 words to entice your profile visitors. But this shouldn't be your sole focus.
Your profile summary should be a top-level introduction to you and your career, covering your experience, expertise, responsibilities and ambitions, with extra points for creativity and engagement.
But for the most success, you should also look to strategically optimize this summary for a range of target keywords. This helps to make your profile more visible in searches for your targeted skills, job titles and industry keywords.
Assess the AWS Developer roles being advertised on the market, paying close attention to the job descriptions. What are the recurring keywords and phrases?
Note the difference between keywords and buzzwords here. You're looking for common keywords like  'troubleshooting', 'building APIs', 'experienced AWS', and 'scalable solutions'; not ineffective buzzwords like 'passionate', 'innovative', 'focused', and 'creative'.
The better you at identifying these keywords and naturally integrating them into your optimized profile summary, the more visible and desirable your profile is to recruiters and hiring managers.
Education, licenses and certification sections
The best LinkedIn profiles and resumes have a lot in common , meaning your educational background and industry certifications shouldn't be overlooked.
Having a degree isn't a necessity for AWS Developers, with 59% of respondents in our Careers and Hiring Guide believing they weren't important for a career in AWS. This being said, 77% of all professionals, and 91% of Full Stack Developers, hold at least a Bachelor's degree. With this in mind, it can't hurt to detail any college or university experience you may have.
However, AWS Developers should be far more concerned with including any AWS certifications they may hold, with 84% of professionals believing these help you stand out in a competitive job market.
How to post an AWS certification on LinkedIn
If you've obtained an AWS Certified Developer—Associate certification, or any of the 11 AWS certifications available to you, be sure to post this on your LinkedIn profile.
Don't just share the news as a post or update, though – this will only get lost further and further down your feed. Instead, link your certification to your profile to add a certification badge that's sure to catch the eye of every new profile visitor.
To do this, simply log into your AWS Certification Account and click the Digital Badges tab. There you'll find digital badges for all your credentials, with simplified sharing optimized for LinkedIn. Just copy the URL, head over to LinkedIn, select add a new license or certification, and paste into the 'credential URL' field.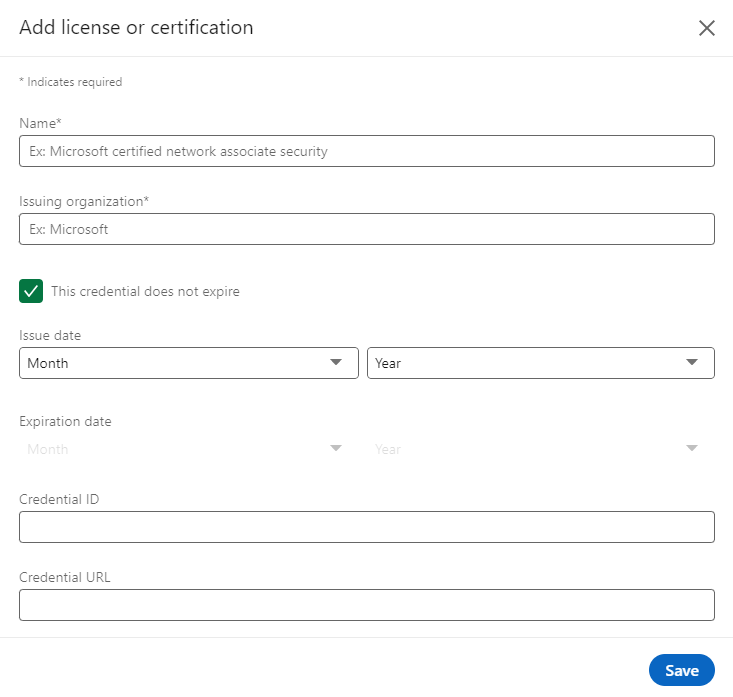 It's easy to forget about your profile and leave it to gather dust. But blowing off the cobwebs and optimizing your profile can turn your LinkedIn into an AWS resume that attracts the right eyes and opens up more opportunities in AWS development.
But why wait for the opportunities to find you? Browse our current AWS Developer vacancies today to become one step closer to discovering your dream role.
On the lookout for great jobs in AWS?
Register today and get the latest jobs sent directly to you inbox.