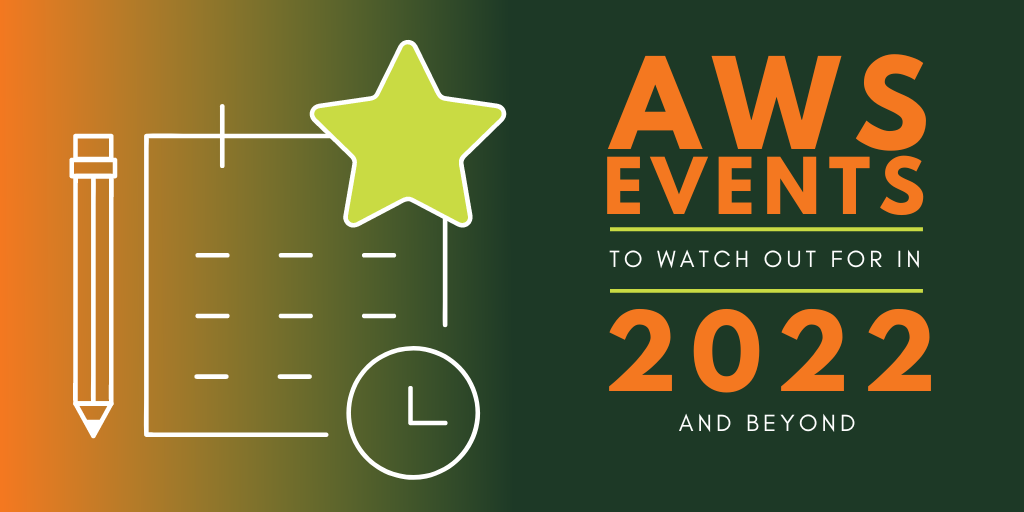 From major conferences like AWS re:Invent and cloud security-focused re:Inforce, to free community events like AWS Summit and AWS AWSome Days, there's no shortage of opportunities to get together, learn, and network within the AWS community. 
We've rounded up some of the AWS events coming up in 2023, along with the can't-miss events remaining in 2022 from all around the world. 
We'll be updating this post with new AWS events as and when they're announced, so if you've spotted an event—or are running one—that you think should be on this list, drop us a tweet at @_JeffersonFrank.  
2022 AWS events still to come 

Job Roles in the Cloud, Presented by AWS Skills Center 
October 11, 2022  
Virtual and in-person  
In this free virtual classroom session, you'll be introduced to the different entry-level career paths available within an enterprise-level AWS Cloud environment.  
This webinar educates professionals on the specific skills, qualifications, and possible certifications they need to pursue a future in AWS— from learning the fundamentals of physical networks and cloud-based services, to how roles contrast and overlap across the two solutions. 
Budding and current AWS professionals based in or near Seattle, Washington, may also attend this class in person on the following dates, should you prefer:  
October 11, 2022 

 

November 8, 2022

 

December 6, 2022

 
Building a Cloud Career, Presented by AWS Skills Center  
October 18, 2022
Virtual and in-person 
This hour-long foundational webinar is suited to entry-level professionals. By learning how to establish your goals and identify the training you need to achieve them, this free class helps up-and-coming cloud talent identify the first (or next) steps in your cloud career. 
Those based in or near Seattle, Washington, may also attend this event in person on the following dates, should you prefer:  
October 18, 2022 

 

November 22, 2022

 

December 13, 2022

 
Sysdig Immersion Day: Securing Cloud and Containers  
October 19, 2022
Paris, France
At this event, AWS and Sysdig experts join forces for an afternoon of discussion on cloud and container lifecycle security with AWS, evaluating the impacts of using Sysdig to secure your AWS cloud from source to runtime.  
By the end of the day, you'll understand cloud and container security best practices, with high-value insights through real world anecdotes a hands-on demo. 
These sessions are aimed at anyone in the AWS community interested in learning more about container and cloud security with Sysdig and AWS, and is best suited to as architects, engineers, and DevOps professionals. 
AWS at KubeCon + CloudNativeCon North America 2022 
October 25– 28, 2022
Detroit, Michigan 
At KubeCon + CloudNativeCon North America 2022, AWS will be hosting AWS Container Day featuring Kubernetes on October 25. This is in addition to educational sessions hosted at the AWS booth across the conference, which will focus on security, cost optimization, GitOps/multi-cluster management, hybrid and edge compute, and more. 
A full list of AWS and AWS Partner sessions taking place across the event can be found on the AWS website.  

AWS at Data Community Summit 2022 
November 15
– 18, 2022
Virtual and in-person
The Data Community Summit 2022 is a hybrid conference in Seattle and online where AWS will be hosting a range of workshops, presentations, demos, and technical conversations across the event.  
A full list of workshops and sessions can be found on the AWS website, and you can save $175 on a conference pass with the exclusive AWS promo code: AWS175.  
AWS re:Invent 2022  
November 28 – December 2, 2022
Las Vegas, Nevada 
One of the most transformative events in tech, re:Invent, returns in 2022 from fabulous Las Vegas, Nevada. The most comprehensive and vibrant event in cloud computing encourages the global cloud community to come together and deep dive into how AWS helps businesses and customers to maximize their cloud potential.  
Across the event, you'll have a choice of hundreds of sessions and keynotes featuring AWS leadership, as well as numerous opportunities to connect and collaborate with experts and peers from across the cloud community. 
Benefiting from market-leading knowledge and valuable hands-on experience, you should expect to boost your proficiency in core AWS services, like Amazon EC2, Amazon S3, Amazon RDS, Amazon Redshift, and Amazon Aurora. 
Attendees can register for a free virtual pass or, for the full re:Invent experience, purchase a full conference pass for $1,799. 
AWS events to watch out for in 2023

Coming soon. 

AWS at MWC Barcelona 2023 
February 27– March 2, 2023
Barcelona, Spain
At the world's largest event for the connectivity industry, AWS will be among other giants of industry to exhibit ground-breaking products, demo new technologies and share inspiring thought leadership. 
Attendees will benefit from high-valuable inputs and perspectives from members of the AWS senior team, including CEO, Adam Selipsky, Senior Product Manager, Chris McKenna, and Director of Product Management, Amir Rao. A full list of relevant AWS sessions hosted across the event is available online.  

Coming soon.

Coming soon.

Coming soon.

AWS Re:Inforce 
June 13-14, 2023
Anaheim, California 
AWS re:Inforce is a popular annual event where AWS leaders, builders, and experts come together to celebrate the latest advancements in AWS security, compliance, identity, and privacy solutions.  
In 2023 the event will be hosted in California, and is a must for managed security services providers, cybersecurity software companies, cybersecurity professionals from private and public sector organizations, and cloud security and risk mitigation consultants, from across all AWS environments.  

Coming soon.
Coming soon.

Coming soon.

Coming soon.

Coming soon.

Coming soon.
The latest insights from the AWS ecosystem.
The Jefferson Frank Careers and Hiring Guide: AWS Edition provides a unique insight into the Amazon Web Services community.