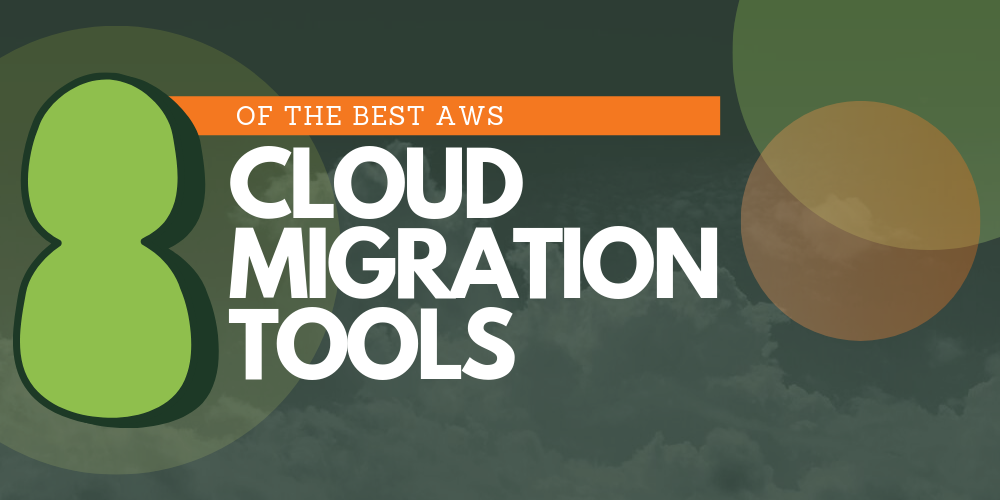 Whether you're moving to the cloud from a traditional on-premise system, or you're thinking about migrating from your current cloud service provider to AWS, cloud migration tools can be a massive help.
Cloud is the new normal, and taking your operations online is the way to go if you want your business to be scalable, streamlined, and cost-effective.
Shifting your data, your processes, and your existing software onto a cloud platform, however, isn't as easy as dragging and dropping it from one place to another. But help is at hand.
With the right migration tools at your disposal, your switch to the cloud will go a lot smoother. Here are just a few of the tools and services that AWS offers to help you get started on their platform fast.

AWS Application Discovery Service
The first step in migrating your business workloads to the cloud is to take a good look at what you already have.
Migrating to the cloud is a lot like moving house; you don't want to spend time and money shifting things you don't want or need to a new place. So, before you pack up and go, you go through your house room by room, assessing the contents'  usefulness, its value, and whether you'll actually need it in your new pad.
By the same token, migrating to the cloud is a great opportunity to take stock of your processes and your tech stack. AWS Application Discovery Service helps you "Marie Kondo" your on-premise resources, to ensure you're only migrating the stuff you really use.
With AWS Application Discovery Service, enterprise users can better plan their migration project by getting a full picture of their on-premises data centers before the wheels start turning.
The service gathers and collates data about your on-premise servers—including configurations, usage, and performance—to give users a thorough, accurate overview of their present set up.
This data can then be fed into AWS Migration Hub, or used to calculate Total Cost of Ownership of migrating to and running these servers on AWS.
The AWS Application Discovery Service is free to use; you only pay for the AWS resources—like Amazon S3, Amazon Athena, or Kinesis Data Firehouse—used to store or manage your data.

AWS Migration Acceleration Program (MAP)
More a strategy than a tool, the AWS Migration Acceleration Program is a methodology devised by AWS to help customers successfully execute their migration with maximum effectiveness and minimum hassle.
The program is geared toward big businesses with large-scale migration ambitions, and aims to help organizations reach cloud utopia faster by providing resources including a comprehensive, proven migration technique. Participants are then partnered with pre-approved migration partners to help effect that methodology.
The MAP practice is split into three phases: an evaluation of processes to work out an organization's baseline capabilities; a systematized readiness and preparation effort to create a plan that will build on these capabilities; and support to effectively perform the migration.
Stage one, known as the Migration Readiness Assessment phase, uses the AWS Cloud Adoption Framework to measure up an organization's current ability to migrate across key areas:
Landing zone
Operating model
Security and compliance
Migration process experience
Skills and center of excellence
Migration plan
Business plan
This evaluation helps organizations spot any gaps in their migration plan and highlights priorities that will inform the overall strategy put together in the next phase. This assessment usually happens during a full-day workshop, where the organization's stakeholders sit down with representatives from AWS and a certified MAP Partner.
Next, the organization and their migration partner will develop a robust migration plan to allow the business to migrate their workloads at scale.
At this stage, the migration partner will also help stakeholders calculate total cost of ownership, and the potential ROI to be generated from the cloud migration.
This Migration Readiness and Planning Phase usually takes between two and four months to complete.
On the hunt for top AWS talent? We make it easy.
Tell us what you're looking for and we'll put together a job spec that'll attract professionals with the skills and experience you need.
Lastly, there's the actual Migration Phase, that involves executing the plan so carefully constructed earlier in the program. With help from the migration partner, organizations will create a "migration factory"; pulling together the teams, tools, and processes it needs to migrate workloads to AWS like a well-oiled machine. This final, most labor-intensive stage of the process typically takes place over 12 – 24 months.

AWS Management Portal for vCenter
AWS Management Portal for vCenter is a tool that helps organizations manage their AWS resources using VMware vCenter.
Deployed as a vCenter Server plugin, the Portal can be easily bolted on to an existing vCenter Server environment. Once installed, users can shift VMware VMs to Amazon's Elastic Compute Cloud service EC2, and administrate AWS resources from within the vCenter Server interface.
By utilizing the AWS Management Portal, vCenter users can migrate their virtual machines and preserve all of their settings and configurations—so organizations can garner all the benefits of running apps and workloads in EC2 without having to reconfigure their existing VMs.
It's rare that any aspect of cloud migration is as simple as clicking a button, but in the case of the AWS Management Portal, this fairytale becomes a reality.
Select the "Migrate to EC2" menu option in vCenter, and away you go: select the AWS region, instance types, and subnet to be used and it's as good as done.
Once the VM has been ported over to EC2, it can also be managed from the plugin interface. Lifecycle management tools, summary data, and monitoring features are all part of the package to help users manage imported instances.
Like many other AWS migration tools, the Management Portal itself is free to use; users will only pay for any other AWS resources consumed in the process of migration.

AWS Server Migration Service (SMS)
When it comes to AWS migration, AWS Server Migration Service is one of the best tools you can have at your disposal. Created to automate, schedule, and monitor incremental replications of live server volumes, AWS SMS is a free service for customers looking to migrate their on-premise data to the cloud without incurring additional costs.
All there is to pay for is the EBS snapshot created with each server replication—a cost that can also be minimized by deleting the snapshot copies that're no longer needed.
Earlier this year, AWS extended its service to offer improved flexibility to users looking to move their VM workloads over from Azure.
As with the majority of Amazon's cloud products, it's easy to get up and running with AWS SMS—servers can be moved across in just a few clicks through the AWS Management Console.
The agentless service will also take care of replicating live server volumes into the cloud and start up AMIs as and when required. Users can also create a replication schedule that's tailored to their organization's needs, and track it accordingly, giving a high level of control throughout migration.
AWS SMS speeds up the migration process through a series of incremental changes made to in-house servers—a process which dramatically reduces the strain on bandwidth and keeps server downtime to an absolute minimum.

AWS Database Migration Service
A company's data is their lifeblood; the migration of any database to the cloud must be handled with enormous care and consideration, lest any of that precious data be lost or corrupted in the process.
"For many organizations contemplating a move to the cloud, it won't be their first data warehousing effort," explains Rob Mellor, VP and GM EMEA at WhereScape. "It is likely they have existing data and data infrastructure to consider, and moving it to a new data platform can be a complex, time-consuming and expensive process.
"Traditionally, migrating existing data warehouses to new environments has taken months, with a team of developers needed to discover and understand the existing data infrastructure, map it to the new data structure, write and test scripts, recreate metadata, and finally transfer and validate the data."
"The mental pain barrier of moving to a new platform has prevented organizations from considering the benefits of doing so, but automation is changing this and bringing increased value to boot."
That's where tools like AWS Database Migration Service come in. The AWS DMS was developed to help organizations migrate their databases to AWS quickly, securely, and—crucially—without disruption.
The service, which has shifted more than 160,000 databases to date, allows the source database to remain operational throughout the migration, meaning no downtime for apps that need to access those records to operate.
The AWS DMS can migrate data to and from many of the most popular commercial and open-source databases in use today, and supports both homogenous migrations and the shifting of data between different platforms.
The service is agentless, meaning there are no additional drivers or apps to install, and once migration is underway, the AWS DMS automatically replicates any changes made to the source database, so downtime is virtually non-existent.
Using the AWS DMS, migrating databases is pretty much a "set it and forget it" task; the tool is self-monitoring and self-healing, so if network connectivity is interrupted, migration will automatically restart and continue once it's back online.
There is a cost to utilize the AWS Database Migration Service, but like many cloud tools, customers only pay for the resource they use. Pricing isn't sky high either; shifting a terabyte-sized database costs around $3.
Like many organizations using a hybrid model, it was a major service outage that spurred digital sports agency Sotic to make the final leap and go full-cloud. With crucial data to shift, AWS Database Migration Service was central to their eventual successful migration.
More AWS talent than anyone else
Take a look at our database of pre-screened AWS professionals and take the first step toward landing the best administrators, developers, and consultants in the market.
"In early 2018, we were running on a hybrid infrastructure and still about a year out from migrating fully to the cloud," explains Platform Lead Ed Martin. "But an outage during a period of scheduled maintenance meant we were unable to bring our on-prem systems back to full service.
"At that point, the team embraced the challenge and made a full transition to the cloud. The cloud gave us the best outcome, and we also made some use of the AWS Database Migration Service.
"In addition, the creation of a fast, secure VPN link between our old datacenter and AWS allowed us to transfer files quickly and easily, and where necessary, keep them synchronized between locations during the migration."

TSO Logic
As an AWS consulting partner and provider of managed cloud services, Mission is no stranger to cloud migration. The company has helped countless businesses migrate to AWS, utilizing some terrific tools in the process. There are a few in particular, though, that the organization rates highly.
"Of all the migration tools we've used," recalls CTO Jonathan LaCour, "TSO Logic and CloudEndure have been the best.
"TSO Logic is an amazing tool that helps businesses prepare for their migration by analyzing the costs of their on-premises operations," notes LaCour, "and automatically determines the best-fit, lowest cost placement for each workload on AWS."
The platform gathers data about workloads and applications, and presents it to users to help them determine the most efficient and cost-effective way to run them by sizing up metrics like resource consumption against potential costs.
TSO Logic launched in 2012, and offered its customers analytics-driven migration solutions that helped users plan their move into the cloud in a streamlined, cost-effective way. The organization gained so much popularity and customer loyalty over the years that AWS acquired the business in 2019.

CloudEndure
Around the same time that it acquired TSO Logic, AWS also purchased CloudEndure—a startup specializing in disaster recovery—aiming to fortify its offering for enterprise customers.
With its ability to streamline, accelerate, and automate migrations from physical, virtual, and cloud-based infrastructure alike to AWS, the tool has proved another big favorite for LaCour and his team at Mission.
CloudEndure enables enterprise-level organizations to rehost large numbers of machines to AWS without having to deal with issues like compatibility, disruption, or lengthy cutovers.
The tool continuously reproduces source machines into an AWS-hosted staging area, and when the time comes to launch the production machines, CloudEndure automatically converts the source infrastructure into AWS infrastructure.
This means they can be booted and run natively on AWS without causing performance interruptions during migration.
Automated migration to AWS with CloudEndure is free.

AWS Migration Hub
AWS Migration Hub is the ultimate dashboard for tracking the progress of your migration to the cloud. Through this single interface, users can audit their existing servers, plan out their project, and follow the status of each migration.
The service helps budding AWS customers collect and process data based on their on-premise resources, so they can get a clear view of their current processes and create an informed migration strategy, dictating what needs to be moved to the cloud.
Then, Migration Hub lets users arrange these existing resources into groups to make following their migration to AWS easier.
No matter what AWS migration tools a business is using to undertake the actual migration of apps and data, users can oversee the progress of any and all of these tools all in one place through Migration Hub.
AWS Server Migration Service, AWS Database Migration Service, CloudEndure Migration, ATADATA ATAmotion, and RiverMeadow Server Migration SaaS are all natively integrated with AWS Migration Hub, and feed status updates to Migration Hub automatically.
AWS partner and some third-party tools can also be tracked in the same interface if manually authorized to send data to Migration Hub.
Though the migration tools themselves are priced by usage, there's no additional charge to use Migration Hub.
However you decide to shift your workloads to AWS, you have plenty of options at your fingertips—and untold potential ahead of you.
"We've used a variety of migration tools," says James Leavers, Chief Technology Officer at cloud service provider Cloudhelix, "from the simple use of the AWS EC2 import-image CLI command, to the AWS Management Portal for vCenter and Zerto Virtual Replication to replicate between different hypervisors and cloud providers.
"However, to my mind, a simple lift-and-shift of an existing set of VMs is only the start of the cloud journey. The exciting part is rearchitecting and automating applications to make better use of the fully-managed native services available on AWS, in areas such as data warehousing, machine learning, and analytics."
How much should you be paying for AWS professionals?
The Jefferson Frank Salary Survey provides a unique insight into the Amazon Web Services community. Get your free copy now.