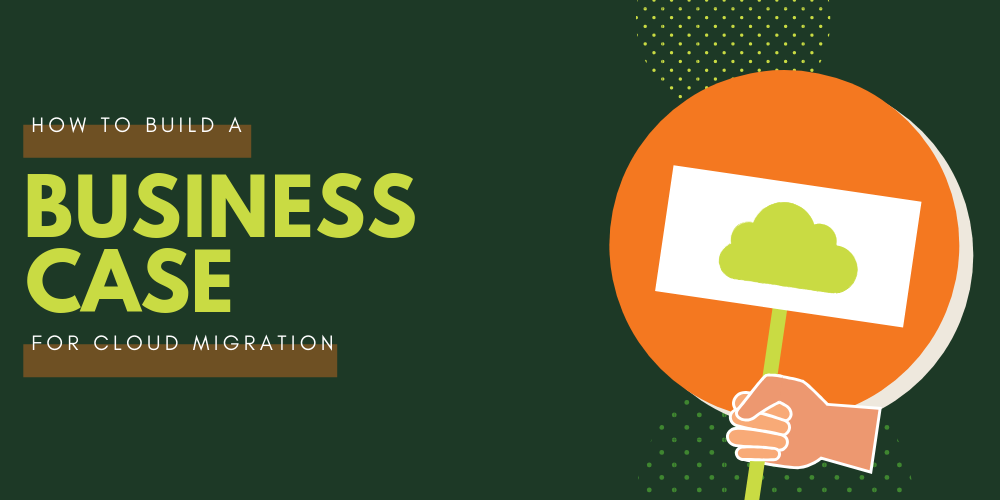 If your organization is operating on a more traditional on-premise model, then it's probably time to shake things up in a big way.
As with any IT project, if you're planning a move to the cloud you'll need to prepare a tight business case to secure the support, resource, and budget from key stakeholders.
Cloud is the new normal, and most businesses today have either already moved their operations into the cloud or are in the process of migrating. Newer businesses tend to operate in the cloud from day one because of the features, computing power, and scalability it offers.
Why build a business case for AWS migration?
Business cases generally come about because your organization has a specific need that it can't meet with its current tools or resources. This thing you want to achieve could be anything from increased customer engagement to better sales, being able to get more detailed insight into your data, or simplifying processes to make your company leaner.
"Value drivers like business agility, cost and risk management influence the business case for cloud migration," explains Avon Puri, Chief Information Officer at Rubrik.
"For any company embarking on a cloud journey, moving the disaster recovery site to cloud could be the most compelling first use case. This not only reduces the complexity and minimizes the risk of data loss, but also brings the cost down significantly by eliminating the need for operating a secondary data center. Scalability, reliability, automation, on-demand usage are additional cloud drivers.
"Migration to the cloud enables companies to instantly provision self-service dev and test environments to developers and greatly enhance DevOps."
No matter what the reason for migrating to the cloud may be, you'll probably need to persuade stakeholders from across your business to get on board with your plans before taking any major steps towards it. You're essentially trying to sell cloud migration as a solution to your organization's pain points, to everyone from C-suite right down to your junior-level colleagues.
More AWS talent than anyone else
Take a look at our database of pre-screened AWS professionals and take the first step toward landing the best administrators, developers, and consultants in the market.
When your completed business case crosses a decision-maker's desk, it needs to cover everything from the provider/s and products to timelines, costs, who you'll need on board, the problem/s it solves, and how it all fits in with your organization's goals and vision.
Common cloud migration myths
There's a lot of mistruths out there about cloud migration, and you're bound to come up against at least a few when you're making your case. Here are some prevalent figments to push out of your mind before you start:
"Moving to the cloud is always cheaper." 
This one depends largely on what kinds of costs you're comparing, but generally speaking, operating in the cloud is cheaper in the long run. In some cases, operating costs can be higher, but that's down to poor cost control, inexperienced employees, a weak discovery stage, duplicate processes, or an increase in staffing spend.
The good news is that you can minimize these issues and generate ROI pretty early on in the game if you do the right kind of research and invest in the right AWS migration team from day one.
"All your assets should live in the cloud." 
Once again, that depends on your organization's particular needs and the kind of legacy system you're working with. Sometimes, the best answer doesn't lie solely in one cloud provider—in many cases, a hybrid solution works best.
Before settling on this, however, it's best to wait until you've carried out your first round of qualitative analysis. Find out everything you can about your traffic patterns and dependencies, and move from there.
"Server costs are all that matter."
While the cost of running your servers on-premise is a major factor in any cloud migration, it's far from the be-all and end-all of your financial considerations. The bottom line is this: you shouldn't take a server-only or VM-only approach to cost-cutting.
For starters, if you're operating an on-premise model, your CFO is going to be very interested in how the cloud will cut the costs associated with hardware refresh cycles.
Find out how much it costs to run your data centers in terms of real estate, maintenance, and manpower, and you'll find that a good chunk of your budget goes there. Moving into the cloud, of course, minimizes these costs because you're using AWS's resources instead.
Speaking of data centers, you'll want to zone in on exactly how much your downtime is costing your business, and compare that to the downtime and cost of running them in the cloud.
"Moving to the cloud is quick and easy."
Anyone outside of the IT bubble can be forgiven for thinking that cloud migration is as easy as switching internet providers. While moving to the cloud does make life easier, it takes a lot of good old-fashioned hard work to get there first.
Migrating to the cloud means major changes across every part of your organization; when putting your business case together, remember to include realistic timelines based on:
Bandwidth
When you're moving things over to the cloud, the bandwidth it takes to transfer that data from your data center to your provider will directly affect the overall time it takes to complete your migration. Factor this into your timeline to avoid disappointment later down the line.
Testing
Nothing slows your migration timeline down like a poorly planned testing stage. When it comes to making sure everything's up to scratch both internally and from a customer-facing perspective, you need to factor in more than enough time for rigorous testing and any fixes that need to be applied.
The actual migration
The longer the migration process, the higher that costs can creep up and eat into your budget. Minimize the chances of creating delays by allocating resources and engaging partners as early on as possible, and factor the time it takes to get these things in place into timeline.
Assess any technical or cultural hurdles that might need to be overcome, and figure out how you can overcome them.
How to build a business case for AWS
Migration means moving a considerable portion of your organization's existing assets to the cloud.
A solid business case can:
Help make the cloud adoption process go more smoothly
Discover more ways to attract new business and improve the experience of your existing customers
Identify various key stages and the associated adoption/migration costs
Help you understand your existing workloads and create the best plan going forward
Win the support of key stakeholders
Even at a glance, a standard business case should cover:
The projected costs of moving your operation to the cloud
The current cost of running your existing systems and infrastructure
How much moving to AWS would save your business
The benefits of AWS
The cost of building the infrastructure for new workloads
But how do you get things up and running? Let's go through things step by step.
The executive summary
This is a quick, clean overview of and introduction to your master plan. This should cover, in short, the challenges your business faces and how migrating to the cloud is going to address those issues.
The problem statement
This part hones in on why exactly you're presenting this course of action to the business and what your goals for this implementation are. The best way to get this bit done and dusted is by using the SPIN approach:
Situation: what's your company's current circumstance?
Problem: why isn't it working out?
Implication: how does that problem impact the wider business?
Need: what do you need to resolve the issue and pave the way towards a better, brighter future?
Organize your statement with these questions in mind, and you'll breeze through it in no time.
Outline your main objectives
This part of your proposal needs to cover what moving to the cloud will achieve. Basically, you'll want to paint a clear, vivid picture of what your organization should look like once your solution has been implemented, and everyone has had time to adjust to the new technology.
Proposal
You've explained the reason for this massive undertaking, but now it's time to talk about the inner workings of it all. This section should answer questions like 'what exactly is AWS? How will these products play a part in achieving your long-term goals in line with your organization's core values?
Alternatives
Those holding the purse strings will want to know that every possible alternative has been explored, so it's worth spending some time going through the other options that you ruled out along the way.
Limitations and risk assessment
You've covered the 'good', and there is a lot of it, but now it's time to spill the beans on the bad and the ugly.  Glossing over or completely cutting out the risks will make your proposal appear biased, and might put off the very people you need buy-in from, so don't be afraid to outline the risks that come with implementing your solution.
What matters is that you've got a way to navigate those speedbumps and remedy any issues if and when they happen. This will also help you create a more realistic timeline, and that'll help you make sure you keep a tight hold on your budget.
On the hunt for top AWS talent? We make it easy.
Tell us what you're looking for and we'll put together a job spec that'll attract professionals with the skills and experience you need.
What kind of risks could you face? Well, here's a quick example. When it comes to digital transformation, one of the most common risks you'll face is poor user adoption rates, effectively leaving you with a shiny new solution gathering dust on the shelf.
This particular problem can be avoided by allocating enough resources to train your employees ahead of time, and nominate your power users who can act as their team's point of reference when it comes to using the software effectively.
Having buy-in and visible support from C-suite also helps to drive user adoption from the top down.
Naturally, there are other implementation challenges out there that are specific to your company and the industry it operates in. Just remember this: no matter which pitfalls you need to outline in your business case, always follow up with how and why the advantages far outweigh those risks.
Cost analysis
The real crux of any true sales pitch or business case comes down to those dollars and cents. This is the time to showcase exactly how your cloud solution is going to save your organization money—how it affects ROI.
All you can do at this stage is offer thoroughly-researched predictions, backing them up with expected costs and the financial gains you stand to make in the long run. Here are a few important factors to address in this section:
Current cost of running your existing system
The long-term cost of sticking with an on-premise model
Cost of opportunities lost as a result of using a more traditional system
Comparison of projected costs on current system against cost of proposed solution (Remember to calculate potential ROI over the next three-five years)
Total cost of ownership (i.e. including training, software licenses, implementation, cloud storage, development if customization is required)
Implementation plan
To make your business case airtight, create a timeline complete with deadlines for each stage of the process, roll-out dates, and who'll need to be involved along the way. This way, you'll show that your proposal is actually achievable!
If you don't have the cloud talent you need in-house, you'll need to get in touch with a partner to map it all out and get everything ship-shape before launch. You won't know the specifics until you bring that partner on board, so for the purposes of your business case, you'll just need a snapshot of the journey from day one to implementation.
Next up: your KPIs. How will you measure your performance? What does success look like for your project? Whether you're looking to offer customers a more streamlined experience, optimize your supply chain, improve hiring processes, or completely revolutionize the way your business works, you need to figure out the best way to check your progress and know when it's time to pop the champagne bottles.
Project ownership
Last but not least, project ownership. This is where you outline who does what and when—who signs off on things, and who's responsible for the overall success of the project?
Designate the right people for the job from across different departments, and provide a rough idea of where they'll need to get involved in your timeline.
Get your free business case template
Want key hiring insights from the AWS community?

Find out the latest salary averages, key industry insights, and invaluable hiring advice for organizations building AWS teams across the world with the Jefferson Frank AWS Careers and Hiring Guide.