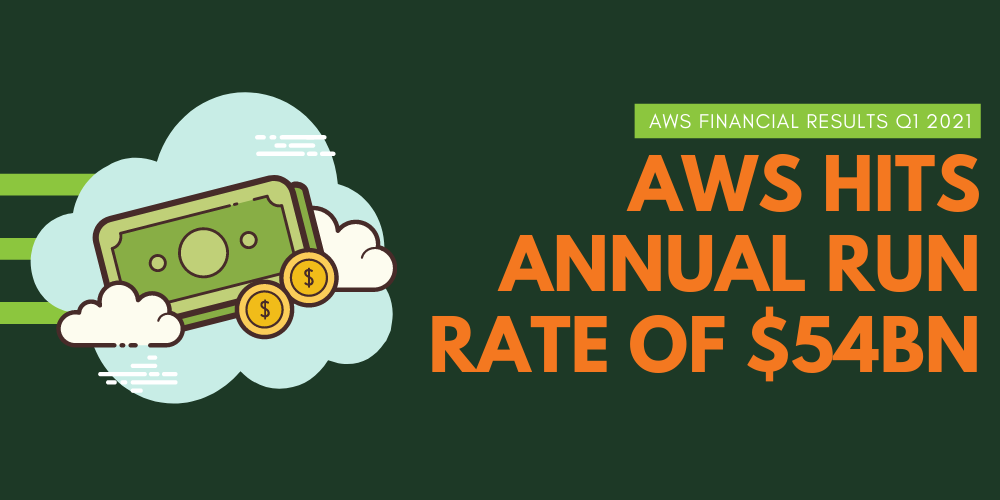 Amazon's latest financial results for Q1 2021 have revealed significant gains for the company's AWS platform.
The world's leading public cloud service grew 32% year-on-year in the first quarter, generating $13.5bn in net sales between January and March 2021. That's up considerably on the $10.2bn it made in Q1 2020.
Its Q1 growth rate outstrips the 28% reached in Q4 2020, sitting in line with the 33% growth AWS achieved in the same period last year.
The income produced by AWS helped its parent company outperform Q1 expectations, contributing 12% of Amazon's total revenue for the period.
In Q1, AWS accounted for 47% of Amazon's operating income, though a strong showing from the company's retail and advertising units have driven this percentage down from 77.1% this time last year.
AWS is now expected to reach $54bn in annual sales.
Jeff Bezos, who is set to be replaced by AWS CEO Andy Jassy in Q3, said:
"In just 15 years, AWS has become a $54 billion annual sales run rate business competing against the world's largest technology companies, and its growth is accelerating – up 32% year over year."
"Companies from Airbnb to McDonald's to Volkswagen come to AWS because we offer what is by far the broadest set of tools and services available, and we continue to invent relentlessly on their behalf. We love AWS, and we're proud to have them in the family."
Amazon's finance chief Brian Olsavsky told analysts that Amazon has "firm confidence that we offer a lot of advantages to AWS customers, from functionality to a vibrant and robust partner ecosystem."
Recent reports show AWS maintaining a comfortable lead in cloud infrastructure market share, holding 32% of the market compared to Microsoft's 19% and Google's 7%.
Want more info about the AWS market?
Find out you should be paying for AWS professionals in your area.