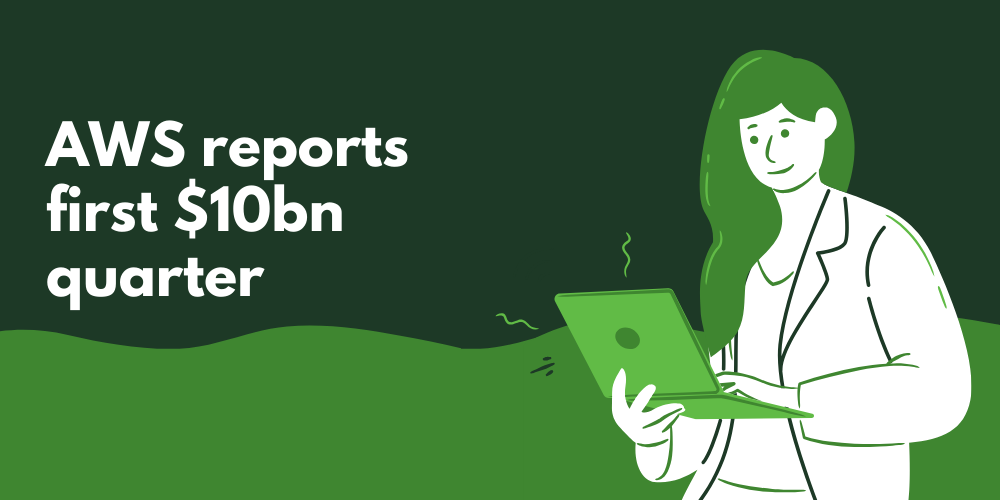 Revenue generated by Amazon Web Services has topped $10bn in a single quarter for the first time in the company's history.
Amazon's market-leading AWS cloud platform brought in $10.2bn in the quarter ending March 31, 2020, up 33% year-on-year. In Q1 2019, AWS generated $7.7bn in revenue. Quarter-on-quarter, income is up 2.7% on Q4 2019 when revenue sat at $9.95bn.
AWS accounted for 14% of Amazon's total revenue for the period, and 32% of the entire cloud services market spend overall.
This growth has been partly driven by the increase in digital transformation projects spurred by COVID-19, as more businesses look to accelerate their move into the cloud, implement remote working tools, and ensure business continuity.
In March, spending on AWS's desktop-as-a-service solution Amazon WorkSpaces grew by 155% year-on-year.
Demand for AWS cloud services as a result of the pandemic appears to have more than counterbalanced any custom lost as businesses in hard-hit industries like hospitality, aviation, and tourism scale back.
Addressing the adversity of the moment, Amazon CEO Jeff Bezos remarked: "From online shopping to AWS to Prime Video and Fire TV, the current crisis is demonstrating the adaptability and durability of Amazon's business as never before, but it's also the hardest time we've ever faced."
"Under normal circumstances, in this coming Q2, we'd expect to make some $4 billion or more in operating profit," explained Bezos, adding: "But these aren't normal circumstances. Instead, we expect to spend the entirety of that $4 billion, and perhaps a bit more, on COVID-related expenses getting products to customers and  keeping employees safe."
The record-high revenue comes as AWS continues to respond to increasing demand by investing in infrastructure, opening two new data center regions in Cape Town and Milan in April.
The new additions bring the total number of Availability Zones to 76, across 24 geographic regions. Nine more Availability Zones and three new AWS Regions in Indonesia, Japan, and Spain are set to be rolled out in the coming months.
Practical advice from AWS experts to help you weather the storm
With extensive insights, advice, and best practices from cloud leaders, our brand new white paper is the ultimate guide to optimizing your business with AWS