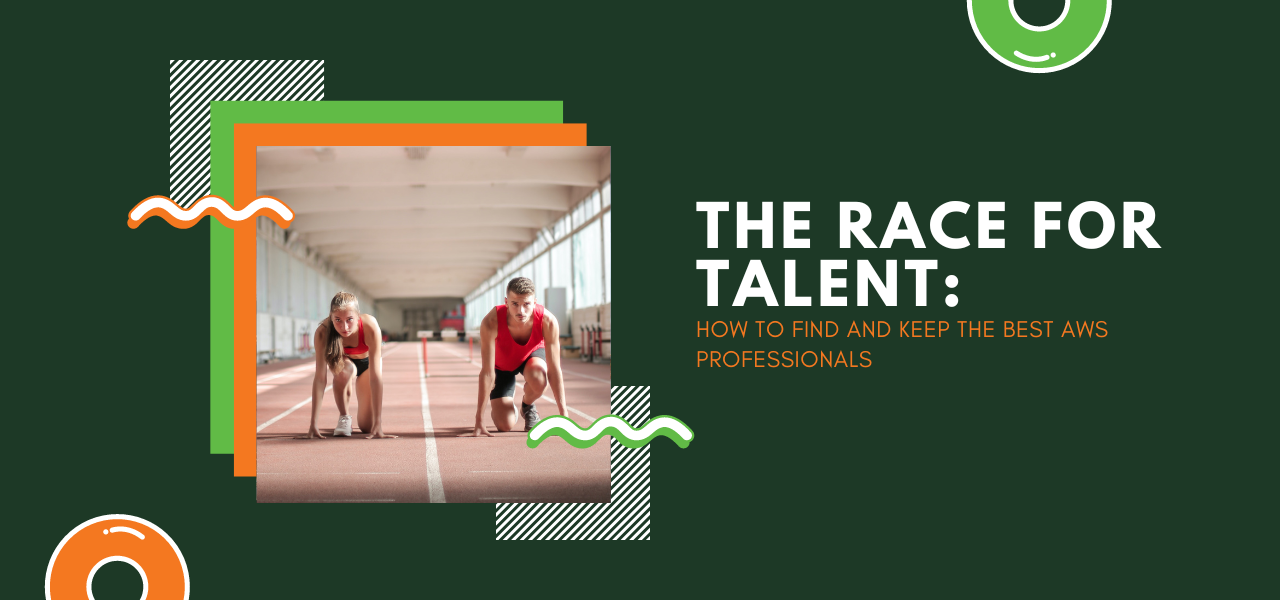 There's a race happening in the cloud sector.  
The competitors aren't tiring, and the finish line is yet to be in sight. The prize? The best Amazon Web Services (AWS) talent the market has to offer.  
Swapping the sweatband and running shoes for a shirt, tie, and contract, winning the race for talent is key to an organization's successful AWS talent acquisition and retention.  
But spurred on by a widening tech skills gap and an increased demand for cloud specialists, winning this race is far easier said than done.  
That's because AWS professionals hold all the aces when navigating the job market. The demand for cloud specialists far outweighs the supply of skilled experts, and accelerated by pandemic impacts and The Great Resignation, more and more AWS professionals are taking advantage of the skills gap.  
In the Jefferson Frank Careers and Hiring Guide: AWS Edition, less than half (42%) of respondents in permanent roles expect to be working for their current employer in the coming year, while 24% are actively looking for a new role. A further 13% expect to leave but aren't currently job hunting, and the remaining 21% are unsure if they will stay or go.  
Successful AWS talent acquisition and retention is vital in ensuring your business executes its cloud plans without any hiccups. But with so much being offered to AWS professionals across the market, how can you win the race for talent and stand out from the crowd?  
Let us introduce you to our masterplan.  
Know what motivates job seekers 
The first plan of action is to understand what motivates AWS professionals when job hunting. Not only can this help you make more enticing job offers when acquiring new candidates, but it can also help you understand how to keep current employees loyal and satisfied.  
In our Careers and Hiring Guide, we asked permanent employees what attracted them to their current role, with responses aligning with these core themes: 
Opportunities for career growth 

 

Personal development opportunities 

 

The chance to work in a challenging role 

 

The chance to learn a greater range of skills 

 

The chance to pursue a better cultural fit 

 

Ability to escape a toxic work culture 

 
However, as employers begin offering more and more perks in a bid to win the race for talent, we've seen work benefits fly up AWS professionals' priority list. The Careers and Hiring Guide found that 85% of permanent AWS employees consider perks 'important' when deciding on whether or not to accept a job offer. 
When investigating what perks entice a candidate to accept or consider a new role, the most popular responses included: 
4 weeks or more paid time off (36%)

 

Monthly/bi-annual/year-end bonus (32%)

 

Homeworking (29%)

 

Flexible working hours (23%)

 

Health/medical insurance (20%)

 

Retirement savings plan/401(k) (16%)

 

Shares in the company/reduced priced shares in the company (15%)

 

Training and development opportunities (13%)

 

Company laptop (6%)

 

Education/training allowance (6%)

 
With organizations competing fiercely with their talent acquisition strategies, we're also seeing less conventional perks being offered to candidates: pet insurance, discounted technology, games rooms, and more. 
However, permanent employees working for partners and end-users shouldn't be employers' sole focus. A third (33%) of freelancers that responded to our Careers and Hiring Guide survey would consider switching to a permanent role.  
The top factors likely to attract a contractor to a permanent role in the next year include: 
Job stability and security (64%)

 

A competitive salary (64%)

 

Career progression opportunities (64%) 

 

A stable income (57%)

 

Valuable work/feeling like your work will make a positive impact (50%)

 

A generous benefits package (43%) 

 
Remote and flexible working has also skyrocketed up the list of preferences for AWS talent since the pandemic: 45% of those that are looking to leave their employer within 12 months said they would be unlikely to accept a role that involved working in an office five days a week. 
Businesses looking to attract AWS professionals for permanent roles should strive to offer as many of these perks as possible to remain attractive and competitive in the job market.  
What about organizations on the hunt for contractors? Well, when we asked AWS contractors what motivates them to accept an offer, the most popular responses were:  
Earning potential (93%)

 

Ability to work remotely (80%)

 

Technologies used in project (67%)

 

Flexible hours (51%)

 

Duration of project (49%)

 

Management philosophy (29%)

 

Size of project (24%)

 

Complexity of project (24%)

 

Quality standards (22%)

 
Businesses seeking a contractor should look to offer a clear and comprehensive contract that meets as many of these motivations as possible.  
Read more insights from AWS professionals.
The Jefferson Frank Careers and Hiring Guide: AWS Edition provides a unique insight into the Amazon Web Services community.
Know why employees are leaving 
Talent turnover is inevitable; or is it?  
By turning the mirror back on yourself and being introspective with your analysis, you're able to mitigate employees' motivations to look for roles elsewhere.  
When we asked employees what motivates them to consider a new job, the top reasons were: 
Lack of salary increase (52%) 

 

Lack of career and promotional prospects (52%)

 

Need for new challenges (40%)

 

Being underutilized (33%)

 

Poor working environment/company culture (31%)

 

Being underappreciated (26%)

 
With just 64% of respondents agreeing they had overall job satisfaction, it's clear that there's plenty employers can do to improve their retention rates and protect their valuable assets.  
Respondents were least satisfied with the career progression and training opportunities currently being offered to them.  
Your top talent is keen to keep learning and improving their skills, so strive to offer employees the opportunity to do this. Arrange training courses, pay for certifications, and set aside time and resources for learning and development (L&D).  
Pair this with opportunities for professional growth, too. As your talent continues to upskill and establish their expertise, provide clear progression routes to ensure they remain engaged and motivated.  
Tell your employees how to move forward and facilitate them with the L&D time and opportunities to do so successfully. Don't leave anyone wondering how and when to take their next step, because the chances are, they'll look to take those steps somewhere else. 
Let's not forget about the impact of salary, the most popular motivator for employees considering a new role. While almost two-thirds (61%) of employees are satisfied with their salary, the 19% of respondents that are dissatisfied cited the following reasons:  
"My salary is not in line with the industry standard and I'm earning below the market rate."

 

"I undertake responsibilities beyond my current grade and position but I'm not being compensated for it."

 

"I feel undervalued for the work that I do."

 
With employers willing to splash the cash to make the top AWS talent acquisitions, paying your team their current market value (if not more) is vital to winning the race for talent.  
For example, 62% of respondents experienced a pay increase since the start of the pandemic, with 48% of these respondents receiving a pay rise without a promotion. This demonstrates the importance of protecting your assets and making your AWS professionals feel valued by offering salary increases where feasible. 
Almost half (47%) of AWS professionals have received a counteroffer after resigning from a role, of which only 36% of that group went on to accept. Don't make the same mistake of leaving it too late, and instead compensate your specialists well to deter them from looking elsewhere. 
Know where to look 
Now it's time to unveil the strategy that'll see you go the distance.  
The AWS job market is driven by experience, but this creates a self-sustaining problem that accelerates the cloud skills gap. Businesses keep dipping into the same pool of talent, meaning new candidates aren't able to obtain the experience and expertise so highly in demand. The skills gap keeps widening and the pool of experienced talent grows smaller and smaller.  
The race for talent is creating a drought in the usual candidate pools, and to come out on top, you must search for higher ground. Look beyond the horizon and think longer term with your AWS talent acquisition strategies.   
One way to do this is to focus on diversity and inclusivity in your hiring approach.  
In our most recent Careers and Hiring Guide, 87% of the AWS professionals who responded were male, and a further 51% were of White or Caucasian ethnicity. This emphasizes a systematic inequality in the way organizations are building their tech teams, and highlights a real opportunity to explore an untapped market of talented candidates.  
To further stress this point, only two thirds (66%) of respondents agreed that their employer promoted racial and ethical diversity in their workforce, while over half of AWS professionals (53%) – and 76% of women – believed there was gender inequality in their industry.  
Addressing this problem won't fix it overnight, as Zoë Morris, President of Jefferson Frank, recognizes. "Diversity and inclusion in the workplace is a journey, not a destination. And as with any other journey, it starts with a single step in the right direction—towards an industry that is fair and diverse, and in which every professional is empowered to do more and be more." 
By taking the first steps in the right direction, businesses can improve the strength and sustainability of their AWS talent acquisition strategies and win the race for talent long-term.   
Know who to ask for help
When acquiring new AWS talent, in-house recruitment teams may face significant challenges. After all, attracting the right talent can often require a high level of industry awareness and technical know-how.  
This is why many companies outsource their AWS talent acquisition to specialist recruitment firms. Know what to look out for when choosing your recruitment partner and ensure they have a proven track record of success in placing skilled AWS professionals.   
Why not begin your hunt for AWS talent today by browsing our current candidates?  
Looking for top AWS talent? We make it easy.
Tell us what you're looking for and we'll put together a job spec that attracts professionals with the skills and experience you need.