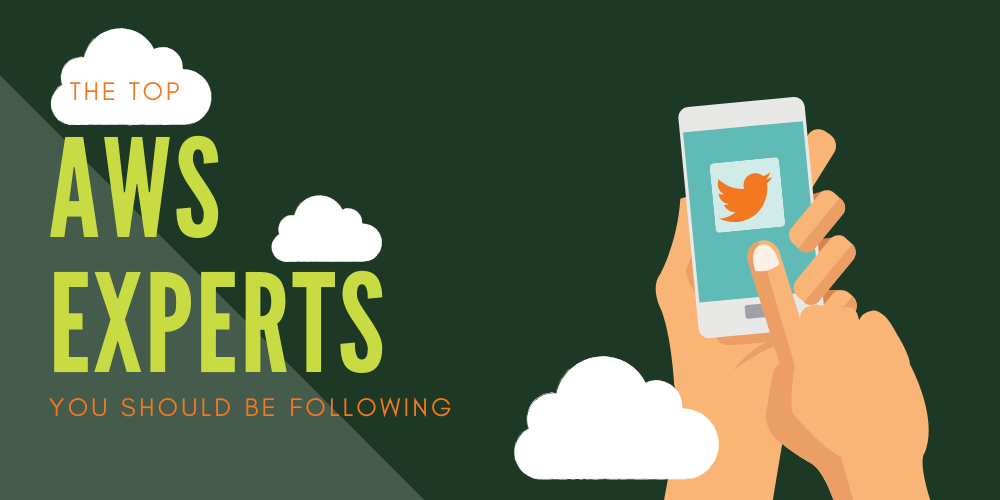 AWS certifications give you the in-depth knowledge, skills, and industry-recognized stamp of approval you need to thrive in this ever-growing tech ecosystem.
That's all great, but what if you're just curious about AWS? Where can you get more detailed insights into Amazon's cloud offering, and where do you go to get the latest news, tips, and guidance on AWS wrapped into one neat package?
Enter the AWS experts. To make things a little easier, we've brought together seven of the biggest names in the AWS community that you should be following right now. In no particular order, it's time to get to know a little more about some of the AWS pros helping shape today's tech landscape.
Give them a follow if you want to grow your skill set and get the inside scoop on all the latest technical AWS updates!
Jayendra Patil
Technical & Solutions Architect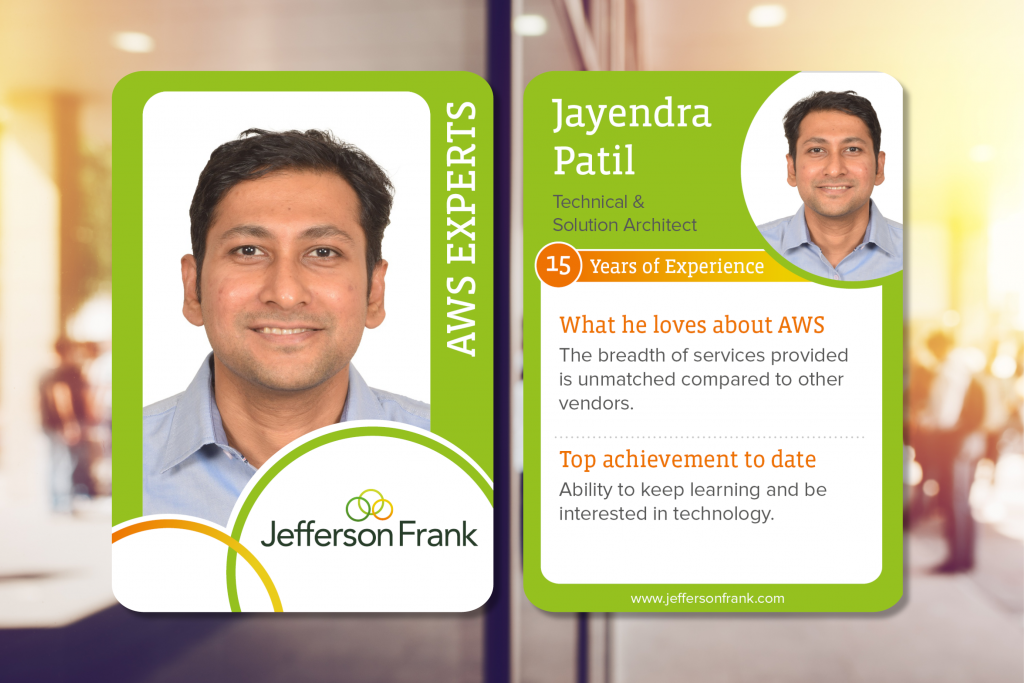 Twitter: @jayendra_patil
Blog: Jayendra's Blog
Years of experience: 15
What Jayendra loves about AWS: AWS is the market leader in cloud. I really like the way they've targeted the industry and turned it upside down. The breadth of services they provide is unmatched compared to other vendors. The amount and fast pace of their innovation is surely helping to set a trend.
On his favorite AWS products and services: There are a lot of services in AWS, but the first one I got to know and still like is the Simple Storage Service. It's simple, yet the most prevalent and widely used service. It is not a primary service, but the glue to make use of other services.
Recommended read: I really like the whitepapers AWS publishes, but it really depends on what role you are working in to make sense of it. If you are an architect, I would recommend the Disaster Recovery whitepaper. It can really help you understand the idea, the concept, and the disaster recovery use cases not only in terms of AWS but in general as well.
Helen Anderson
AWS Certified Cloud Practioner and Business Intelligence Consultant at Xero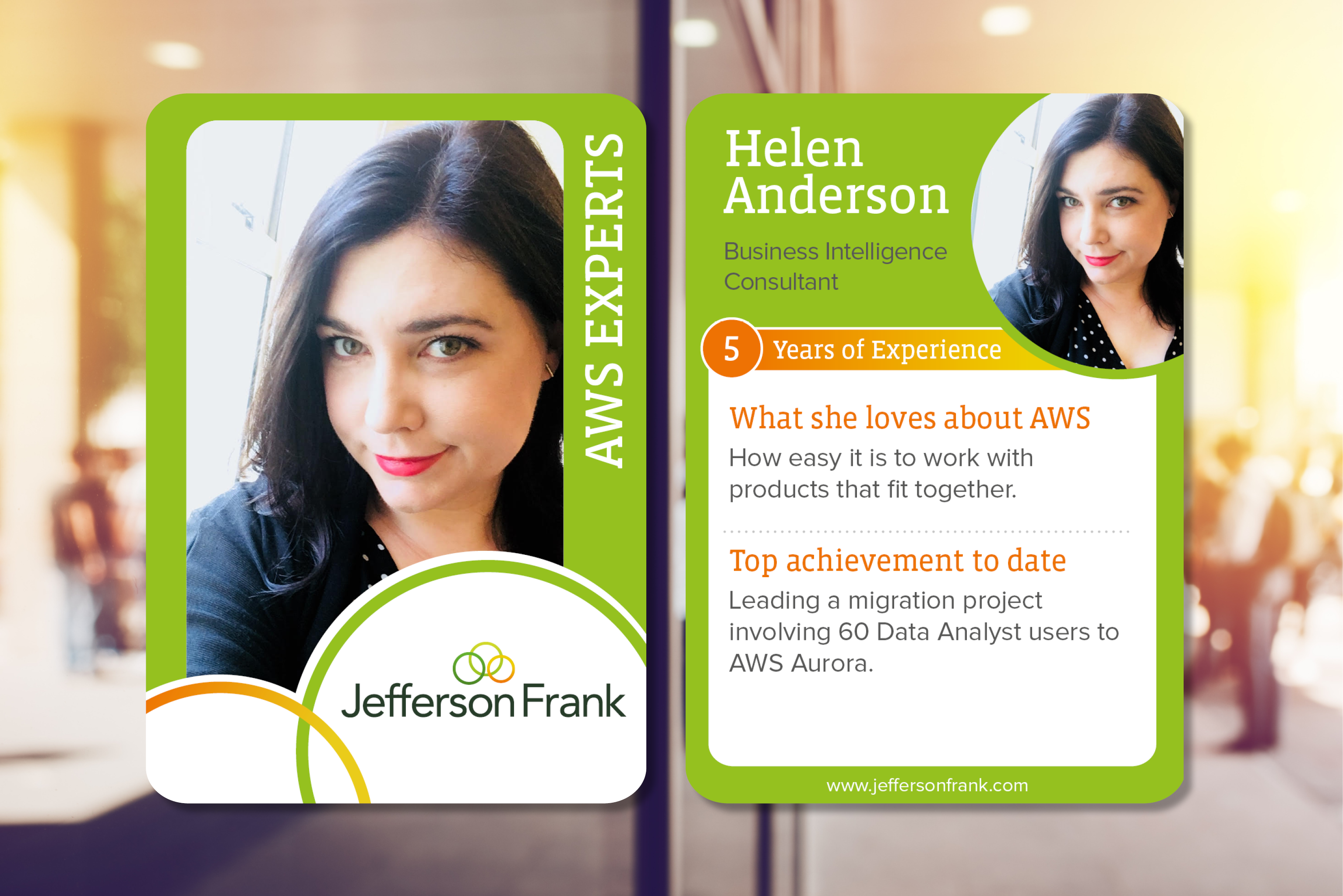 Twitter: @helenanders26
Years in the tech industry: 5
What Helen loves about AWS: I enjoy how easy it is to work with products that fit together. During our database migration I used the Schema Conversion Tool, which works hand in hand with the Database Migration Service to first convert the schemas, tables, and indexes to the new system, then moves all the data across. It's not always 100% seamless, but it did save us time on having to do things the traditional way with backups and restores.
On her favorite AWS products and services: I'm really enjoying Aurora as it provided the efficiencies we were looking for when moving from a traditional SQL Server database. It's a fully managed service at 25% of the cost of SQL Server licensing and disc, uses the same Postgres syntax as the Redshift data warehouse so speeds up copy times as they speak the same language, and can scale with us as we grow. Scaling up with AWS is as simple as pressing a button. Aurora is a better platform Analysts as it's five times faster than SQL Server, and three times faster than standard PostgreSQL with queries running in seconds not minutes.
Be the master of your AWS destiny.
Let our expert consultants find the perfect role for you, wherever you are in the world.
Recommended read: There are a LOT of services to get to grips with. Inspired by AWS in Plain English, I've created my own list of concepts for beginners and found a supporting article from others in the community. You can find it on Dev.to where the tech community is friendly and supportive. Other resources I've found useful in my studies are the whitepapers from AWS and Quizlet Flashcards.
Helen's AWS journey:
"My data journey so far hasn't been the most traditional one.
I didn't study computer science or even IT at university. After graduating with a Business degree, I landed in the world of Supply Chain Analysis. I really enjoyed solving the puzzle of how to get the right stuff to the right people at the right time. Even though we did everything using Excel, it set me on the path to where I am now.
Making the move from working in Excel to coding in SQL and now building solutions with AWS happened when I joined Xero three years ago. I started in the Marketing team as an analyst pulling lists for email campaigns and doing post-campaign analysis. I was pretty late to the game when it came to using SQL, but was hooked. Now I am working in the BI team in a role that allows me to support those junior and not so technical analysts, who were 'me' three years ago while growing my technical skills working on projects to build data models and over the last year a new database platform using AWS."
Trevor Sullivan
Cloud Solutions Architect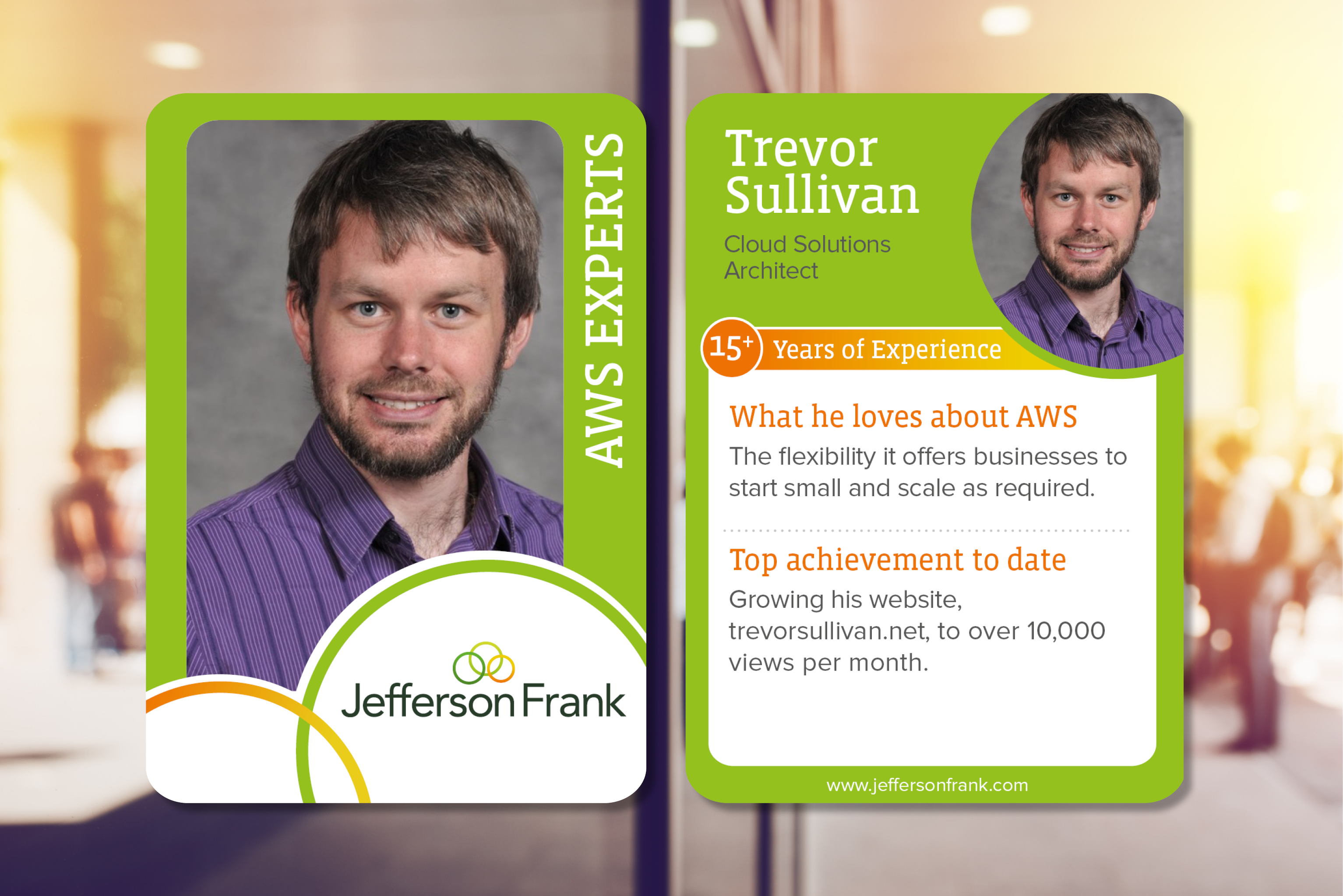 Twitter: @pcgeek86
Website: trevorsullivan.net/
Years of experience: 15+
What Trevor loves about AWS: The thing I love most about AWS is the flexibility it offers businesses to start small and scale as much or as little as required.
On his favorite AWS products and services: Although I have many "favorite" services, for the sake of this article, I will identify my favorite service as AWS Step Functions. Step Functions provides software developers the flexibility to orchestrate code running across nearly any framework, on any platform, and on any cloud. This drastically reduces the amount of "glue" code required to ensure that a business process runs seamlessly from start to finish.
Recommended read: I'd recommend using A Cloud Guru's training service to get certified on AWS and continue your cloud education, and here's a YouTube playlist with a bunch of my AWS training videos.
Trevor on his AWS certifications:
"I received my first AWS certification on October 3rd, 2017, as a Solutions Architect Associate. 21 days after that, I had finished all five of the core certifications."
Yan Cui
AWS Serverless Hero, Independent Consultant, Author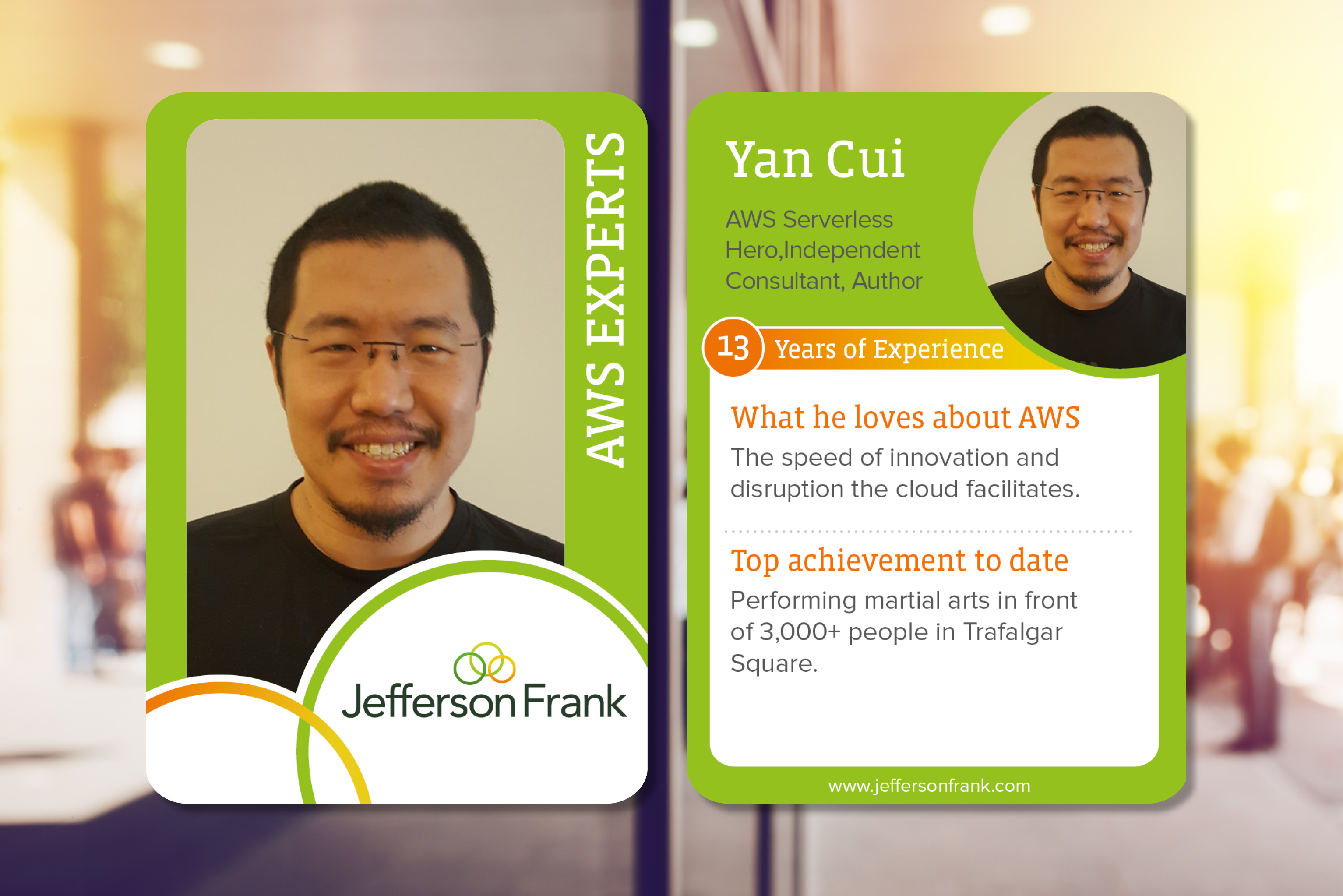 Twitter: @theburningmonk
Website: theburningmonk.com
Years of experience: 13
What Yan loves about AWS: The cloud has enabled a switch from capital expenditure (Capex) to operational expenditure (Opex). This has leveled the playing field, and smaller companies regularly disrupt markets that have been dominated by large incumbents. The speed of innovation and disruption is getting faster all the time, and serverless technologies are taking things to a whole new level. Nowadays, anyone can build scalable and resilient systems by standing on the shoulders of giants such as AWS, Google, and Microsoft.
On his favorite AWS products and services: AWS Lambda. Because it allows me to focus on my customer's needs and leave most of the undifferentiated heavy lifting to AWS, while also benefitting from the scale, resilience, and security that the platform offers. It lets me do more and better with less (and often cheaper), so why not?
Recommended read: AWS is such a broad ecosystem you can't learn anything meaningful beyond the usual buzzwords in one article. If you're looking to learn about building systems using Lambda, then I have written extensively on the topic.
Marc Weaver
Founder & Project Manager at AWS Migration Expert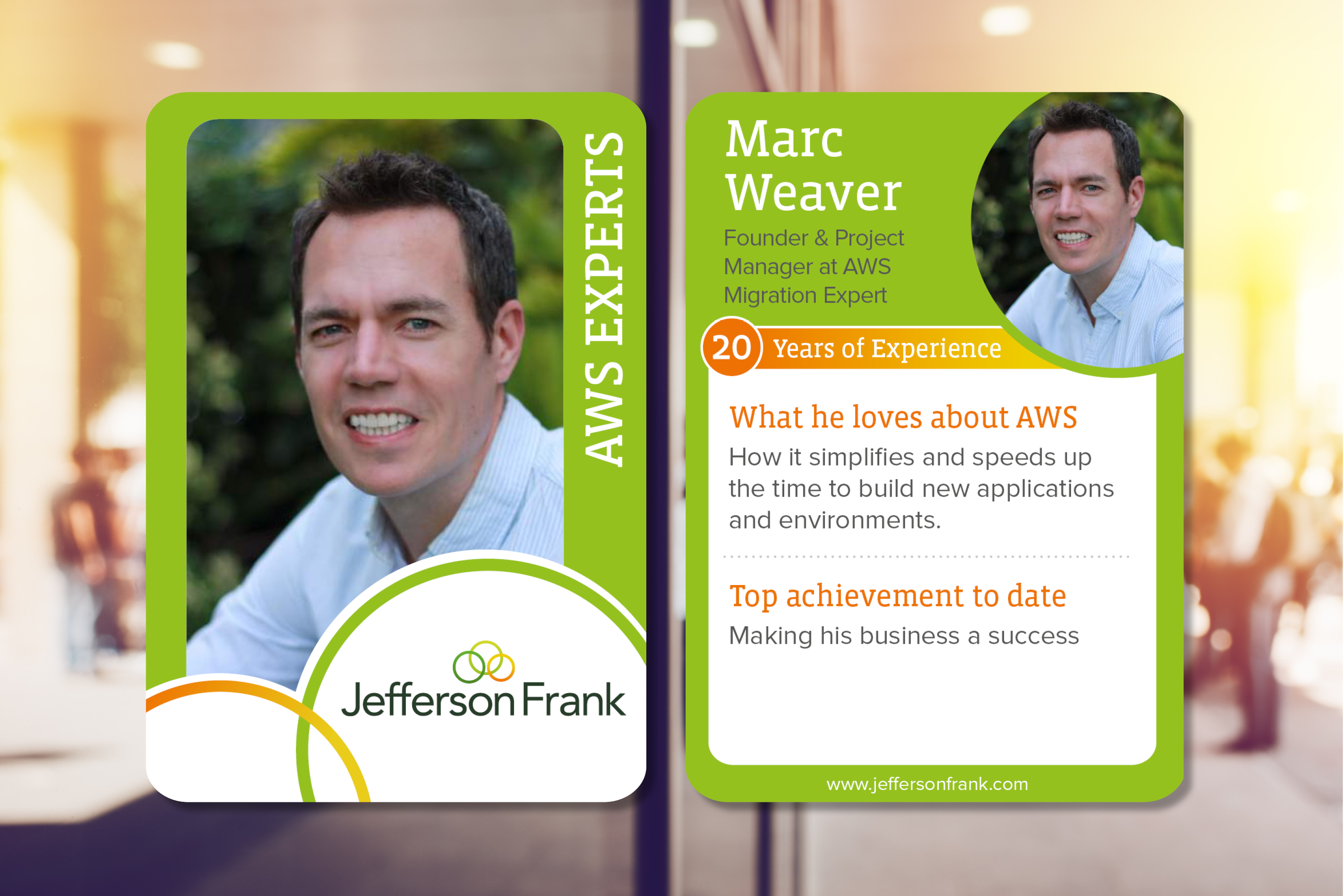 Twitter: @databasable
Blog: AWS Migration Expert
Years of experience: 20
What Marc loves about AWS: The main thing is how it simplifies and speeds up the time to build new applications and environments. Prior to getting involved in the cloud, the lead time for getting a new application environment up and running could be measured in weeks and months, and it involved multiple teams; storage, networks, sysadmins, database admins, management, etc. With AWS, I can do the job of all those people in minutes from one centralized dashboard. But that only begins to explain how good AWS is; there are multiple layers of things that make it great, including scalability, high availability, automation, and cost. Not to mention the sheer number of services available. 
On his favorite AWS products and services: My favorite product has to be CloudFormation, which allows you to script your infrastructure as code so that you can launch hugely complicated environments and applications with the click of a button. It allows you to automate mundane, repetitive tasks and vastly decreases the time to get new applications up and running.
Recommended read: If I were shameless I would recommend taking a look at some of my blog posts, but I'm not, so instead I would point anyone interested in AWS towards Jeff Barr's blog posts. He's their Chief Evangelist and is always the first to share new updates on products.
Forrest Brazeal
AWS Serverless Hero, Cloud Architect, Author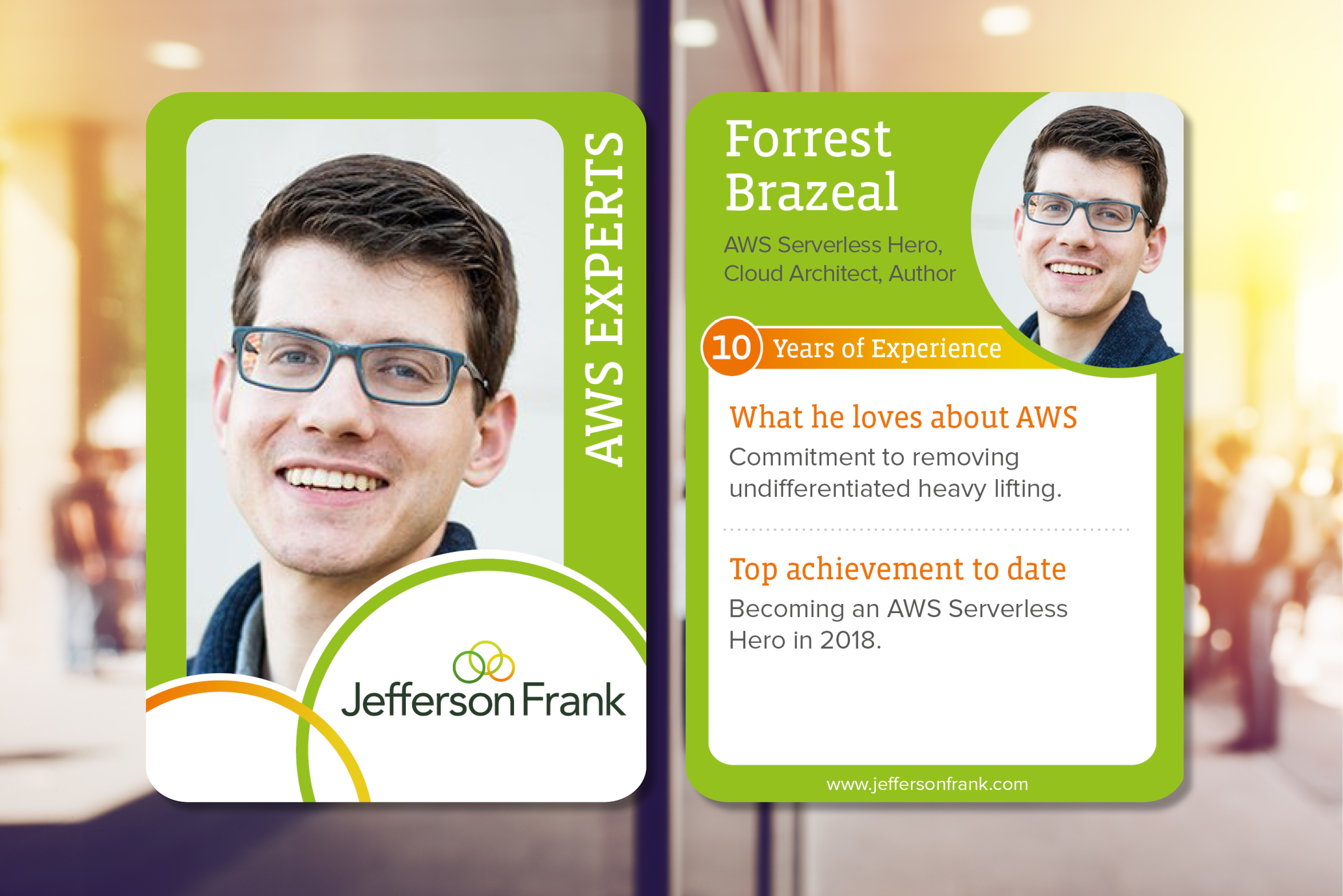 Twitter: @forrestbrazeal
Years of experience: 10
What Forrest loves about AWS: They have a steady commitment to removing "undifferentiated heavy lifting." The infrastructure things I was building on AWS five years ago I would never build today because they keep adding value higher up the stack.
On his favorite AWS products and services: Really excited right now about CloudWatch Events, which provides a centralized abstraction for publishing and sharing events between services in multiple AWS accounts. Look for this service to become a backbone for more serverless architectures going forward. I recently wrote more about it on the AWS blog.
Recommended read: You can't go wrong with the AWS certification courses at A Cloud Guru.
Forrest on becoming an AWS Serverless Hero:
"Becoming an AWS Serverless Hero in 2018 was a really big deal for me! It's allowed me to meet and learn from so many more community members as I've traveled around the world sharing the good news of serverless."
Anthony Sequeira
Senior Technical Instructor at CBT Nuggets, Author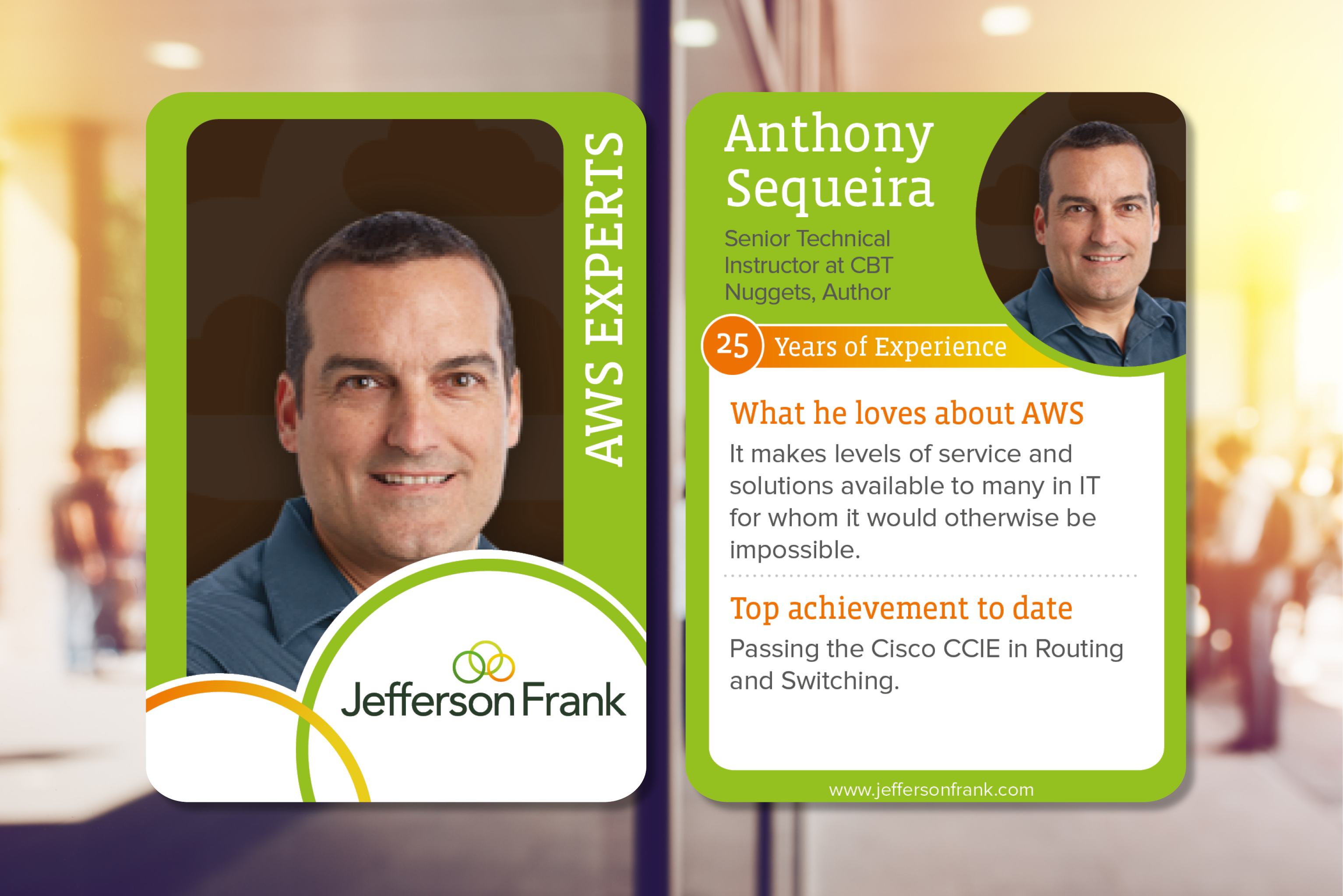 Twitter: @compsolv
Website: AJS Networking
Years of experience: 25
What Anthony loves about AWS: AWS makes levels of service and solutions available to many of us in the IT field that would be impossible without their assistance. Take solutions like IoT, Big Data, and Machine Learning. For many of us, these would be well out of reach if it were not for the services and expertise of Amazon.
On his favorite AWS products and services: I spend so much time working with compute every day that my all-time favorites would be the primary compute service of EC2, and the primary serverless compute platform of Lambda.
Recommended read: The perfect first step into AWS (and AWS Certification) is my AWS Cloud Practitioner Certification Guide.
The latest insights from the AWS ecosystem.
The Jefferson Frank Careers and Hiring Guide provides a unique insight into the Amazon Web Services community.