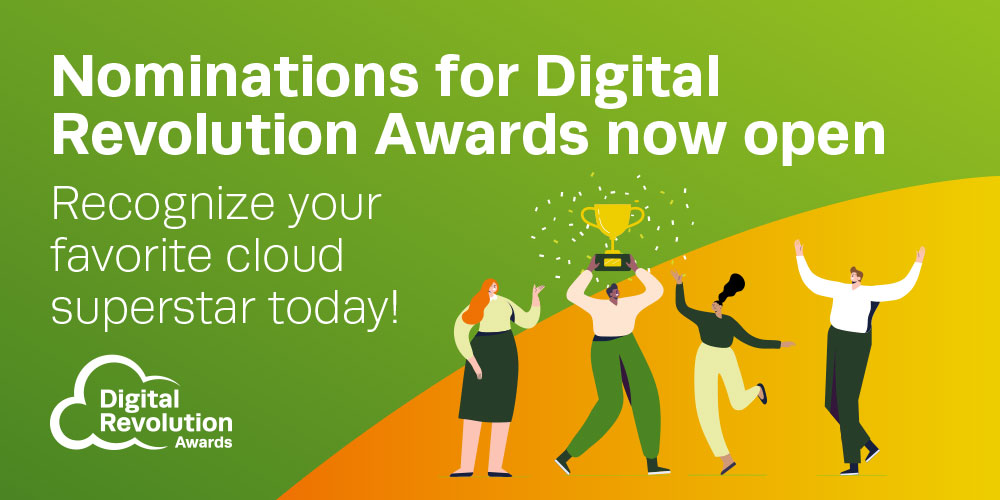 After launching in 2020 with the aim of recognizing and celebrating excellent performances across the cloud technology ecosystem, the Digital Revolution Awards are back for 2022.
Nominations are now open, offering the cloud ecosystem a new opportunity to shout out the very best professionals and organizations in the global cloud technology community.
The first Digital Revolution Awards took place in February 2021 with a virtual ceremony that saw both individuals and businesses across the cloud space acknowledged for making a positive impact on the way we work, live, and build our future using cloud technology.
This year, the awards will recognize cloud excellence across the following categories:
Tech Star of the Year
Outstanding Leader of the Year
Tech for Good
Diversity and Inclusion Employer of the Year
Rapid Business Innovation Champion
Excellence in Learning and Development
Outstanding Contribution to the AWS Ecosystem
Outstanding Contribution to the Microsoft Ecosystem
Outstanding Contribution to the Salesforce Ecosystem
Digital Transformation Project of the Year
Cloud Technology Business of the Year
Nominate a cloud MVP
"I'm really excited to be involved in the Digital Revolution Awards again," said ceremony host and entrepreneur Maxine Nwaneri.
"It was a real pleasure to be part of an event that celebrated achievement, innovation, and progress in this vital space. I'm ready to dig into a new set of nominations and see what amazing things have been happening in the industry this year."
Founded and organized by cloud talent solutions firm Tenth Revolution Group, the awards will once again be delivered in partnership with leading organizations across the cloud space; in 2021, the awards were supported by a wide range of leading businesses and groups from across the digital technology world, including IBM, Barclays Women in Technology, SumUp, Copado, Brown Girl, Tech World, and Code First Girls.
Last year's winners include several top performers from the world of AWS, including eCloudvalley, who were awarded the Fast Growth Cloud Business of the Year award for their impressive growth with encompassed obtaining AWS Managed Service Partner status in its first two years and earning more than 500 AWS certifications across its team since 2014.
AWS Hero Vicky Seno was also among those recognized for their outstanding work, earning the Outstanding Contribution to the AWS Ecosystem award for her efforts to create more learning opportunities for those looking to upskill in AWS.
Nominations will remain open until  September 30th 2021. Anyone may submit a nomination, either for themselves or their own business, or on behalf of someone else.
Finalists will be announced on December 6th 2021, with winners revealed in a virtual awards ceremony on February 25th 2022.
A group of independent, cloud expert judges will review each nomination and score each finalist individually. The panel already includes: Founder and Managing Director at Advanced AWS Consulting Partner Rebura, Aaron Rees; speaker, influencer, and marketing thought leader Vladimer Botsvadze; Wendy O'Keeffe, EVP and Managing Director at NEXTGEN Asia; Nutanix Channel Marketing Manager Rowena Case; Zoë Morris, President at Frank Recruitment Group; Nabila Salem, President at Revolent Group; and Mark Hill, CIO at Tenth Revolution Group.
The panel will be moderated by Daljit Bamford, Chief Customer Officer at Tenth Revolution Group, with more judges to be announced in the coming months.
"We were thrilled with the success of the first-ever Digital Revolution Awards earlier this year, and we can't wait to get to work on the next event," said Kashif Naqshbandi, CMO at cloud talent solutions firm and awards organizer Tenth Revolution Group.
"Cloud technology will play a big part in helping us bounce back from such a difficult time. I'm looking forward to hearing from the cloud industry about their successes and achievements, and once again highlighting the outstanding efforts of our peers.
"The 2022 awards will be bigger and better, and hopefully we'll be able to get together in some capacity on the big night and celebrate alongside some of our sponsors, judges, and nominees."
Submit your Digital Revolution Awards nomination
and give a cloud superstar the recognition they deserve.
Nominate a cloud MVP