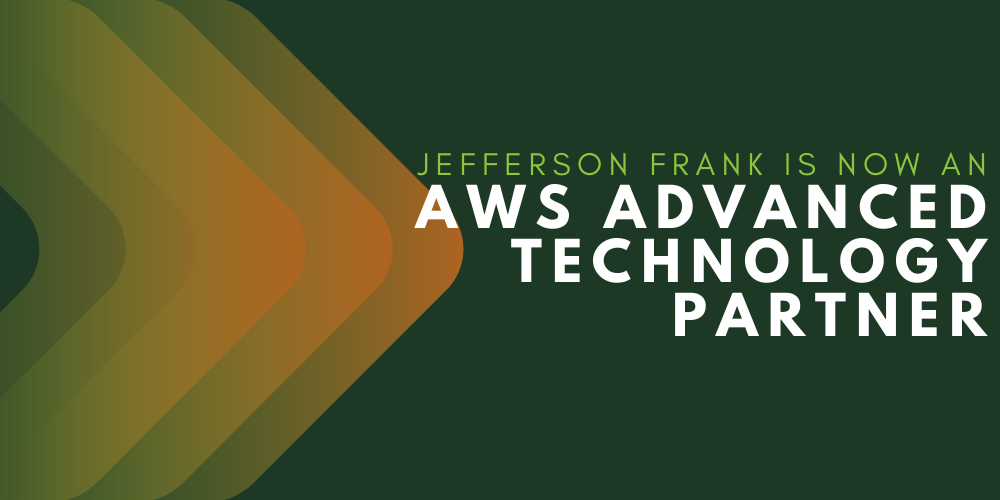 After being a member of the AWS Partner Network for less than a year, Jefferson Frank are excited to share that we are now an Advanced Technology Partner.
Achieving Advanced Technology Partner status—the highest designation APN Technology Partners can attain—is a fantastic accolade for Jefferson Frank, and highlights the strength of partnership with AWS and our innovative Candidate Search service.
This new accolade is further confirmation of our total alignment with AWS and its dedication to customer obsession. As an APN Partner, we work closely with AWS, supporting its teams on a number of initiatives to deliver the best products, services, and experiences possible for AWS customers.
Built on and delivered with AWS, Jefferson Frank's Candidate Search is a solution that helps AWS customers find cloud talent fast. In a competitive market, the Candidate Search empowers employers to take control of their hiring drive, making it simple to land the people they need to get the job done.
Now boasting the profiles of more than 18,000 pre-qualified AWS professionals, the Candidate Search brings a world of highly skilled cloud experts to employers' fingertips and enables them to search, save, and connect with the best talent all in one place.
To land Advanced Technology Partner status, Jefferson Frank had to pass a thorough technical examination of the Candidate Search platform, as well as demonstrating our extensive AWS skills and experience, and showcasing how we've delivered customer successes.
"Achieving AWS Advanced Technology Partner status is massive for us," said Sue Persichetti, Jefferson Frank's EVP of Strategic Alliances. "It's further evidence of our dedication to helping AWS customers and Partners alike do achieve more with AWS by connecting them with the best talent."
"Being awarded this top status isn't just a fantastic reflection and acknowledgment of the work we're doing on the AWS platform and within the cloud ecosystem. It also gives us access to resources that will help us improve our product and deliver even greater levels of service to our customers."
More AWS talent than anyone else
Take a look at our database of pre-screened AWS professionals and take the first step toward landing the best administrators, developers, and consultants in the market.
Take a look