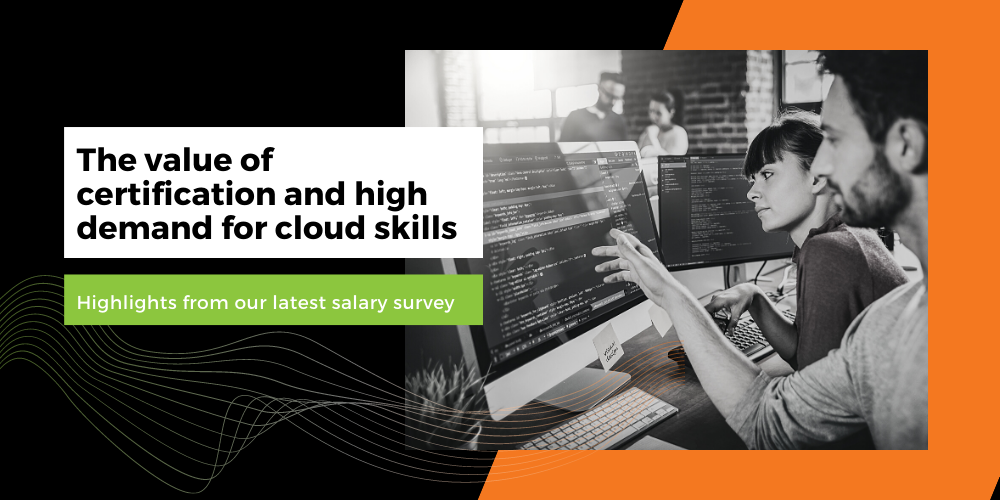 It's that time of year again! We've just released the third edition of our AWS salary survey, and it's our biggest and most in-depth yet.
Based on over 62,000 data points, the Jefferson Frank Salary Survey is the largest AWS salary survey in the world.
This year's edition includes self-reported information from AWS professionals across the globe during the coronavirus pandemic, with respondents spanning a range of industries and a diverse range of personal and professional backgrounds.
Let's take a look at some of the key findings and talk about what they mean for the AWS jobs market.
Certifications and professional development
Amid economic uncertainty and a turbulent jobs market, one of the standout findings from the survey is the value that the cloud ecosystem places on certifications and professional development.
Asked about the importance of holding official vendor certifications when it comes to finding cloud jobs, 77% of AWS professionals believe certifications help you stand out in the market.
Given this widely held belief, it's unsurprising that a large majority of AWS professionals either already hold a certification or are working towards one.
Currently, 61% of respondents cited having earned at least one AWS certification; a further 13% are studying for their first.
Many professionals in the cloud community have used the challenges throw up by the global health crisis to upskill further still; a third of respondents stated using their time in lockdown or on furlough to advance their professional development and gain more certifications.
Increasing market value as an AWS pro
The survey also revealed how earning certifications can increase market value, with 37% of those certified reporting a salary increase after becoming certified.
Employers clearly value the additional knowledge and skills that certifications can imbue within AWS professionals.
Not only did over a third of employers offer certified employees a pay rise, but 62% of certified respondents also said their employer contributed toward the cost of their certifications, with 50% stating that their employer paid for certification in full.
Respondents were also asked which AWS certification they believed was most likely to increase your earning potential; the AWS Solutions Architect (Professional) certification was the clear winner, with 67% of the vote.
Certifications are not the most significant factor when it comes upping your market value as an AWS professional, however, according to participants.
Exposure to large cloud projects was cited by 83% of professionals as the element that has the most impact on earning power.
Experience within the IT industry, and experience with AWS specifically came in just behind with 80% and 77% of respondents respectively citing them as important.
This finding clearly illustrates that, while valuable, certifications do not supersede hands-on involvement in the eyes of the AWS community.
The need for cloud skills
Proven, practical experience with the cloud platform is in high demand: when AWS customers were asked about the key challenges they faced both during migration and following implementation, the top answer was a lack of internal skills.
The report highlights the need for more cloud professionals to fill the skills gap and the opportunity presented by the blossoming ecosystem, particularly when many organizations are moving their infrastructure online to adapt to an increasingly digital world.
Download the full report
The Jefferson Frank Salary Survey provides a unique insight into the Amazon Web Services community. Complete the form below to download your free copy of the PDF report in seconds.