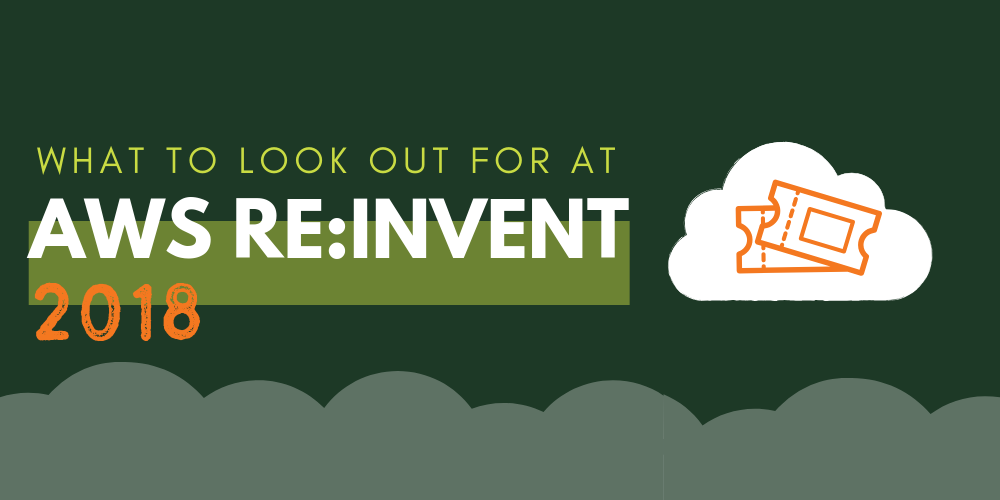 AWS re:Invent is the largest global cloud computing conference and, hosted in Las Vegas from November 26–30, it's almost certainly the most fun too.
It's the perfect event to increase your knowledge of AWS core services and improve your proficiency. There will also be keynote announcements and product launches, as well as training and certification opportunities.
As there are over 2,000 different sessions, you won't be able to attend them all. That makes it hugely important to strategize ahead of time to make sure you get the most out of re:Invent, but don't worry if you're not sure what the best events are for you.
The good news is that we've carefully picked out our highlights and sorted them by product and job role, which will help you get the most out of your time exploring AWS's flagship event in fabulous Las Vegas!
For a selection of recommended sessions, choose a job role from those listed below:
But first, a quick AWS re:Invent Q&A…
When is re:Invent 2018?
The dates for re:Invent 2018 are November 26-30.
Where is re:Invent 2018?
Into its seventh year now, re:Invent returns to downtown Las Vegas. Several venues located close to the strip will host different sessions, such as the MGM Grand, Mirage and Bellagio. Free shuttle buses will be provided to help transport you between them, but please plan ahead for peak travel times such as before and after keynote speeches.
When does registration open/close for re:Invent 2018?
Unfortunately re:Invent has already sold out, so if you aren't already signed up then you'll have to make do with our coverage on social media, or the live keynote streams from AWS.
What fun stuff is planned for re:Invent 2018?
There's almost as much emphasis on play as there is work at re:Invent and this year will be no different. The event kicks off with three world record attempts – largest air drum ensemble, most people lighting glow sticks simultaneously and largest chicken wing eating competition. There's also 4k and 8k fun runs, Harley rides and a broomball tournament to name a few!
Any keynotes I need to look out for?
Werner Vogels' presentation last year was a fascinating three-hour long extravaganza that even featured a live onstage UFC match. It also included product announcements such as Amazon Cloud9 IDE and AWS Serverless Application Repository, so expect a couple of exclusives to drop too. This year promises to be an enthralling summary of where the industry is at, as well as the most educated guesses possible of where it might be headed.
Anywhere else to look for new product announcements?
Midnight Madness, which kicks off the event on Sunday November 25, is the only session that absolutely promises some exclusives and should be worth heading to town early for. If your main reason for attending is new product info, then Andy Jassy's keynote on November 28 needs to be top of your to-do list. However, it would be a major shock if Werner didn't make any announcements during his and companies such as PagerDuty who are also running sessions have teased that they'll reveal things while there.
What is the agenda for re:Invent 2018?
You're in the right place for that! Read on to discover our pick of sessions from the biggest AWS event of the year.
Three big re:Invent hacks:
Transport
Although your conference pass will get you onto shuttle buses between venues, you will need perfect timing if you're going to cram everything in. Scout out venue entrances in advance so you know which part of the building you should be headed towards, and the best route to get you there. Be prepared to do lots of walking if you really want to get the most out of your week, which means appropriate footwear.
Breakout Sessions
If you have some spare time in your schedule and spot a queue outside a breakout session, it might be worth re-thinking joining it unless it's short. People can queue for hours and still be turned away at the door if it's full. With all breakout sessions being recorded and put online throughout the week, it's easy enough to catch up with these later on. Try to spend your time getting more hands-on experience in workshops and chalk talks.
Re-fuel
In its seven years of existence, re:Invent has continued to grow. Over 43,000 people attended last year and even more are expected in 2018. That's a lot of learning, a lot of networking, and a lot of potential time on your feet. If you find an eatery with plenty of sockets, don't be afraid to decamp there for an hour during the day to re-charge, both you and your devices. The Venetian breakfast is free of charge with your pass and a great way to start the day.
AWS Big Data
Building Serverless Analytics Solutions with Amazon QuickSight
Big data can be complex and expensive, especially when it comes to any scrutiny of it. Setting up databases, data warehouses and business intelligence applications, as well as managing them, is usually a complicated process. In this session, Product Management Leader Quinton Alsbury demonstrates how to build a serverless big data analytics solution using Amazon Athena and Amazon QuickSight. That means no need to spend money on databases, warehouses, ETL solutions or BI applications and a faster, scalable way to resolve the problem.
Tuesday November 27, 8:30am–9:30am
Aria West, Level 3, Starvine 10, Table 7
Lower Costs on Amazon EMR: Auto-Scaling, Spot Pricing & Expert Strategies
Are you making the most from Auto-Scaling and Spot Pricing, or worried whether you're getting the most out of Amazon EMR? This chalk talk from Bruno Faria, EMR Solution Architect, will provide strategies that have a track record of success as well as making sure you are utilizing its services to the maximum. Whether it's keeping long-running cluster costs as low as possible, or appropriately sizing instances, clusters and jobs, this is the perfect session for anyone where budget is a big factor.
Tuesday November 27, 2:30pm–3:30pm
Venetian, Level 3, Murano 3202
Another Week, Another Million Containers on Amazon EC2
Andrew Spyker, Software Engineering Manager, Netflix, and Joe Hsieh, Principal TAM, AWS, present this session that focuses on Netflix and the critical parts of the company. Its container management platform is Titus, which powers its video streaming, recommendations, internal engineering tools, machine learning, big data, studio technology and much more besides. Netflix is a vast and varied business with huge and different demands, and this session will give a fascinating insight into it.
Thursday November 29, 1:45pm–2:45pm
Venetian, Level 3, Murano 3205
AWS DevOps
Unleash Team Productivity with Real-Time Operations
You know that a few minutes of downtime doesn't just mean inconveniencing people. Technology now means that millions of dollars can be lost with customers moving somewhere else that can be accessed instantly. PagerDuty will be presenting this session, which discusses the best practices around incident management. Better automation and analytics will ensure increased operational performance and team productivity, which can help improve business results.
Monday November 26, 1pm–2pm
Venetian, Level 4, Delfino 4005
Leadership Session: Using DevOps, Microservices, and Serverless to Accelerate Innovation
Amazon.com is one of the best examples of lightning-quick innovation in terms of DevOps, microservices and serverless. This session is a rare chance to hear some key learnings from that with David Richardson, VP of Serverless, Ken Exner, director of AWS Developer Tools, and Deepak Singh, director of Compute Services, Containers, and Linux.
Thursday November 29, 12:15pm–1:15pm
Venetian, Level 2, Venetian Theatre
Role Of Central Teams in DevOps Organizations
So now you've fully embraced DevOps and migrated to the cloud, you might think your central teams are an unnecessary expense. You've even got your engineering team operating the systems they write, after all. This talk from Ruslan Meshenberg, VP, Platform Engineering, Netflix, discusses how they keep their product teams loosely coupled but get the most out of it to make sure they maximize the productivity from their central teams.
Thursday November 29, 3:15pm–4:15pm
Bellagio, Level 1, Bellagio Ballroom 6
AWS Administrator
Serverless Stream Processing Tips & Tricks
Girish Sood, AWS Senior Product Manager, presents this interactive session that will ensure you are getting the most out of your analytics set up. Combining AWS Lambda and Amazon Kineses will mean you no longer need to worry about managing servers in order to get close to real-time analysis of your data. If you wish to avoid some common errors and work in the most optimal way, this session is a must for your list.
Monday November 26, 1:45pm–2:45pm
Venetian, Level 4, Lando 4304
Considerations For Building Your First Streaming Application
Big data problems such as ingestion, ETL and real-time analytics are way more common than you might think, and can be solved together. This session will explore that, as well as give an overview of the analytics services available on AWS, including Amazon EMR, Amazon Kinesis, Amazon Athena and Amazon Redshift. A great session if you're thinking of launching a big data application onto the cloud for the first time, or simply want to learn more about the AWS big data web services available.
Tuesday November 27, 10am–11am
Venetian, Level 4, Lando 4305
Using Streaming Data to Gain Real-Time Insights into Your Business
If you want to make the most of streaming data sources so that you're able to analyze and respond almost live, then this workshop could prove invaluable. Due to the expansion of connected devices and data sources, the production rate is constantly on the rise. It's impossible to wait for this to be broken down and poured over, as businesses want to be able to respond immediately. If you want to learn how to improve your response times, this will teach you how to make the most of streaming data sources and create a solution using services like Amazon SNS, Amazon Kinesis and AWS Lambda
Wednesday November 28, 7pm–9:15pm
Venetian, Level 2, Venetian H
AWS Developer
From Russia With Love: Fox Sports World Cup Production
This sounds a perfect way to combine work and play. A team including Brandon Potter, Director of Post Production at Fox Sports, cover how Amazon S3, Amazon EC2, AWS Lambda, Amazon SQS and other services processed over 1.9 PB of original content during the 2018 FIFA World Cup. It was the biggest production in Fox Sports' history and required some of the biggest problem-solving they had encountered. During this 60-minute session you will learn the architectural patterns of large-scale data as well as content movement to the cloud over long distances with low-latency requirements, and other dilemmas they faced during the 30-day tournament.
Monday November 26, 2:30pm–3:30pm
Aria East, Level 2, Mariposa 5
Applying Principles of Chaos Engineering to Serverless
As part of re:Invent's Developer Community Day, AWS enthusiasts present insights and resolutions that they have discovered from working with the technology. This session focuses on chaos engineering, discussing whether we can adapt current practices and methods and asks the question as to what new challenges may arise in the future as a result.
Monday November 26, 4pm–5pm
Venetian, Level 3, San Polo 3405
Create a "Question and Answer" Bot with Amazon Lex and Amazon Alexa
With almost half of your customers preferring to talk to a chatbot than an actual person when they need assistance, this workshop could help give your business a huge advantage. Bob Potterveld, Senior Consultant at AWS, will show you how to deploy a "question and answer" bot using QnABot and Lex-Web-UI.
Thursday 29 November, 11:30am–1:45pm
Aria West, Level 3, Ironwood 1
---
Make sure you visit Jefferson Frank at booth 438 to pick up your free copy of our first-ever Jefferson Frank Careers and Hiring Guide. It's the most comprehensive study of professionals working within AWS and includes fascinating insights into salaries and benefits, as well as current and forthcoming trends across the world.