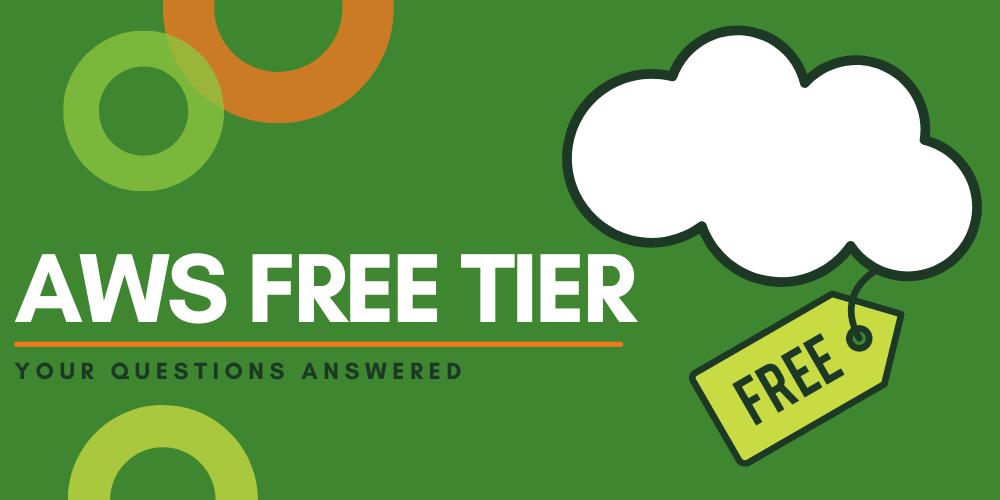 Amazon Web Services is a sprawling platform packed with services that cover all kinds of business needs using all manner of technologies.
With AWS, pretty much any functionality you could want from an IT perspective is available 'as a service', meaning there are no upfront costs and you only pay for the resources you use.
What you might not realize, though, is that a significant number of AWS products can actually be used without ever putting your hand in your pocket. That's because AWS offers a Free Tier; a collection of tools and services that can be used completely free.
In this post, we're going to answer all your questions about AWS Free Tier to help you make the most of this fantastic resource.
What is the AWS Free Tier?
The AWS Free Tier is a collection of over 100 AWS services that can be used for free. Whether you're trialing products to see which is the best fit for your business, have a short-term or small-scale project on your hands, or you want to learn more about AWS and get some practical experience, you can access a big chunk of the AWS world before you need to spend a penny.
Is the AWS Free Tier really free?
The AWS Free Tier is really, truly free; you get access to a practical, valuable amount of cloud computing resources without having to pay a penny.
But there are limits involved for some products. Some products are free forever and have usage caps limiting how much resource you can consume per month, like AWS Service Catalog, which allocates users 1,000 free API calls per month. Others are entirely unlimited, for example, Amazon Chime, AWS's video and audio conferencing service.
How long does the AWS Free Tier last?
There are three types of offers on the Free Tier:
Always Free Available to both new and existing AWS customers forever (subject to usage caps)
12 Months Free Available to new AWS customers for one year following the creation of their AWS account—again there are some limits on usage with these products, so if you exceed these limits or if you continue to use them after 12 months, you will incur charges
Trials Short-term trials confined either to a period of time (e.g., two months) or a limited quantity of resource (e.g., 1,000 pages)
Do I need a credit card to use the AWS Free Tier?
You need to input payment details such as a credit or debit card to use the Free Tier, just in case you exceed any usage limits. As long as you don't go over any of these limits, you won't be charged.
How do you use the AWS Free Tier?
When you sign up for an AWS account, you'll automatically be eligible to use the Free Tier for 12 months.  Once you're signed up, you can go ahead and start using any of the Free Tier services right away.
Be sure to check what kind of offer you're using—Always Free, 12 Months Free, or Trial—so you know what limits you need to work within in terms of both time and resource consumption. If you want to check whether your planned AWS project or usage falls within Free Tier limits, you can run it through the AWS Pricing Calculator.
To help you stay within the limits of the Free Tier, AWS sends out automatic email alerts through its AWS Budgets tool to let you know when you've used up 85% of your allowance. These alerts are sent for every Free Tier product you use that falls under the Always Free and 12 Months Free categories; simply opt-in through the Billing preferences section of your Billing Management Console.
You can also set custom alerts through AWS Budgets, including forecasts to let you know when you're likely to run out of Free Tier resource.
Looking for AWS talent for your team?
Check out the world's biggest database of pre-qualified AWS professionals for free.
What's included in the AWS Free Tier?
The AWS Free Tier makes many of AWS's most popular products available to be utilized for free. More than 100 products and services are available on the Free Tier in some capacity, across categories like compute, storage, analytics, machine learning, and even robotics.
When does the AWS Free Tier expire?
AWS Free Tier offers expire at different times depending on their type. Always Free products don't expire (though many do have resource-related upper usage limits).
Predictably, the Free Tier for any products in the 12 Months Free category expires one year from the date you sign up to AWS.
Expiry dates for Trial products on the Free Tier vary; some offer unlimited free usage for a set period of time, for example, 30 days, some offer a pre-defined amount of usage that has to be consumed within a specific time period, for example, 750 hours to be used within one month.
How do I check my AWS Free Tier expiry date?
The easiest way to find out when your 12 months of Free Tier access expires is to check your email to find out when you initially signed up for an AWS account. Your 12 months' of Free Tier use will expire one year from your sign-up date. You can also use the Billing Dashboard within your AWS account to see what month you signed up (it'll be the first monthly bill on your account).
Don't worry though, AWS will send you an email when you're approaching the end of your free access period so you can prepare.
What happens when the AWS Free Tier expires?
When your Free Tier access expires, you'll need to start paying on-demand rates for any resources you use going forward. If you're happy to start paying to continue using these services, you don't have to do anything, you'll simply be billed monthly for your usage.
If you don't want to incur any charges, make sure you shut down or delete any resources running on your account. You can also delete your account if you want to.
How do I upgrade from the AWS Free Tier?
If you want to keep using the services you used on the Free Tier once it's expired, you don't have to do anything; you'll simply be charged a standard on-demand rate for anything you use in the future.
If you want to use a more expensive resource type than the one offered on the Free Tier, you cannot simply pay the difference. You'll have to sign up for the service directly, circumventing the Free Tier altogether.
Want more info about the AWS market?
Find out you should be paying for AWS professionals in your area.