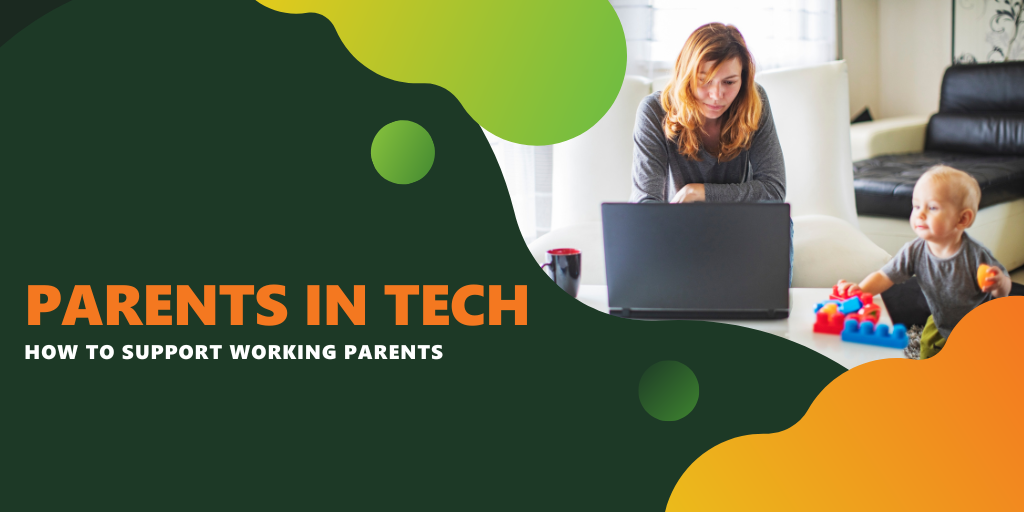 Working parents make up a huge proportion of the workforce, with 2021 data from the Bureau of Labor Statistics showing that, among married-couple families with children in the US, 96.5% had at least one employed parent, and in 62.3% of these families both parents were employed. That's in addition to those professionals who are single mothers and fathers, with almost a quarter of US children living with one parent.  
This means that, across all organizations, a significant proportion of your employees are likely to have children at some stage during their careers—and in tech, this is no different. 
But in an industry so fast-evolving, skill-based, and experience-dependent, working parents may require additional support when starting or restarting their tech careers. Without it, it's easy for working parents to fall behind as a result of taking time out and having less time to develop skills and experience.  
But with a raft of benefits for professionals, organizations, and industries, putting the necessary support frameworks in place to ensure parents working in tech can thrive just makes sense – here's how to do it effectively.  
 Challenges for parents working in tech  
To successfully support parents in the workplace, it's important to understand the challenges they face.  
Whether it's an employee returning to their role after paternity leave, or a parent joining your team for the first time, the common hurdles this group of talent face in the tech industry include: 
Childcare

:

Childcare isn't a problem exclusive to parents working in tech – far from it. In fact

,

2022 data from the Bureau of Labor Statistics

revealed more than 100,000 Americans missed work in October alone due to childcare responsibilities.

But with the tech industry having a reputation for long and complex projects, it becomes particularly challenging for talent to balance childcare commitments and stick to schedules and meet deadlines. For example, the

Jefferson Frank Careers and Hiring Guide: AWS Edition

reports that almost two-thirds (64%) of AWS professionals work outside their contracted hours at least sometimes, while only a third (33%) receive flexible working hours as part of their employee benefits. It's easy to see how work commitments can quickly become unmanageable for a tech professional with parental responsibilities.

 

Burnout

:

From constant busyness to a lack of sleep, exhaustion is something many parents encounter at some point – especially in the early stages! Burnout is a risk in all industries if professionals are working long hours and to tight deadlines, and tech is no different, with almost half of AWS professionals (45%) telling us that they have experienced burnout in their current role. This puts working parents particularly at risk of burnout should they already be feeling tired and overworked, having a wave of negative implications on not just their career, but their health and wellbeing too. 

 

Career progression:

Many professionals feel like they suffer a setback in their careers after taking parental leave, particularly women. In fact, according to

a survey of 100 women in tech

, 72% believe their career is still suffering because of childcare and family responsibilities. In an industry as male dominated as tech, it's absolutely vital that working mothers are supported with the same opportunities for progression, to ensure existing disparities in areas like pay and seniority aren't accentuated further. 

 
Why supporting working parents is important  
Here are a few of the reasons why supporting working parents in tech benefits talent, employers, and the industry as a whole: 
Better gender representation  
The stark reality is that the issue of balancing work with caring responsibilities has always disproportionately affected the careers of women. And while the issue of domestic inequality is by no means exclusive to the tech industry, data from a Tenth Revolution Group: Women In Tech white paper shows that the female drop-out rate in tech is 50%, compared to 20% across other sectors.  
And worse still, those that do return to the industry post-maternity leave often experience stagnation in their career development, an occurrence the white paper describes as, "[an] accidental side-lining [that goes] hand-in-hand with a kind of benevolent sexism."  
In other words, the industry holds an unconscious bias around working mothers' professional ambition, time and capability that prevents them from achieving the same career growth as working fathers. Working mothers don't lack ambition or focus—in fact, this stereotype presents yet another hurdle for these professionals to overcome.  
But another key consideration is the pace of change in the tech industry, and the consequences this has on working mothers. Women returning to a tech career after longer periods of maternity leave may well find that their skills and expertise are outdated or even irrelevant to the latest products and capabilities – without the right training and support, this can significantly slow career progression and worsen existing inequalities across the tech community.     
Attraction and retention  
A working environment that enables working parents to perform at their best is unfortunately less common than you might think.  
For example, a 2022 article from BBC Family Tree highlights how many parents, especially women, experience feelings of shame or inadequacy when they can't "effectively and happily manage a thriving work, home and family life simultaneously." And the roots of this problem lay in organizations' failings to adequately support working parents by safeguarding their mental health, preventing burnout, and creating an inclusive culture.  
The consequences of this can't be overstated. By failing to foster an environment that enables working parents and future working parents to achieve high levels of job satisfaction and career progression, it's more than likely they'll look for a different environment that does.  
For example, a report from KinderCare shows that 60% of working parents would stay in their current jobs if they had subsidized child-care, while 55% said they would take a pay cut to work for a company that offered this support. And while childcare is just one example of the type of support you could potentially offer working parents, this data is indicative of the impact your perks and benefits packages can have on working parents. Not to mention the knock-on effects this can have to your business and its ability to attract and retain top talent. 
With respondents in our Careers and Hiring Guide listing the increased competition for talent (31%), talent attraction (31%), and talent retention (29%) as their top tech staffing challenges in the coming year, organizations can ill afford high attrition rates. And by putting the steps in place to create a culture and environment where all professionals can achieve success and fulfilment, employers will likely find greater success when next entering the hiring market. 
Skills gap  
The tech industry is suffering from a digital skills gap accelerating towards crisis point, with almost three-quarters (71%) of hiring managers in our Careers and Hiring Guide believing there is an IT skills gap in the AWS community, and 55% of those respondents saying that the skills gap has increased in the last 12 months. 
Additionally, over two-fifths (44%) of respondents told us that finding the right talent is time consuming, and a further 41% report that attracting candidates with the right skill set is the biggest challenge they face.  
Bridging the skills gap in the long term and navigating the skills gap in the short term requires employers, hiring managers, and decision-makers to be inclusive of all types of candidates – but working parents often remain an untapped talent pool in the world of tech.  
With organizations worldwide undergoing digital transformations, demand for cloud specialists in particular remains high, despite a distinct shortage of skilled professionals. In short, the industry needs more talent, meaning that employers can't afford to be closing the doors on working parents entering or re-entering the tech industry.  
Bridging the skills gap longer term requires us all to play our part in ensuring the tech industry remains welcoming and accessible to all, attracting new professionals and futureproofing talent pipelines as a result. To take initial steps towards bridging the skills gap, employers must dip into untapped talent pipelines and provide better training and development to existing staff. Supporting working parents provides opportunities for employers to overcome the skills gap and find successful hires in the near and distant future.  
The latest hiring insights from the AWS ecosystem.
The Jefferson Frank Careers and Hiring Guide: AWS Edition provides a market-leading insight into the Amazon Web Services community.
5 ways to support working parents in tech  
Provide predictability  
Allow flexibility  
Map out progression routes  
Create a family-friendly culture 
Shout about your support channels  
  How to support working parents in tech
Supporting working parents is about ensuring a tech career can complement both motherhood and fatherhood, from easing the transition back into the workplace to providing the same opportunities for achievement and growth.  
Here are 5 tips to get you started:
Provide predictability 
Parents have schedules… busy schedules.  
They need to wake up the kids, make them breakfast, prep them for school, drop them off, pick them up, take them to practice, cook dinner, get them to bed – alongside a whole load of other commitments.  
As a result, it's important to ensure as much predictability as possible in a working parent's day to day. This means sticking rigidly to contracted working hours, pre-determined workloads and deadlines wherever and whenever possible. This is understandably easier said than done – scope creep and extended hours are often at the mercy of additional client requests, unexpected delays, and last-minute errors. But even in these instances, every step should be taken to ensure as much notice as possible, and working parents should feel confident in being able to push back when this still can't be accommodated. And this should never be seen as a lack of dedication or drive.   
But with almost two-thirds (64%) of respondents in our guide reporting working outside their hours at least some of the time, and a further fifth (18%) working to the needs of the business, the onus is on leadership. Tech team leaders and employers must do more to provide the predictability that working parents need to successfully balance home life and parental commitments with their career.  
Allow flexibility 
Since the pandemic, we've seen flexibility play a more dominant role in professionals' day to day working lives. From remote working to flexible hours, what started as a necessity throughout lockdowns has now become a staple job benefit that many professionals now consider a non-negotiable.  
In fact, almost half (46%) of those in our Careers and Hiring Guide looking for a new role would be unlikely to accept an offer than involved working in an office five days a week. It's clear the newfound autonomy and convenience of flexible working arrangements are highly desirable to the modern professional – but perhaps even more so to working parents.  
For example, the same KinderCare study previously cited reports that 69% of working parents feel they've been able to be more involved in their children's lives because of more flexible work schedules. Allowing working parents greater freedom around when and where they work enables them to be more flexible with their schedule (which is particularly important for those inevitable parental emergencies) and grants them a greater work-life balance as a result.  
With professionals working in a permanent role telling us that they receive, on average, 21 days of paid time off (PTO) a year, flexible working arrangements enable working parents to spend more quality time with family and children – a highly desirable benefit that's sure to keep this talent satisfied and motivated in their role.  
Map out progression routes 
When returning to work after paternity leave or beginning a new role as a working parent, many professionals discover a series of new hurdles. As a result, their focus tends to be on how to keep their job rather than how to thrive in it.  
But supporting working parents is all about ensuring that these professionals don't have to sacrifice their career ambitions, and can continue to develop, progress, and achieve at the same rate they could pre-parenthood.  
And so, to avoid working parents experiencing career stagnation (and the impact this brings with it), it's vital that employers map out clear routes of progression for these professionals. Employees should know where they can go, and how they can get there.  
This is especially important in tech, where professionals are particularly passionate about their career development opportunities—and with one-third of AWS professionals in our Careers and Hiring Guide telling us that they're neutral or dissatisfied with their career progression. Stats like these highlights a major area where working parents, in particular, could feel pushed out of tech careers.  
Create a family-friendly culture 
When it comes to employee support, company culture is everything.  
All organizations should be striving to create a positive working environment, embodying a business ethos that's built on a set of authentic values. This includes promoting a culture of equal opportunity, and with 36% of organizations in our Careers and Hiring Guide telling us that creating an inclusive company culture is a top EDI priority this year, it's important to remember that this includes working parents too. 
With over half (52%) of women in one LinkedIn survey reporting being concerned or very concerned about being judged for taking leave or asking for flexible hours, there's still barriers and stigmas working parents feel are up against them. Whether it's considering paternity leave as a career choice or assuming working parents are less driven or dedicated, there's a range of negative stereotypes that need tackling.  
Look to encourage conversation, education, and openness. This is about more than throwing the occasional bring your kids to work day; it's about creating policies, processes, and frameworks that reinforce a family-friendly culture day in and day out – and it's absolutely vital this is done authentically. Never consider supporting working parents to be a box-ticking exercise. 
Shout about your support channels 
Of course, once you have policies in place to support working parents, it's important you shout about them loudly. 
Parents returning to work or starting a new career can feel off the pace when it comes to internal politics and operations, so always ensure your onboarding and re-introduction process communicates all the great support available to them.  
The same should be said for your interview process, too. If you're actively taking steps to tackle the stigma around working parents and creating an environment in which their careers can thrive, make sure you're letting potential candidates know in your job adverts and interviews.  
Not only is this a super-effective attraction and retention strategy, but by emphasizing that you're an empathetic, supportive, and desirable employer, you also reinforce a more positive company culture across your teams.  
More AWS talent than anyone else
Take a look at our diverse database of pre-screened AWS professionals and take the first step toward landing the best administrators, developers, and consultants in the market.
Take a look