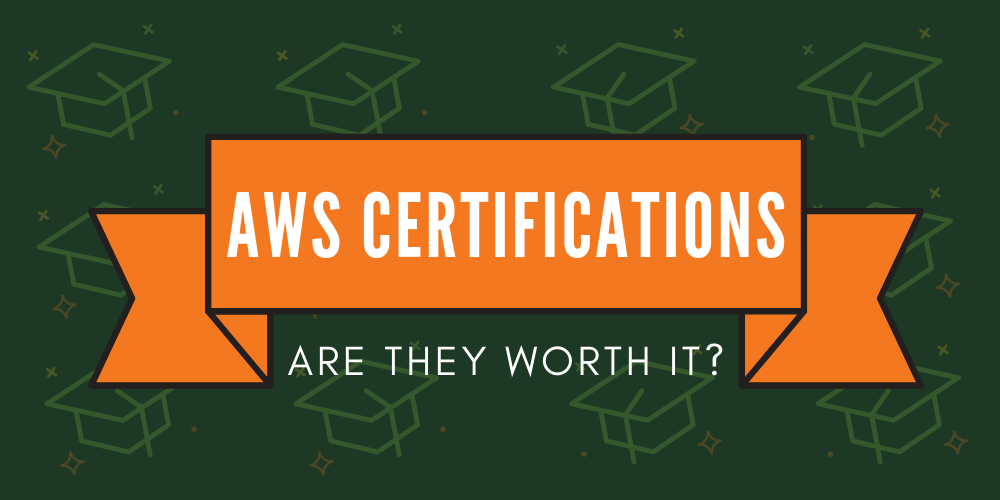 In the wider world of education and employment, certifications don't always correspond to competence—but is that the case when you're talking about AWS certifications?
When it comes to hiring tech talent, there seems to be a never-ending debate about the value of certifications and whether or not they're an accurate representation of technical skill. By all accounts, AWS exams and their resulting certifications are the real deal; according to A Cloud Guru, the AWS Certified Solutions Architect (Associate) certification commands an average salary of $125,091, and you don't get those numbers with a purely decorative title thrown onto your resume.

AWS Certifications
AWS Certifications are the way to go if you're looking to really cement your status as an expert in the ecosystem and see a real boost in your earning potential. Associate-level exams cost $150, while Professional-level exams are $300 a pop; there are currently 11 different certification exams you can add to your arsenal depending on your experience level and career path:
| | |
| --- | --- |
| Certification | Intended for |
| AWS Certified Cloud Practitioner | Individuals with the skills required to show an overall understanding of the AWS Cloud. Recommended for those looking to achieve Specialty or Associate certification. |
| AWS Certified Developer—Associate | Individuals in a development role with 1+ years' practical experience developing and maintaining an AWS-based app. |
| AWS Certified SysOps Administrator—Associate | Individuals working in a systems admin/operations role with 1-2 years' experience deploying, managing, and operating in AWS. |
| AWS Certified Solutions Architect—Associate | Individuals working in a solutions architect role with 1+ years' experience creating cost-effective, fault-tolerant systems on AWS that have high availability and are highly scalable. |
| AWS Certified DevOps Engineer—Professional | Individuals in a DevOps engineer role possessing 2+ years' practical experience provisioning, operating, and managing AWS environments. |
| AWS Certified Solutions Architect—Professional | Individuals in a role with 1+ years' practical experience in AWS system management and operations. |
| AWS Certified Big Data—Specialty | Individuals running complex Big Data analyses possessing a minimum of two years' experience using AWS. |
| AWS Certified Advanced Networking—Specialty | Individuals carrying out complex networking tasks. |
| AWS Certified Security—Specialty | Individuals in a security role with a minimum of two years' practical experience securing AWS workloads. |
| AWS Certified Alexa Skill Builder—Specialty | Individuals working in a role that requires you to build, test, and publish Amazon Alexa skills. |
| AWS Certified Machine Learning—Specialty | Individuals working in a Development or Data Science role; certifies your ability to design, implement, deploy, and maintain machine learning solutions. |
These globally recognized, industry-leading cloud certifications validate AWS skills and provide prospective employers with something priceless—peace of mind. On top of that, AWS-certified professionals are actually more productive and prove to be faster troubleshooters than their uncertified counterparts, making for a smoother ride when it comes to day-to-day workflows.
Oh, one more thing. There's a considerable leap from Associate- to Professional-level certifications. Candidates with professional certs are hugely in-demand and quite rare to find in a job market as competitive as tech.
You can also take a role-based approach to your AWS learning journey. These exams are tailored to prepare you for a specific career in the cloud, and you can choose from four distinct routes:
Cloud practitioner: learn cloud fundamentals and best practices
Architect: learn to design highly available systems
Developer: learn to develop applications for the cloud
Operations: learn to automate apps, networks, and systems
Additional paths are available for machine learning, storage, media services, specialty exams, and APN Partners.

Why should I get an AWS certification?
Here are just three reasons why getting AWS certified is worth the investment, both in terms of your time and money.

Increase your earning potential
AWS certification doesn't just look good on your resume—it can significantly boost the kind of salary or rate you command. According to our independent salary survey, 70% of AWS professionals interviewed reported a salary increase of up to 20% after passing their certification. A 2018 survey covering the US and Canada revealed an average annual income of $113,932 for certified professionals, while those without certification earned approximately $20,000 less each year.
Let us do the searching for you.
Upload your resume and our expert AWS recruiters will find the right job for you.
The training you get on the way to becoming certified is invaluable; you're learning new skills, understanding the platform inside out, and discovering best practices which, in turn, make you more efficient and a greater asset to your team.

Showcase your dedication to the technology
Earning an AWS certification is a way of showcasing your commitment to the industry and the standard practices that form its foundations. By no means does AWS certification alone trump experience; if you're an employer deciding on a new hire, the two need to be considered carefully and in equal measure when you're making that all-important offer. From this perspective, looking at a candidate's certifications is a fast, effective way for hiring managers to gauge your technical knowledge and core competencies. It's a signpost showing them that you've mastered a certain level of AWS knowledge.
"Experience often speaks louder than certifications," says Shaun Hummel, author on CiscoNet Solutions, CCNA and AWS Certification Training. "There are things you can only learn on the job. The purpose of a certification is to give you a competitive advantage over similar applicants for both getting a job interview and an offer. Any certification strengthens your resume and verifies you have a minimum level of knowledge."
Simply put, certification is like getting your AWS driving license. Just because you've passed your test with flying colours doesn't necessarily mean you're ready to drive a 16-wheeler or take a Lamborghini out for a spin.
"The job interviews are designed to filter out candidates that say they have experience and really do not," says Hummel. "For example, to what depth can you discuss a project you worked on that is similar to what they are hiring for. That counts for a lot when you have done something similar, for example, and know the issues, problems, [and] fixes for a deployment.
"In fact, having less experience is not a problem if your experience is directly aligned with the job requirements. If you have the minimum amount of experience that makes you a viable candidate, having certifications is a plus."
Hiring practices will vary from one organization to another, but all other things being equal, having one certification more than your competition could be the difference between bagging your dream job and receiving a rejection letter.

Boost your "curb appeal"
Partners are required to have certified staff to maintain their status, so bringing certified candidates on board is more of a priority to them than it would be to an AWS customer organization. Partners are more motivated to collect and surpass the number of certifications required to achieve and maintain partner status, reaping all the rewards that come with it.
According to Jim Burnham, Director of Business Development and Strategic Alliances at Six Nines, a Premier AWS Consulting Partner, certification can be integral to an employer's partner and competency status within the wider AWS community: "one aspect of certification that candidates may not be aware of is their employer's need to maintain partner and competency status with AWS."
"AWS Premier and Advanced partners have to maintain on staff certain numbers and levels of certified individuals. Business, Technical, and Cloud Practitioner certifications are relatively common and help a bit. On the other hand, Professional and Speciality certifications are much more difficult to obtain. We track very closely the number of our staff with Pro and Specialty certifications. If we didn't, then we'd risk losing our AWS qualifications. Therefore, we value highly Pro and Speciality certifications and offer incentives to our staff to acquire and maintain the more demanding and difficult certifications."
But does certification make or break a job offer? The short answer when it comes to partner status is yes. "All other things being equal, we would have a preference for a candidate with a certification," says Jim. "If the candidate had an AWS Professional or Speciality certification, we would have a very strong preference for that candidate."
"Certifications are not a silver bullet, and most employers recognize that," says Chris Coleman, President at Woz U, "but they offer the employer a clear understanding of what they can expect from a candidate and how to tailor their on-the-job professional development.
"When comparing certifications to experience, it can be difficult to provide a fair assessment.  Certainly, there are self-taught engineers capable of performing the required duties, and there are also certified developers equally capable.  The certifications, however, express the candidate's intent to the hiring manager.
"If you don't possess a certification, it doesn't make you unqualified.  Similarly, if you do possess a certification, it doesn't inherently make you the best candidate. What the certification does, however, is express to the hiring manager that your studies and interests are aligned with their desired skills."
When it comes to younger organizations, hiring professionals with certifications seems to be less of a priority, according to Ben Keating, designer and developer at The American Spreadsheet Company. "For smaller business and startups, having AWS-certified talent on board becomes more of a selling point, as you can likely jump in just as deep outside of certification training as you can within," says Ben. "Potentially more so if you focus on meetups and online communities, including IRC channels or other social platforms."

Types of AWS certification training
Moving from an on-premise operation to a more cloud-focused approach means that the tech community needs more people. Going from on-premise to the cloud changes things and we need people there to make that change happen.
There are three main ways to build your knowledge base on all things AWS, namely:
Digital training
These online, on-demand courses empower anyone interested in AWS to learn about the latest services when and where it suits them.
There are plenty of options when it comes to scrubbing up your AWS knowledge in your own time, at your own pace.
AWS itself publishes heaps of training and education materials on its website, and there are a range of third-party training providers who offer courses designed to help you land your certification, like Simpliv, EdX, and ACloudGuru. You'll find plenty of free online guides and resources to help you pass too, like this one for the Solution Architect exam.
Classroom training
If you're looking for something a little more formal, this might be the better fit. Get either in-person or virtual training from instructors who teach your team in a hands-on learning environment.

Whether you're fresh out of college, a self-taught sensation, or a seasoned expert, getting AWS certifications under your belt is the way to go. You'll increase your chances of nailing down that dream job, command higher salaries, and get that industry-recognized stamp of approval marking you out as an expert in your field.
---
What kind of salary increase can you expect once you're certified?
Find out the latest salary averages for AWS professionals across the world with the Jefferson Frank Salary Survey; the ultimate guide for anyone looking to build a rewarding career in AWS.