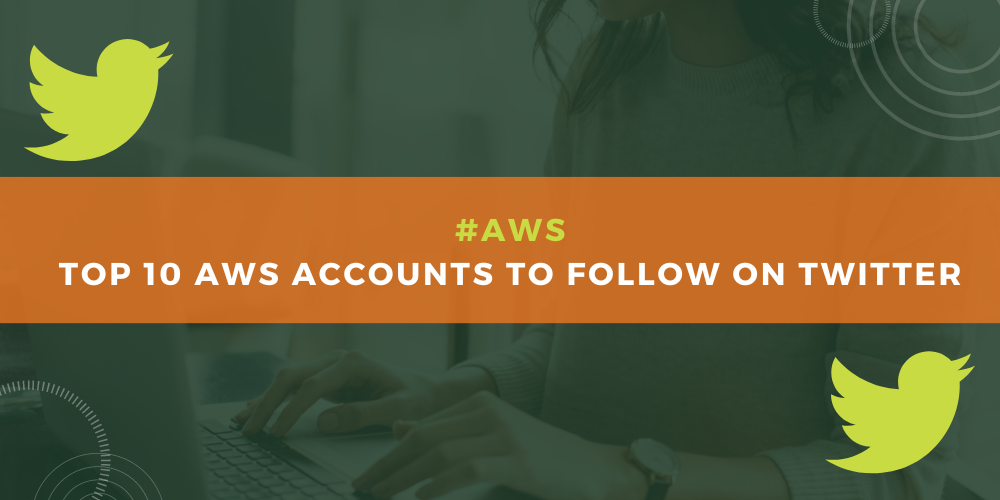 Looking for the top Twitter accounts from across the AWS community? Wondering who to follow to stay up-to-date on all the latest and greatest from the world of AWS? You're in the right place.  
Whether you're an AWS professional or a team leader looking to better utilize AWS' extensive range of products and services in your organization, it's important to stay in the know—and Twitter remains one of the best places to keep your finger on the pulse (even without a blue tick…).  
From official accounts to the best tweeters about all things AWS, here are the top ten Twitter accounts you should be following in 2023.  
AWS (@awscloud) 
We thought we'd start with the obvious!  
Like all cloud ecosystems, AWS is a fast-paced and ever-evolving space. That means no matter if you're an experienced professional or just beginning your cloud journey, it's important you know what's happening in the here and now.  
From retweeting the must-see posts on AWS to sharing the latest vendor-published blogs, ebooks, whitepapers, and more, following @AWSCloud just makes sense for any AWS professional. 
Jeff Barr (@jeffbarr)
As Chief Evangelist of AWS, it's safe to say that Jeff Barr is a must-follow for anyone looking to stay up-to-date with everything happening in the space.  
Tweeting about "AWS updates and chatter", Jeff regularly opens up conversations around the latest products and trends, retweets top tips and opinions, and shares his own invaluable content on new announcements and innovations.  
As a regular writer for the official AWS blog, you can rest assured that you're getting the highest-quality insights from a credible source—after all, there's a reason AWS professionals in the Jefferson Frank Careers and Hiring Guide: AWS Edition recommended Jeff Barr's account as a resource to improve your knowledge of the ecosystem.  
The latest career insights from the AWS ecosystem.
Covering certification, salaries, benefits, career advice, and a whole lot more, the Jefferson Frank Careers and Hiring Guide is the ultimate resource for anyone looking to build a rewarding career in AWS. 
Aileen Gemma Smith (@aileengemma)
Aileen Gemma Smith is a great person to follow to learn more about the make-up of the AWS community, and the efforts being made to improve representation and equality across the space.  
Aileen is Head of Content Strategy and Diversity Marketing at AWS, and much of her focus centers around the work and interests of marginalized tech professionals. With extensive experience in the area, including positions on various advisory boards and appearances at panels and events, Aileen is a self-described "builder, mentor, and advocate" looking to better the community for us all.  
And if that wasn't enough of a reason to follow her, Aileen is also an AWS Community Hero who holds the record for organizing the biggest AWS Community Day ever, with over 1000 attendees meeting up in Melbourne, Australia. With a love for the community and the technology there for all to see, follow Aileen to benefit from her passion for helping all AWS professionals prosper.  
AWS User Groups (@AWSUserGroups)
AWS User Groups are peer-to-peer communities that organize regular meet-ups to share ideas, answer questions, and learn about new innovations and best practices.  
To date, over 400 of these groups have been organized organically by professionals around the world as the rapid adoption of AWS continues to accelerate.  
As the global AWS User Groups community looks set to surpass 20,000 AWS engineers, developers and innovators, the official AWS User Groups Twitter account is the best place to stay updated on meet-ups in your area and the achievements of user groups across the globe.  
Tobias Schmidt (@tpschmidt_)
In his own words, Tobias is "helping aspiring engineers to master the cloud", creating a library of content around AWS and Serverless.  
A passionate AWS Community Builder, owner of the AWS Fundamentals blog, and author of a book by the same name, Tobi is constantly updating his Twitter feed with unmissable tips, tricks, and advice.  
Across his career as a software engineer, educator, and cloud consultant, he's gained extensive hands-on experience exploring and understanding the tricks and peculiarities of AWS—and best of all, he's passionate about sharing this experience and expertise with his peers.  
But don't be fooled; while Tobi's content is primarily tailored to newer cloud professionals, both novices and veterans alike have plenty to learn from this pillar of the community.  
AWS Open Source (@AWSOpen)
AWS has embraced open source software in the cloud since its inception, keenly supporting open source projects, foundations, and partners.  
AWS professionals contribute to thousands of open source communities on GitHub, Apache, and more each year, embodying the ethos of collaboration and development on which the AWS community is built.  
To benefit from all the value and operation excellence AWS open source communities have to offer, drop the official Twitter feed for all things open source at AWS a follow.  
A Cloud Guru (@acloudguru)
Another account recommended to us by AWS professionals in our Careers and Hiring Guide, A Cloud Guru is an online learning platform dedicated to helping cloud professionals level up their skills, prep for certification exams, and become cloud gurus.  
Whether it's their AWS training courses or their wide range of ebooks, case studies, and webinars, there's a whole load of resources to help AWS professionals learn, upskill, and develop their careers.  
And of course, A Cloud Guru's Twitter account is the best place to be the first to hear about new blog posts, training programs, and more—so be sure to drop them a follow to bolster your learning and development today! 
AWS Startups (@AWSstartups)
If you own or work for a startup, this is the account for you.  
The official AWS Startups Twitter page posts unmissable content for founders and professionals, including updates, resources, customer stories, insight, events and product news. 
No matter if you're looking for help solving a technical challenge, cloud adoption and utilization advice, or finalizing a fundraising round, these posts have you covered. With that in mind, be sure to drop the account a follow so you never miss a tweet on your feed—it might be just what you need to know to take your startup to the next level!  
On the lookout for your next AWS role?
Whether you're on the hunt for your next contract or permanent position, sign up to job alerts by email and be the first to hear about the latest exciting opportunities on offer.   
Sign up to job alerts
Neal Davis (@nealkdavis) 
If you're a fan of cloud training and learning about AWS online, you've likely come across the name Neal David already.  
Neal is an AWS Solution Architect, best-selling author, successful IT educator, and founder of Digital Cloud Training, with a passion for helping professionals achieve their career goals.  
On his Digital Cloud Training platform, he provides a range of expertly-crafted AWS training courses to help his students build real-world cloud skills and earn certification. And Neal's Twitter account is the best place to hear all about it!  
On his page Neal regularly shares tips and tricks from his on-demand training, hands-on labs, and cloud bootcamps, as well as insights from his latest LinkedIn posts and Medium articles, making his Twitter account the best place to keep up with Neal's musings across the web.  
Jefferson Frank (@_JeffersonFrank)
Yes, yes, OK—we accept that there might be a little bit of bias with this one, but hear us out… 
Jefferson Frank is the global leader in AWS recruitment, working with organizations worldwide to find and deliver the best AWS professionals on the planet. Part of AWS Marketplace and AWS Activate, Jefferson Frank has an impressive track record successfully servicing the AWS recruitment market, meaning we know a thing or two about the community and the ecosystem it's built around.  
On our Twitter page, we're regularly starting conversations around hot topics and market trends, helping you to become more aware of and active in discussions around things like pay, work benefits, career development, and more.  
And best of all, we use our extensive experience and expertise in finding and placing top AWS talent to provide you with market-leading insights you won't find anywhere else, from exclusive data from our Careers and Hiring Guide to blog posts on the latest career and hiring trends.  
In short: no matter if you're looking to move on or you're happy in your current role, we're worth a follow for any AWS professional passionate about their career.  
Get the latest tips, tricks, and insights for a rewarding AWS career
The Jefferson Frank blog is constantly being updated with new posts covering everything you need to know to achieve your maximum potential on your AWS career path.