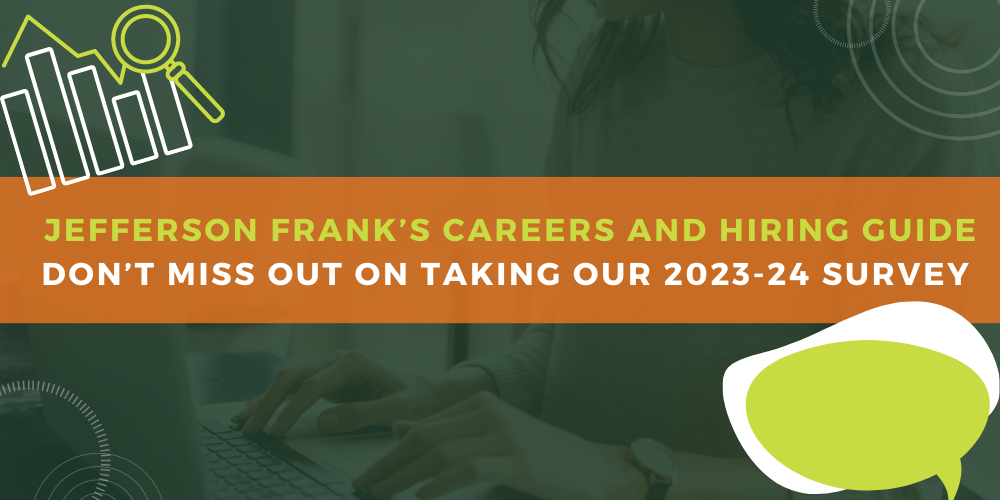 It's time to have your say.  
We're thrilled to announce that the survey for Jefferson Frank's Careers and Hiring Guide: AWS Edition 2023-24 is now live! 
From permanent employees and contractors to talent currently in-between roles, Jefferson Frank's 2023-24 Careers and Hiring Guide survey gives professionals from across the AWS community the opportunity to have their voices heard. Whether it's the latest salary benchmarks, upcoming market trends, or emerging industry challenges, we want to hear all about it.  
As always, the results will be presented in the Jefferson Frank Careers and Hiring Guide: AWS Edition. About to enter its sixth year of publication, our Careers and Hiring Guide continues to get better each year, offering unrivaled insight into the latest recruitment trends, market sentiments, salary information, and more.  
After all, there's a reason it's become one of the community's most comprehensive and valued resources for both professionals and organizations working with AWS.  
Ready to take the survey?
The survey launched on April 24th 2023 and can be completed online until it closes in the summer of 2023.   
Take the survey
What's in it for you? 
We know, we know: surveys probably aren't your idea of fun.  
But that's not to say you don't benefit from taking Jefferson Frank's 2023-24 Careers and Hiring Guide survey—here are three reasons to complete it today. 
Contribute to the community  
From User Groups to Community Days, the AWS community is built on an ethos of unity and participation. Nobody wins unless everybody wins, with knowledge and collaboration instrumental to the platform's ability to evolve and grow.  
When taking Jefferson Frank's 2023-24 Careers and Hiring Guide survey, you're contributing your own thoughts, feelings, and experiences to a wider community discussion about the state of today's AWS landscape.  
Being an active member of the AWS community is all about taking part and doing your bit to drive collaboration, education, and innovation. Our survey is a convenient and effective way of getting your voice heard, directing discourse around the platform, and influencing change where it's needed most. From celebrating successes to highlighting concerns, contribute your knowledge and experiences to the community and help your peers to thrive.  
Gain greater insight 
Of course, the greater the quantity and quality of responses we receive, the better insights the Jefferson Frank Careers and Hiring Guide: AWS Edition can offer—and these insights can be instrumental to both organizations and professionals finding success.  
For example, in our most recent Careers and Hiring Guide, respondents were made up of just 25% Asian; 6% Black, African or Caribbean; and 5% Hispanic or Latino. This small sample size makes it difficult to fully understand diverse experiences within the community, meaning it's harder to offer a true reflection of its makeup. Greater representation among our respondents would ensure we're always shining the spotlight on the right areas, meaning the Careers and Hiring Guide can have an even greater impact on hiring directions and candidate opportunities.  
Likewise, Jefferson Frank's Careers and Hiring Guide: AWS Edition provides extensive data and advice for any professional working or looking for work within the AWS community, helping to influence your next career steps. With insights on certifications, skills, perks, salaries, hiring trends, and a whole, whole lot more, it's the go-to resource for any professional looking to understand their market value and learn more about the opportunities available to them.  
And from a digital skills gap still yet to be bridged to a cost of living crisis, redundancies in tech, and the increasing fragility of global economic markets, there's a desperate need to accurately reflect the state of the community today. A thorough understanding of the landscape has arguably never been so important to equip us all with the best chance of navigating the rough path ahead. 
But this only works with your help.   
Enter the prize draw  
This one caught your attention, didn't it? 
As usual, we'll also be running a prize draw for everyone who successfully completes the survey! This year, one lucky participant will win a $500 Amazon gift card*.  
And while we hope this isn't the only reason you want to get involved, there's no denying that a shot at $500 of Amazon goodies is always worth twenty minutes of your time! 
*terms and conditions apply, one entry to the prize draw per person  
What's in it for us? 
It's no secret that we're proud of our Careers and Hiring Guide….real proud!  
Our annual report is jam-packed with market-leading data, analysis, and insight, and there's no catch. We simply need your help to paint the most comprehensive picture possible.  
In today's data-mad world, it's important to note that Jefferson Frank's 2023-24 Careers and Hiring Guide survey isn't some ploy to capture your data. In fact, none of the personal data you provide us with when completing the survey is used by our recruiters. Instead, our survey sets out to scratch beneath the surface of the community and unearth the trends and sentiments having the biggest impact on careers and hiring in AWS. 
Why? Well, this deeper market understanding undoubtedly helps us to provide a more effective service to the professionals and organizations we work with. But this isn't just to our benefit.  
The Jefferson Frank Careers and Hiring Guide: AWS Edition benefits the wider community by providing an annual snapshot of the ecosystem that highlights what the AWS workforce needs to know to achieve their professional ambitions and what organizations should have in mind in order to attract and retain top talent. 
In these challenging times, we all have a collective role to play in ensuring the community keeps moving forward. The Jefferson Frank Careers and Hiring Guide is one way we embrace this duty to help the AWS community overcome the hurdles that lay ahead. 
 So what're you waiting for? Take Jefferson Frank's 2023-24 Careers and Hiring Guide survey: AWS Edition today, and play your part in improving the landscape for both yourself and your peers. Oh, and don't forget, all respondents will receive an entry into our prize draw—now that's what we call a win-win!