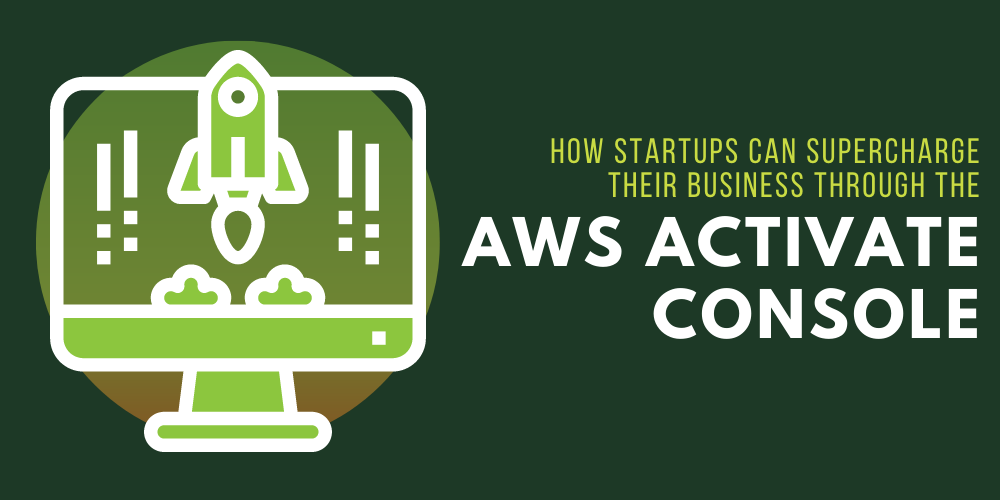 The cloud is a massively useful tool for budding companies.
Its pay-as-you-go model means young companies can get access to cutting-edge, scalable solutions without any vast outlay.
To help startups harness the power of the cloud and grow their businesses, the world's leading cloud platform has developed a program that offers entrepreneurs free tools and resources.
What is AWS Activate?
AWS Activate is a free program to help eligible startups get set up on AWS and make the most of the platform.
Through the scheme, both bootstrapped and funded startups can get help creating affordable, user-friendly infrastructure that will help their business grow.
Startups that join the Activate program get access to a range of resources and perks such as AWS credits to spend on buying cloud resource and services, and AWS Support credits so businesses can tap into technical advice and assistance when scaling their organization.
How does AWS Activate benefit businesses?
AWS Activate empowers burgeoning businesses to grow using AWS tools and services by providing free resources, credits, and support, giving startups a head start on building the infrastructure they need to succeed.
AWS credits
Activate members receive free AWS credits to help cover their cloud spending costs. Startups can use their AWS credits on a massive variety of AWS services, from compute, storage, and databases to cutting edge technologies like machine learning and AI, data lakes and analytics, and IoT.
These credits are applied to the startup's AWS bill, and how many credits startups receive depends on which AWS Activate program they're eligible for.
AWS Activate Founders members receive $1,000 USD in AWS credits (valid for two years) and $350 USD in AWS Developer Support credits (valid for one year)
AWS Activate Portfolio members receive up to $100,000 USD in AWS credits, up to $10,000 USD in AWS Business Support credits, 80 credits for Qwiklabs, and access to exclusive member-only offers
Technical support
AWS Developer Support credits provide startups with technical support by email during business hours, plus architectural guidance as businesses build and test their infrastructure. While their AWS Activate plan is active, startups can open an unlimited number of cases.
Advice and guidance on best practices
Along with this technical assistance, AWS Developer Support also gives startups access to AWS Trusted Advisor and AWS Personal Health Dashboard. These two massively useful tools deliver actionable guidance on provisioning resources to help startups achieve top performance and improve security.
Who can join AWS Activate?
AWS Activate consists of two program tiers: Activate Founders for self-funded or bootstrapped startups, and Activate Portfolio for funded startups.
Activate Founders
AWS Activate Founders is designed to help self-funded and bootstrapped startups that:
Are self-funded, unbacked, or bootstrapped with no institutional funding or affiliation with a venture capital firm, accelerator, or incubator
Are new to AWS Activate Founders and have not previously accessed AWS Activate benefits
Have an AWS Account ID
Have a company website or web profile and LinkedIn profile
Activate Portfolio
AWS Activate Portfolio is designed for startups and early-stage entrepreneurs that:
Are unfunded or funded up to and including Pre-Seed, Angel, Seed, Series A
Are associated with a venture capital firm, accelerator, or incubator that is an AWS Activate Provider
Have a company website and LinkedIn profile
Have an AWS Account ID
Have an Organization ID from an AWS Activate Provider
Have not previously received AWS Activate benefits
Have not exceeded $100,000 in redeemed AWS Activate credits
Are less than ten years old
Get started with AWS Activate
AWS Activate Console Exclusive Offers
AWS Activate Console Exclusive Offers is an assortment of deals and discounts on leading tools and services available exclusively to Activate members. These offers are extended by pre-vetted software vendors and collated by AWS.
From the AWS Activate Console, startups can take advantage of everything AWS has to offer, as well as exclusive discounts, credits, free trials, mentorship opportunities, educational content, and other perks from vetted and approved software vendors like Jefferson Frank.
Jefferson Frank on AWS Activate Console
Growing a business isn't just about having the right tech. Hiring the right people is crucial to a startup's success too, which is why Jefferson Frank is now part of the AWS Activate Console Exclusive Offers program.
Whether a startup is looking for their first AWS professional or needs a cost-effective way to build out their team to complete a migration or cloud project, Jefferson Frank connects startups with experienced and passionate AWS candidates to get the job done.
And now, startups building on AWS can access customized, discounted offers to help them find the talent they need to succeed directly through the AWS Activate Console.
Inclusion in the Activate Console Exclusive Offers program recognizes us as a crucial solution provider. Our place in the scheme will enable us to better support startup businesses and entrepreneurs with their cloud development, delivering full-time or temporary resource to help them launch or scale their businesses on AWS.
"Jefferson Frank is thrilled to be featured in the AWS Activate Console," said Sue Persichetti, SVP of Strategic Alliances USA.
"We've worked with countless startups and are well-attuned to the unique needs and goals of a growing business. We're looking forward to helping even more young companies grow, scale, and achieve success by leveraging everything that the AWS Activate Console offers."
Through the Activate Console, Jefferson Frank's specialized AWS Activate team consults with customers on their AWS roadmap to ensure they have the guidance they need to achieve their objectives.
Our team recruits skilled AWS professionals that can help startups implement AWS best practices, including DevOps, Big Data, Business Intelligence, IaaS/PaaS, and security.
We pride ourselves on offering the same gold-standard level of service that businesses get from AWS. No matter where they are in their startup journey, our free consultation provides tips, advice, and proven techniques to help startups devise a talent attraction and retention strategy that works.
Many startups have already benefited from Jefferson Frank's tailored support, including innovative, AWS-powered software developer 5×5 Technologies. "Upon closing of our Series B, 5×5 needed to rapidly expand our team with roles ranging from senior leadership to developers," said CEO Anne Zink.
"Jefferson Frank was able to recruit candidates that not only exceeded our expectations in terms of skills and experience, but were also great cultural fits. The team's advisory approach to working with us enabled us to hire at a pace we did not think possible without overly stressing our internal teams and systems. We view them as an extension of ourselves and highly recommend them."
Want key hiring insights from the AWS community?

Find out the latest salary averages, key industry insights, and invaluable hiring advice for organizations building AWS teams across the world with the Jefferson Frank AWS Careers and Hiring Guide.
Download the guide