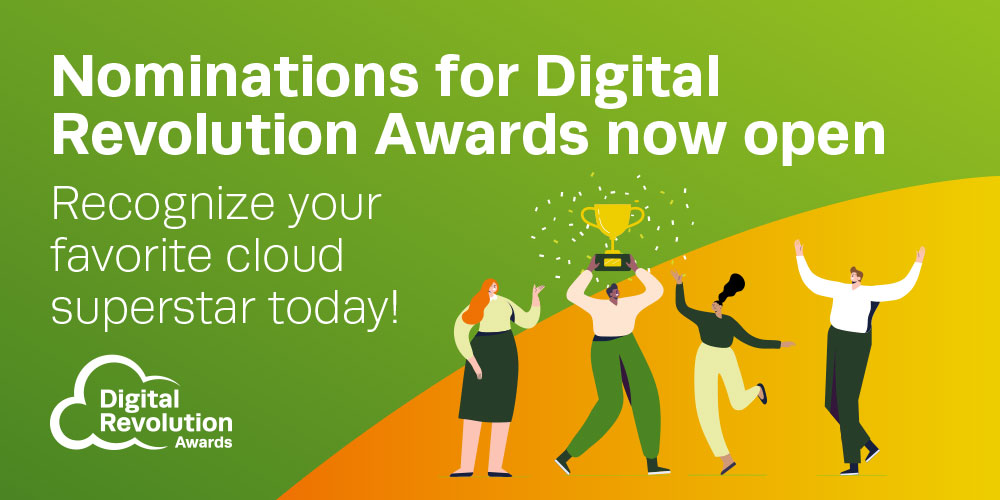 After launching in 2020, the Digital Revolution Awards are back for 2023 with the biggest edition to date (and a new global charity partner announced). 
The first Digital Revolution Awards took place with a virtual ceremony that saw both individuals and businesses across the cloud space acknowledged for making a positive impact on the way we work, live, and build our future using cloud technology. They returned in 2022 with an in-person ceremony in London, accompanied by exciting events in the US and Australia. 
In 2023, the award ceremony will be held in London on Friday 21st April 2023, and will be joined by live events in Las Vegas on Friday 19th May 2023 and Frankfurt on Friday 5th May, as well as being broadcast online at a global show on Friday 2nd June 2023. 
Nominations are now open, offering the cloud ecosystem a new opportunity to shout out the very best professionals and organizations in the global cloud technology community.  
While the awards were created to celebrate the pioneers and ceiling-breakers that are harnessing the power that cloud technologies have to drive digital transformation, many of the new categories also reflect the need to champion those looking to make the industry a more inclusive one, as well as those using tech to improve the world we live in. 
This year, the awards will recognize cloud excellence across the following categories: 
Tech Star of the Year

 

Outstanding Leader of the Year

 

Excellence in Learning and Development

 

Outstanding Contribution to the AWS Community

 

Outstanding Contribution to the Microsoft Community

 

Outstanding Contribution to the Google Cloud Community

 

Outstanding Contribution to the Salesforce Community

 

Digital Transformation Project of the Year

 

Exceptional Cloud Employer of the Year

Diversity Ally of the Year

 

Outstanding Contribution to the Earth

 

Diversity and Inclusion Employer of the Year

 

Tech for Good

 

AWS Partner of the Year

 

Google Cloud Platform Partner of the Year

 

Microsoft Partner of the Year

 

Salesforce Partner of the Year

 
Nominate a cloud MVP
To help show its commitment to giving back to the world, organizers have committed to planting a tree for every nomination received, vie Tree Nation. The awards also help generate vital funds for deserving causes: like last year's event, which raised over £5,000 for the awards' charity partner of the year, St Martin's School in Kenya, and US non-profit Climb Hire also benefitting as a new charity partner for 2023.  
Maxine Nwaneri returns to host the awards ceremony and fundraisers for a third year. "It's always a real joy to be part of an event that celebrates achievement, innovation, and progress in what is an undoubtedly vital space," said Maxine. "I can't wait to see some of the amazing achievements that have been made in the last year." 
Founded and organized by cloud talent solutions firm Tenth Revolution Group, the awards will once again be delivered in partnership with leading organizations across the cloud space. In the past, the awards have been supported by a wide range of leading businesses and groups from across the digital technology world, including Salesforce, AWS, IBM, Tisski, Barclays Women in Technology, SumUp, Copado, Revolent, Rebura, Brown Girl, Tech World, and Code First Girls. 
"The awards truly are a celebration of all that is good about cloud technology," said Kashif Naqshbandi, Chief Marketing Officer of Tenth Revolution Group. "Of course it has the potential to transform businesses through digital infrastructure, but we're also aware that it's an area of tech that is different from many others." 
"It's a community full of evangelists and advocates who also see its potential to do good, and people doing their best to make this a much more inclusive and diverse sector to work in, one where voices that have previously been overlooked are both welcomed and heard. At a time when there's a massive skills gap that threatens to hold back progress, that's never been more important to businesses, beyond just being the right thing to do."
Last year's winners include several top performers from the world of AWS, including Didasko, who were joint winners of the Excellence in Learning and Development Award for creating the world's first Bachelor's online degree in Applied Cloud Technology, with a course that allows students to take charge of the way they learn and fill the most critical skills gaps in their cloud knowledge.  
AWS Hero Anurag Kale was also among those recognized for their outstanding work, earning the Tech Star of the Year award for being a passionate cloud advocate and evangelist through initiatives such as The Apprentice Project, that help students from low-income backgrounds improve their knowledge in technology. 
Nominations will remain open until October 31st 2022. Anyone may submit a nomination, either for themselves or their own organization, or on behalf of someone else.  
You can find out more about each category here before sending your nomination, as well as reading this handy guide to writing the perfect entry.   
Got a cloud MVP in mind? Nominate them today! 
Submit your Digital Revolution Awards nomination
and give a cloud superstar the recognition they deserve.
Nominate a cloud MVP