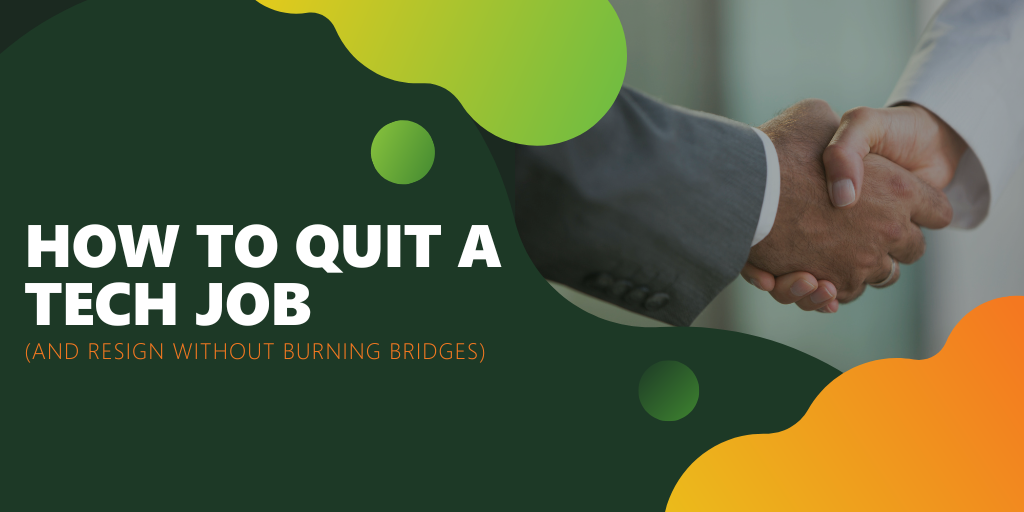 Thinking of quitting your tech job?  
Recent Garner research found that only 29% of IT workers have a "high intent" to remain with their current employer, with tech professionals having a significant 10.2% lower intent to stay than non-tech employees.  
This aligns with our own findings within the AWS community, too, with the Jefferson Frank Careers and Hiring Guide: AWS Edition reporting less than half (42%) of respondents in permanent roles expect to be working for their current employer in the coming year, with 24% actively looking for a new role. 
You've probably noticed more and more of your peers resigning from roles moving across the tech ecosystem, with the industry feeling the full force of The Great Resignation. However, quitting your tech job can be a daunting prospect, and with more notices being handed in than ever before, industries are seeing the emergence of a new trend: 'quiet quitting'.  
But when resigning from any role, it's important to leave on the best note possible — 'quiet quitting' isn't the way.   
That's why we've put together this guide for both remote and office-based professionals on how to quit your tech job without burning any bridges, ensuring you can make positive steps forward and get the very most out of your tech career.  
Why to quit a job 'professionally' 
There's a wide range of reasons tech professionals quit their jobs, and these can be motivated by all sorts of different emotions. But no matter, if you're finally escaping a toxic company culture or bidding farewell to a beloved role you've outgrown, resigning in a professional manner is key.  
Here's why: 
Maintain your professional network:

Unless you've been living under a rock in recent years, you'll know that networking is a big deal in the professional world. And whether you're a passionate networker or a LinkedIn-skeptic, the fact remains: building a professional network benefits your career. By maintaining positive relationships with former colleagues and employers, you'll be able to unlock all

the benefits that come with

increasing your AWS professional network.

 

Earn a positive reference

:

Positive professional references are invaluable to job hunters. They work to validate your skills and experience, back up interview impressions, and provide extra insight into any outstanding queries, meaning references can make all the difference in influencing hiring managers' decisions. By leaving your job on good terms, you can confidently list your employer as a reference on your resume or job application, strengthening your chances of securing future roles.  

 

Keep your options open

:

No industry evolves faster than tech, with new opportunities arising every single day. As a result, while you may be happy burning bridges

today

, you may come to regret it tomorrow. By amicably quitting your tech job, you're keeping all future options open, meaning there's never an opportunity you're afraid to pursue.

 

5 steps to quitting your tech job 
Confirm it's the right choice

 

Find out the exit procedures 

 

Notify your boss or line manager  

 

Hand in your letter of resignation 

 

Stay invested until the end

 
How to quit a tech job (and resign without burning bridges)
Confirm it's the right choice
Quitting your tech job is a big decision, so ensure you're confident in your decision before committing to action.  
To confirm you're making the right choice, ask yourself the following questions: 
Am I leaving too soon?

Don't hand in your notice without attempting to address any issues motivating your resignation first. If you're dissatisfied with any aspect of your company or role, speak up before throwing in the towel — sometimes a conversation with a line manager is all that's needed to right current wrongs. 

 

Is this the best move for my career?

Making the right career choices is about more than just following the money. Make your choice based on the best move for your career: can you obtain better experience, training, development, and progression elsewhere?

 

Is this the best move for me?

Flexibility and work-life balance have been high on the agenda for most professionals since the emergence of pandemic and post-pandemic work trends. Will changing roles offer you the benefits you're looking for, and complement your existing family and lifestyle commitments? 

 
There are no objective answers here; a good move for one tech professional isn't necessarily the right move for another. It's all about establishing the best course of action for you and your unique situation.  
Find out the exit procedures 
Your current organization will have a specific set of exit procedures, which will detail important rules around notice periods, resignation processes, and contractual obligations. 
It's important to find out what your employer's exit procedures are before initiating the process, so do this as soon as possible.  
Understandably, you might not want to alert colleagues of you leaving at this stage, so if you're unsure of your company's exit procedures and don't want to ask, check back over your employment contract and any onboarding material you received — you'll likely find the answers you need there.  
Notify your boss or line manager  
Now for the big one: it's time to notify your boss.  
Inform the relevant senior staff, whether that be your company boss or line manager, in person. NEVER do this by voice call, email, or message. While it can understandably be nerve-racking, delivering the news face-to-face is a far more professional and courteous approach that your employer will appreciate. 
With more tech employees working remotely than ever before, it might be the case that you're unable to attend the office and meet in person. In these instances, look to set up a video call — resignations can be sensitive topics, meaning it's important to establish that human connection.   
The key is keeping it respectful both in what you say and how you say it. This isn't an opportunity to give your boss a piece of your mind (doing so will likely make the process far messier than it needs to be) so always maintain your professionalism, whatever your reasons for leaving.  
Hand in your letter of resignation 
Although it may feel like a bit of a formality, handing in your resignation letter is an essential part of the process. Your resignation letter acts as your official notice, so it's important to get it right. 
This letter should be submitted to both your boss and any relevant HR representative. Don't think you have to revert back to pen and paper here — sending your resignation letter as an email will often suffice.  
What to include in your tech resignation letter
Your resignation letter should be reasonably short, but be sure to include the following:  
Date

:

Include the date on which the letter was sent.

 

Intention

: Confirm your resignation with a statement of intention, and include your anticipated final work day if this timeline has been established.

 

Gratitude

:

Don't forget to thank your employer. This is a quick and easy way to keep things friendly and maintain a positive relationship going forward.

 

Sign off:

Sign off your letter with your name and/or signature.

 

 
Stay invested until the end 
Once your resignation is official and word is out amongst your colleagues, it can be tempting to 'check out' of your current role and put less effort in than before — you wouldn't be the first! 
But to maintain a valuable relationship with your employer (and ensure a shining professional reference), adopt a 'business as usual' mindset and demonstrate the same levels of commitment you have throughout.  
Don't let a lacklustre final few weeks overshadow all the amazing work you've done in the role. Make a conscious effort to help smoothen the transition by finishing outstanding workloads (within reason), creating a comprehensive handover, and assisting with the onboarding and training of your replacement (if relevant).  
In short? Leave with your head held high, even when you don't want to — it's always the best move for your career.  
On the lookout for great jobs in AWS?
Register today and get the latest jobs sent directly to you inbox.