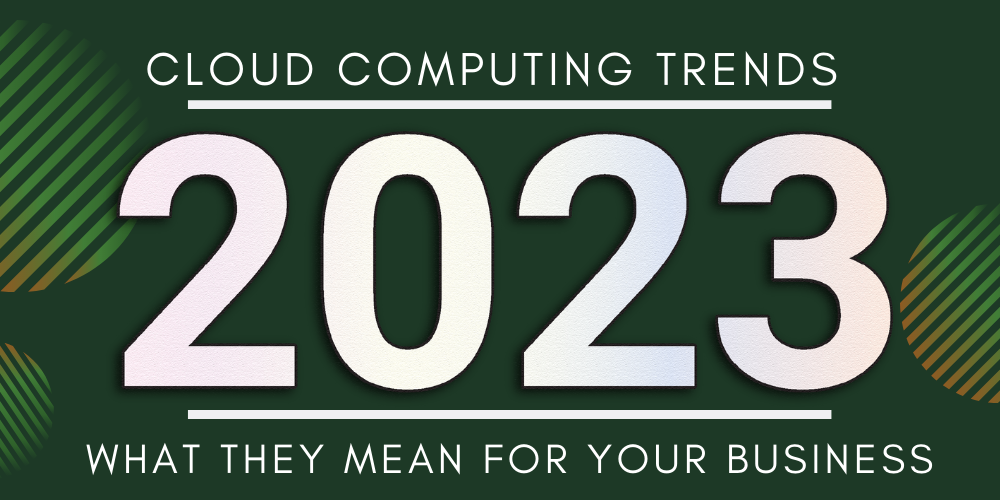 A new year brings with it a wave of new potential for the cloud.  
And with recent Gartner forecasts showing that worldwide public cloud spending is on track to grow a further 20.7% this year, it's clear that moving to the cloud is now a business necessity. It simply offers organizations too many benefits and opportunities to pass up. Especially when markets and economies are as uncertain as they are right now.  
But what cloud computing trends look set to take over 2023? How will these cloud trends impact your cloud and wider business strategy? And what can your business do to prepare for them? 
Let's find out.  
6 cloud computing trends in 2023
Cloud investment
Hybrid cloud
FinOps
No-code
AI and ML
Cloud security
Cloud investment trends
As you're no doubt aware, current economic uncertainties are already presenting organizations with many hurdles this year. 
But the good news is, more and more business leaders and decision makers are finally recognizing the real value of the cloud—especially when it comes to cost optimization.  
So much so, that Gartner research found that over three-quarters of CFOs plan to increase or maintain investments in digital technologies in 2023.  
In the Jefferson Frank Careers and Hiring Guide: AWS Edition, we found that 60% of organizations chose to implement AWS to reduce costs, and Gartner forecasts global cloud spending will total $591.8 billion this year, which signals a trend in crisis management.   
As more organizations start feeling the pinch, CFOs will encourage internal stakeholders to accelerate their cloud strategy and investment—as it's a competitive advantage that can drive efficiencies, optimize spending, and reduce overheads.  
The importance of this can't be understated in the current market, which is why the cloud has earned immunity from most budget cuts and spending reductions this year.  
Hybrid cloud trends
2023 is the year that businesses look set to truly capitalize on diversifying their cloud use across several providers. 
 Multi-cloud strategies have become increasingly popular because of the improved flexibility and security it offers organizations, especially as multi-cloud infrastructure continues to evolve.  
The increased popularity of containerized applications, for example, means applications can be seamlessly ported across to new platforms when needed, helping to prevent businesses from becoming stuck in one ecosystem.  
The hybrid cloud trend can be especially effective in serving industry verticals – in fact, Gartner predicts that over half of all enterprises will use industry cloud platforms to accelerate their business initiatives by 2027. AWS has already recognized this too, recently expanding its partnership with IBM to facilitate hybrid environments.  
With our Careers and Hiring Guide finding that 71% of AWS customers have integrated their AWS product with a non-AWS product, and another report finding that 84% of medium-sized organizations will have embraced the hybrid-cloud trend by the end of 2023, multi-cloud strategies could unlock new possibilities for your business.   
FinOps trends
Increased investment doesn't mean cloud spending will be tumultuous in 2023 — far from it! 
With a recession likely impending, organizations are keeping a close eye on their spending and are on the lookout for areas to cut costs and drive efficiencies. And with the cloud being an area of significant expenditure, organizations are placing extra emphasis on cost-effectiveness on the cloud.  
In our Careers and Hiring Guide, one-fifth of respondents cited budget shortages as reasoning for their AWS implementation delay, suggesting inefficient and inaccurate spending, as well as not understanding the overall cost of the cloud, as issues that need addressing.   
Organizations that embrace a hybrid cloud this year will find that visualizing the true cost of ownership across an entire multi-cloud footprint is tough. Nearly three-quarters of CIOs and senior IT practitioners say they are struggling with data management, for example. Meanwhile, those ahead of the game will be looking for support re-architecting and leveraging more cost-effective, cloud-native services.  
These common pain points have led to the emergence of FinOps, a data-driven approach to cost management on the cloud. Built on the same foundations of agility, efficiency, and integration as DevOps, FinOps enables proper financial governance on the cloud through strategies and technologies that ensure organizations can better monitor and optimize cloud spending, even across hybrid environments.   
So it's little surprise that placing a greater internal focus on FinOps this year, and incorporating the area into cloud recruitment plans, looks set to be on many organizations' to-do lists this year.  
Looking to keep up with all the latest trends in AWS this year?
The Jefferson Frank Careers and Hiring Guide: AWS Edition provides a comprehensive insight into the Amazon Web Services community.
No-code trends
No-code isn't necessarily a new cloud trend, with platforms like Amazon Honeycode first introduced back in 2020.  
But with the skills gap placing pressure on the supply of software developers, and unsteady economies increasing the cost of entry for smaller businesses, no-code is expected to come into its own this year.  
Many low-code and no-code solutions are already available on SaaS cloud, enabling users to access key tools and software without existing coding knowledge or computing infrastructure. This includes building websites, applications, and designing a range of digital solutions for a whole variety of business requirements.  
So as more and more businesses, particularly start-ups and SMEs, struggle to navigate through turbulent market conditions in the year ahead, no-code cloud solutions could be an accessible and cost-effective tool for innovation and growth.  
AI and ML trends
Artificial intelligence (AI) and machine learning (ML) are hot topics for this year, as capabilities become increasingly impressive and tools become accessible to a wider public audience.  
Of course, building your own AI infrastructure isn't feasible for most organizations —obtaining data and training algorithms requires a huge amount of computing power and storage. But thanks to the cloud, businesses can still benefit from all the advantages AI and ML have to offer.  
AWS offers a range of AI services for common use cases like personalized recommendations, contact center modernization, security optimization, and increased customer engagement. Even low-code and no-code solutions are becoming available to eliminate the barriers to entry for businesses looking to explore AI and ML.  
And as leveraging AI and ML solutions becomes more mainstream, cloud integration will continue to rise, with providers applying their own AI to create more cost-efficient cloud services for their customers.  
From creating more personalized cloud experiences and enhancing data security, to increasing cloud automation and enhancing self-learning capabilities, cloud providers are intent on innovating and scaling their AI and ML services. 
It's for this reason that the global AI software market is already valued at $62 billion by Gartner, and is forecasted to reach almost $134.8 billion by 2025.   
Cloud security trends
As more organizations rely on the cloud, cybersecurity becomes even more essential—which is nothing new. But, as cloud capabilities increase, so do cybercriminals' capabilities.   
But with increased governmental regulation around data use and storage, and more organizations placing emphasis on business resilience post-pandemic, investment, education and automation will be big cloud security trends in 2023. 
The distributed nature of the modern workforce means remote and hybrid workers must be able to utilise internal tools and software with the same level of protection as they would have on-premise. Our Careers and Hiring Guide found that 82% of AWS professionals consider the ability to work remotely in their role important to them, signaling that this cloud security trend will continue into 2023.  
This requires a shift in cloud security management, as well as investment in the latest cloud security practices, including an increased focus on automation. Not only does this help to reduce overheads, but it will also help to minimize the financial damage caused by cyberattacks, data leaks, and the likes.  
Human error is the leading cause of data loss, accounting for 88% of cloud data breaches. When considering that IMB reports that almost half of all data breaches occurred in cloud environments in 2022, it's clear that this poses real threats to and beyond a business's bottom line.  
AI and predictive technologies are specifically designed to spot threats before they cause problems, meaning protection is stronger and more secure as a result. But this isn't a one-size-fits-all solution.  
The tendency for human error and workforces' increased exposure to the cloud highlight the importance of pairing new security investments with education. Your team need to know what risks they might be exposed to, and just as importantly, what they can do to mitigate them. This combination of education and automation may be the most important cloud security trend of the year, ensuring everyone can safely benefit from all the exciting possibilities the cloud will offer in 2023. 
Hiring cloud talent in 2023? We make it easy.
Begin by browsing our extensive collection of skilled AWS professionals today.