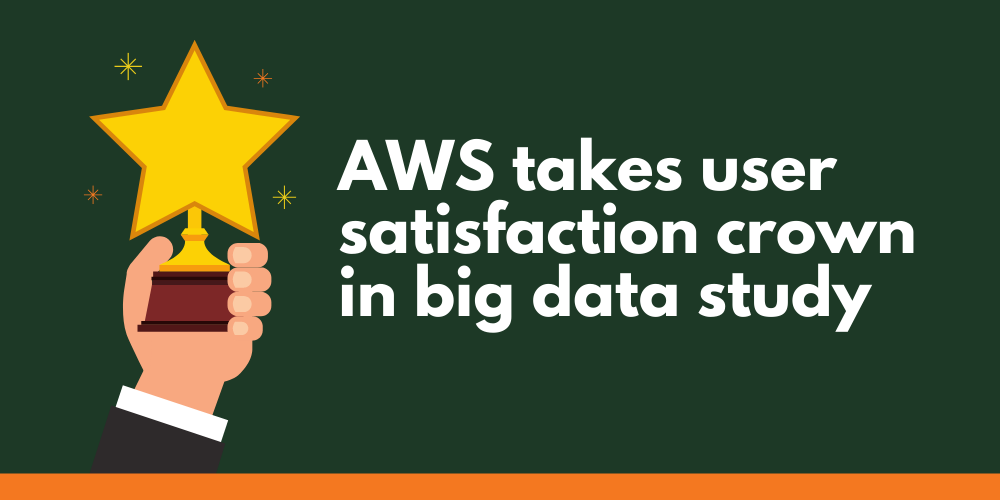 AWS has come out on top in a new poll of big data software users.
SoftwareReviews' 2020 Big Data Quadrant Awards, published last week, surveyed users on how satisfied they were with their big data platform.
AWS placed first, beating out IBM InfoSphere and Microsoft Azure Big Data to be named the top vendor for user satisfaction.
Participants were asked to rate their vendor on capabilities, product features, and how likely they were to recommend their software provider.
Vendors were also measured on their users' perception of their products, using metrics such as service, negotiation, product impact, conflict resolution, strategy, and innovation; ratings that SoftwareReviews collectively refers to as The Net Emotional Footprint Score.
All three of the top-ranking vendors earned an impressive Net Emotional Footprint score, sitting between 82% and 85%. The average rating across all vendors surveyed was 77%.
The overall composite score for AWS Big Data across all metrics was 8.1/10, with users praising its analytics, data science tools, and data security in particular. Some 82% of users stated that they were likely to recommend the product portfolio, which includes products such as Amazon S3, Amazon Glacier, AWS Glue, Amazon Athena, Amazon Redshift and Amazon QuickSight.
Thanks to its high score, AWS Big Data was placed in the "Leader" section of SoftwareReviews' February 2020 Data Quadrant.
AWS Big Data scores:
Composite score: 8.1/10
Net Emotional Footprint: +84
Vendor Capabilities: 79%
Product Features: 80%
Likeliness to recommend: 82%
Other vendors evaluated in the study were Hortonworks, Cloudera, SAS, and Vertica.
Igor Ikonnikov, research advisor at Info-Tech Research Group, said: "Managing big data is quite different from building a traditional data warehouse: the volume and complexity of data, its variable velocity – as well as unpredictability of analytical use cases – requires multi-phased and modularized architecture that is flexible enough to adapt without rebuilding everything from the ground up.
"A vendor's ability to provide a complete toolkit for multi-phased and multi-faceted data management and advanced analytics solution implementation – either with own technology or via seamless integration with other technologies – has become the main differentiator in the big data space."
Want more info about the AWS market?
Find out what you should be paying for AWS professionals in your area.