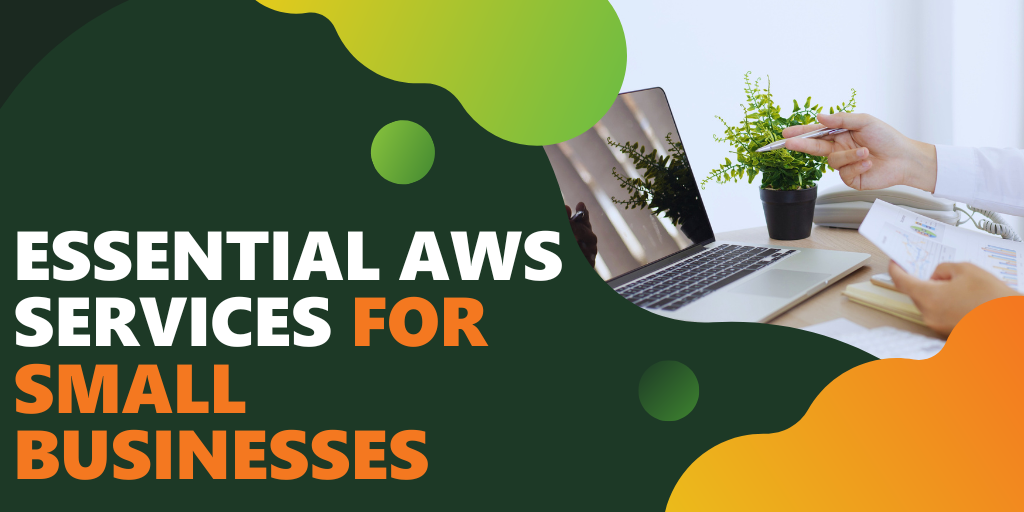 Thinking about taking your small business to the cloud? You're not alone.  
Many business owners and decision-makers are turning to cloud solutions to optimize their small business processes, services, and operations.  
As a report from IDC notes, "Cloud has replaced hardware and traditional software as the top IT budget category for small and medium-sized businesses."  
And for good reason.  
Moving to the cloud ensures your business isn't missing out on a competitive edge, which can be vital for small and medium businesses — especially in turbulent and unpredictable times like these. 
Cloud solutions offer a whole world of possibilities to small business owners. From improving your offerings and engagement to strengthening your reach and security, the cloud is an invaluable tool for small businesses looking to drive all sorts of objectives.  
Here, we take a look at the best Amazon Web Services (AWS) solutions for small businesses to help start-ups and SMEs get more out of their cloud uptake and maximize their potential.  

Is AWS good for a small business?
Amazon Web Services (AWS) is ideal for small businesses; it offers scalability, security, and savings, and the importance of each of these factors to small businesses shouldn't be understated.  
The cost-efficiency of AWS is likely its biggest appeal to start-ups and SMEs. In fact, our Jefferson Frank Careers and Hiring Guide: AWS Edition found that the desire to reduce costs is the top reason organizations choose to implement AWS (60%).  
Purchasing physical hardware and networking equipment can require a significant amount of upfront investment. In contrast, cloud setup requires a much smaller initial investment, providing small businesses with more liquidity and cash flow, which helps you to be more flexible with your tight budget. And better yet, AWS continues to be a cost-effective solution throughout your usage, reducing IT costs by removing the need to maintain legacy infrastructure.  
That's not only the area AWS can save your small business money. AWS enables professionals to access the specialized files and applications they need without having to be in the office or dedicated workspace. By facilitating seamless remote working, smaller businesses can compete with larger organizations on the job market by offering attractive homeworking perks. Not only does this help you to expand your team successfully, but with more employees making the shift to remote working, small businesses can reduce overheads on office spaces and utilities.  
That's not to say that switching to the cloud discourages collaboration — quite the opposite! AWS enables cross-functional workflows across teams of any size, empowering your employees to break silos and collaborate with real-time information. This real-time information means that collaboration is more purposeful and successful, too — accurate data can be accessed instantly, and seamlessly leveraged for better business intelligence.  
This invaluable data is also better protected in the cloud. Digital disasters can strike organizations of all shapes and sizes at any time, but they can be particularly damaging to small businesses, making your cyber security and business continuity an essential consideration. AWS helps small businesses adequately disaster-proof their data, properly safeguarding it from a wide range of hazards and threats. Plus, with automatic service updates, you don't have to fret about cybersecurity weaknesses, outdated stacks, synchronization issues, or downtime.    
Scalability might not be top of the immediate priority list for small businesses, but as you begin to grow, you'll want to be prepared. With AWS, scaling both up and down is quick and easy — you only pay for what you use, meaning you never have to worry about running out of capacity or adding unexpected expenses.  
The latest AWS hiring trends, advice and insights.
The Jefferson Frank Careers and Hiring Guide: AWS Edition provides a unique insight into the Amazon Web Services community.

AWS small business solutions
AWS offers an extensive library of solutions for small businesses across all industries and sectors.  
Here, we're breaking down the most popular services and tools by use case, helping you to quickly identify the ones which will benefit your business most.   
Remote working
It's safe to say that remote and hybrid working is here to stay. As a result, businesses are seeking solutions that enable solid collaboration and communication across their team, regardless of the working environment.  
AWS services ensure that small businesses can accommodate flexible working arrangements without compromising on efficiency or security.  
Amazon Chime  
Amazon Chime is a communication service that enables teams to chat via an online messenger, host and attend online meetings with HD audio and/or video, and make business calls both inside and outside the organization.  
The service is simple and reliable, and is compatible with Windows, Mac, web, IOS, Android devices. 
Amazon WorkSpaces   
Amazon WorkSpaces provides small businesses with fully-managed virtual desktop infrastructure (VDI) that enables team members to access resources from any supported device. Across its three services — Amazon WorkSpaces, Amazon WorkSpaces Core, and Amazon WorkSpaces Web — the WorkSpaces family provides a secure and agile workspace for every type of employee.  

Contact center 
Reputation can make or break a small business, making good customer service integral. 
Strong customer service is an expectation of today's consumers, and a modernized approach is the key to achieving this. AWS can revolutionize small business contact centers by facilitating more efficient task management, helping agents to prioritize, assign, and track communications across multiple channels.  
Amazon Connect    
Amazon Connect provides small businesses with a high-quality customer service solution at a low cost.  
The omnichannel contact center is easy to use and customizable, seamlessly scaled up or down to offer complete flexibility, whatever your demand. With no long-term commitments, upfront license fees, or minimum charges, small businesses can save up to 80% compared with traditional solutions.  

Content management and websites
Having an online presence has long been an absolute necessity for small businesses, but the opportunities this unlocks depend on where websites and applications are hosted.  
Websites and applications on AWS benefit from seamless scalability, assured availability, and strong performance, providing small businesses with a cost-effective digital presence that will always accommodate demand.  
Moreover, with analytical insights underpinned by cloud-based machine learning (ML), users can power omnichannel marketing automation, unify their view of customer behaviors, better understand their marketing spend, and facilitate data-driven content management and application delivery.   
Amazon Lightsail     
With Amazon Lightsail, small businesses can build apps and websites at high speed and low cost, using a versatile range of pre-configured cloud resources to leverage the security and reliability of AWS. 
Simple to use, Lightsail enables users to automatically configure networking, access, and security environments in just a few clicks, as well as being easily scaled or migrated to the broader AWS environment.   
Demand forecasting 
From merchandising to supply chain management, reliable demand forecasting is imperative to making well-informed business decisions across your business's entire operations.  
With AWS, organizations can utilize ML to improve accuracy, accessibility, and capabilities of demand forecasting, minimizing costly mistakes and misjudgments that can really damage a small business's bottom line.   
Amazon Forecast      
Amazon Forecast improves the accuracy and efficiency of your business's forecasting (the clue's in the name!).  
Leveraging valuable ML insights, you're able to optimize your decision-making processes at a granular level, improving confidence in your capital utilization and customer satisfaction rates. 
App and data security 
Without adequate protection, small businesses are particularly vulnerable to cyber threats, attacks, and exploitation.  
AWS provides reliable security solutions that protect applications and data, giving small businesses peace of mind that you have the adequate measures in place to maximize security and minimize downtime.  
Amazon GuardDuty  
This handy threat detection service constantly monitors your accounts, storage, instances, and workloads to identify and combat malicious activity before it can cause damage.  
It delivers detailed, visualized security findings to better inform your security decisions and ensures small businesses can mitigate threats early using anomaly detection, machine learning, behavioral modeling, and threat intelligence feeds.   
Amazon Macie  
Amazon Malice utilizes ML and pattern matching to provide a fully-managed data security and data privacy service.  
Automating sensitive data discovery and protection at scale, small businesses can visualize all data stored within S3 and receive customized alerts that ensure you're always on top of your data security. 
AWS Security Hub  
This cloud security posture management service gives small businesses peace of mind by performing regular security best practice checks, with deviations identified and flagged with a single click.  
With AWS Security Hub, you can automatically aggregate security findings in a standardized data format, and accelerate the average resolution time with the help of automated response and remediation actions. 
Cloud migration
Small businesses ready to make the move to the cloud require processes and tools that simplify the migration process.  
With the help of AWS migration services, small businesses can establish an achievable roadmap that gives business owners and decision makers an accurate and comprehensive idea of capabilities and timelines.  
Migration Evaluator  
Creating a business case for the cloud is the first step of any migration process, but small businesses conducting this independently will likely find it to be a time-consuming process, and won't necessarily identify the most cost-effective option for their needs.  
With Migration Evaluator, users can access valuable insights through an assessment that includes projected cost estimates and cost savings, optimizing and accelerating decision making around AWS migration, all at no extra cost.  
AWS Application Migration Service  
AWS Application Migration Service, also known as AWS MGN, assists users in migrating applications from any source infrastructure (providing that it runs supported operating systems). 
Small businesses can operate 'business as usual' throughout the migration and replication process, modernizing applications and reducing costs without the need to invest in  application-specific skills. 
Looking to build an AWS team for your small business?
We make it easy. Begin by browsing our extensive collection of skilled AWS professionals today.