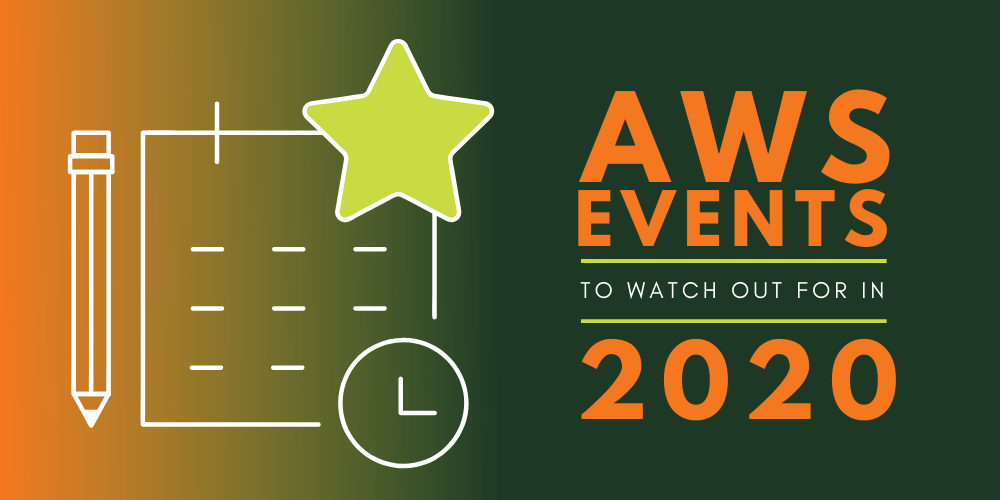 From major conferences like AWS re:Invent and cloud security-focused re:Inforce, to free community events like AWS Summit and AWS AWSome Days, there's no shortage of opportunities to get together, learn, and network within the AWS community.
We've rounded up some of the AWS events coming up in 2020 all around the world.
We'll be updating this post with new events as and when they're announced, so if you've spotted an AWS event—or are running one—that you think should be on this list, drop us a tweet at @_JeffersonFrank.

AWS Community Day
January 31, 2020
Nalen, Stockholm, Sweden
AWS Community Days are community-organized cloud learning events that bring technical discussions and hands-on demos to AWS users.
Led by expert AWS users and industry leaders, AWS Community Days are completely education-focused; there are no vendor talks, no partner talks, and no sponsored talks.
The first AWS Community Day of 2020 takes place in Stockholm, where all speakers will be AWS User Group leaders and AWS Heroes from the Nordics, sharing their real-life experience with AWS products and services.

Coming soon.

AWS Summit — Sydney
March 31 – April 2, 2020
International Convention Centre (ICC), Darling Harbour, Sydney, Australia
AWS Global Summits are free events that offer a space for AWS users and professionals to get together, share, and develop their cloud knowledge and skills.
Those attending an AWS Summit are treated to a range of session types designed to educate on AWS products no matter what your current experience level, including workshops, hands-on labs, hackathons, chalk talks, certifications, bootcamps and builder sessions.
Covering everything from blockchain and database migration to machine learning and IoT, Summits can be found in major cities across the world, brimming with sessions from subject matter experts, AWS partners and customers sharing their success stories.
The new decade's first AWS Summit will take place at Sydney's International Convention Centre  Sydney in 2020, offering three days of educational and inspirational keynotes and sessions.
Find out how cloud tech can help cut overheads, boost efficiency, and support innovation at scale, and hear a keynote on how organizations are using the latest cloud technology to deliver better, more personalized customer experiences.

Coming soon.

Coming soon.

AWS ComSum 2020 Manchester

June 23, 2020
Victoria Warehouse, Manchester, UK
The AWS-supported Community Summit for UK users comes to Manchester in June. This full day, multi-track event will feature more than 20 sessions, with topics ranging from serverless, containers and networking to AI, security and DevOps.
There'll also be plenty of time for play as well as learning, with a DeepRacer league and classic arcade games on offer too. Food, drink, and networking will take place post-conference.
Tickets are £64.49, though to make the event as inclusive as possible, a number of free tickets will be available for students and those new to AWS.
AWS re:Inforce
June 30 – July 1, 2020
Houston, TX
A two-day AWS conference dedicated solely to cloud security, AWS re:Inforce is a must for any cloud security professionals and businesses who want to learn more about security, identity, and compliance.
AWS Summit – San Francisco
April 14, 2020
Moscone Convention Center, San Francisco, CA
AWS Summit comes to San Francisco.

AWS Cloud Containers Conference 2020
July 9th, 2020
Online
The first-ever AWS Cloud Containers Conference (C3) will take place online in July. This day-long virtual event will be packed with technical deep dives, demos, and workshops covering the latest features and developments from products like Amazon ECS, Amazon EKS, AWS Fargate, Amazon ECR, and AWS App Mesh. The AWS Containers team will also be streaming live on Twitch throughout the event so you can pitch any questions you might have.
AWS Healthcare and Life Science Web Day
July 9th, 2020
Online
Also taking place on July 9th is the AWS Healthcare and Life Science Web Day. A full day of online talks and seminars, the event will highlight how healthcare and life science organizations are using AWS to fast-track research and reimagine patient care, while also keeping their clinical and operational processes ticking over during this challenging time in global healthcare.
Hybrid 2.0: Cloud Native Anywhere Powered by AWS Outposts
July 9th, 2020
Online
Delivered by Rackspace subsidiary ONICA, this webinar will explain how hybrid cloud computing is being redefined in this increasingly cloud-native era. It will also discuss how businesses can leverage the power of hybrid through AWS Outposts, a service that brings fully managed AWS infrastructure and AWS services on-premises, as the ONICA team talk you through some real world use cases and best practices for making the most of hybrid.
Cloud Financial Management Peer Connect
July 15th, 2020
Online
In this peer-focused interactive webinar, AWS customers can connect with others to share impartial opinions, ideas, and tips on AWS cost management and optimization. Throughout the two-hour event, you can also hear from AWS customers Hearst, S&P Global, and Thermofisher about their cloud financial management experiences and chat with peers about how to implement these best practices in your own business.
Driving Agility and Innovation in the Cloud with AWS Serverless
July 16th, 2020
Online
Join AWS Premier Consulting Partner Onica to find out how serverless can help businesses become more agile and innovate faster. Learn how to run code, not servers, and hear how AWS serverless technologies can increase scalability, improve reliability and reduce your costs, enabling faster time-to-market. You'll also hear some top serverless best practices to help get your off on the right foot, and hear serverless success stories from Onica customers.
From Insight to Action: AI/ML's Role in a New World of Retail

July 21st, 2020
Online
AWS and Advanced Consulting Partner Peak will be joined by a community of Retail and CPG leaders to discuss how retail businesses are navigating this fast-evolving global economy. At the core of the event will be how data and AI can be harnessed quickly and effectively to help retailers make more informed decisions, improve forecasting, and build more engaging, personalized customer experiences.
Quantify The Value Of AWS Migration With Benchmarking
July 21st, 2020
Online
In this event, AWS Cloud Economics experts will share insights from a recent benchmarking study on the benefits realized by over 1,000 AWS customers. You'll learn how benchmarking helps determine the value of your cloud performance relative to your competitors, and find out about the best way to use benchmarking data to bolster your cloud migration business case.
Modern Cloud Adoption: Reimagine Your Journey to the Cloud

July 21st, 2020
Online
When you move to the cloud, you can start innovating from day one. In this webinar, you'll learn how to utilize modern cloud adoption best practices that will take your business beyond migration to organization-wide, cloud-first transformation. Find out how to build out your cloud foundational footprint, optimal cloud-native migrations paths for your workloads including automated migration and migration-as-code, how to develop new cloud-native solutions on AWS, and how to improve the value of your data with data lakes, analytics, and machine learning.
AWS Manufacturing and Industrial IoT Web Day
July 22nd, 2020
Online
AWS experts and APN Partners are coming together to host this full-day virtual event for businesses in the manufacturing and industrial space. Packed with over 40 sessions, the event aims to demonstrate how AWS can securely optimize factory operations with its comprehensive set of edge to cloud solutions. The event will feature four tracks: Product and Production Design, Smart Factory Optimization, Industrial IoT, and Smart Product.
Accelerating your SAP on Cloud Journey  
July 22nd, 2020
Online
AWS and Deloitte present this webinar that aims to help you navigate your cloud journey in a secure, timely, and a cost-effective manner. Learn how to reimagine your entire enterprise and activate a new type of organization that's built to evolve, discover multiple paths to move and migrate SAP to AWS cloud, and hear about the Migration Acceleration Program (MAP) for SAP, featuring frameworks and investments to help you migrate and modernize SAP workloads on AWS.
Migrating MySQL To The Cloud – Non-profit Virtual Office Hours
July 23rd, 2020
Online
This event will showcase the ways in which non-profits can move their existing MySQL database to Amazon Relational Database Service quickly and effectively. You'll also learn about the benefits of Amazon RDS, such as automation of time-consuming administration tasks like hardware provisioning, database setup, patching, and backups.
AWS What's Next Livestream
July 30th, 2020
Online
Hosts Nick Walsh and Rob Zhu share recent launches and announcements from AWS, interviewing those in the know and presenting the latest products and features from the cloud platform.
Automating Production Level Machine Learning Operations on AWS
July 30th, 2020
Online
In this webinar, AWS Partner Onica will explore the challenges involved in harnessing the predictive power of data with machine learning models. You'll get an introduction to MLOps Foundations powered by Model Factory, learn about the gap between the Data Scientists and ML Operations, and witness a practical demo.
AWS What's Next Livestream
August 27th, 2020
Online
Hosts Nick Walsh and Rob Zhu share recent launches and announcements from AWS, interviewing those in the know and presenting the latest products and features from the cloud platform.

AWS What's Next Livestream
September 24th, 2020
Online
Hosts Nick Walsh and Rob Zhu share recent launches and announcements from AWS, interviewing those in the know and presenting the latest products and features from the cloud platform.
Nonprofit Virtual Office Hours: Deliver Web Content Faster
September 24th, 2020
Online
Learn how nonprofits can deliver web content faster like data, images, video, and applications. Delivering content faster will ensure a better experience for your constituents. Your traffic and applications will benefit through a variety of built-in protections, such as AWS Shield Standard, at no additional cost. You can also use configurable features such as AWS Certificate Manager (ACM) to create and manage custom SSL certificates.

AWS What's Next Livestream
October 29th, 2020
Online
Hosts Nick Walsh and Rob Zhu share recent launches and announcements from AWS, interviewing those in the know and presenting the latest products and features from the cloud platform.

Nonprofit Virtual Office Hours: Control Your AWS Costs
November 19th, 2020
Online
Learn how nonprofits can reduce the Amazon Web Services (AWS) costs for use cases such as monitoring and tracking usage to right sizing the services and control costs. Proper cost management will ensure that you are saving funds for your nonprofit. You'll learn how to track, control, and understand the underline costs drivers and usage trends using native AWS tools.
AWS re:Invent
November 30 – December 3, 2020
Las Vegas, NV
Despite the global pandemic, AWS re:Invent is still tentatively scheduled to go ahead in November. Here's the current line on the situation from AWS itself:
"AWS is closely monitoring developments related to COVID-19 and is following national and international guidance. Everyone's health and safety is our highest priority. AWS re:Invent 2020 is currently scheduled for November 30 through December 4 in Las Vegas, NV. We will provide updates about any changes to the event as they are available."
The biggest event in the cloud calendar, AWS re:Invent is a colossal learning conference for the global cloud computing community. Offering keynote announcements, training and certification bootcamps, over 2,500 technical sessions, a partner expo, and a notoriously quirky assortment of after-hours and social events.

Coming soon.
The latest insights from the AWS ecosystem.
The Jefferson Frank Salary Survey provides a unique insight into the Amazon Web Services community.