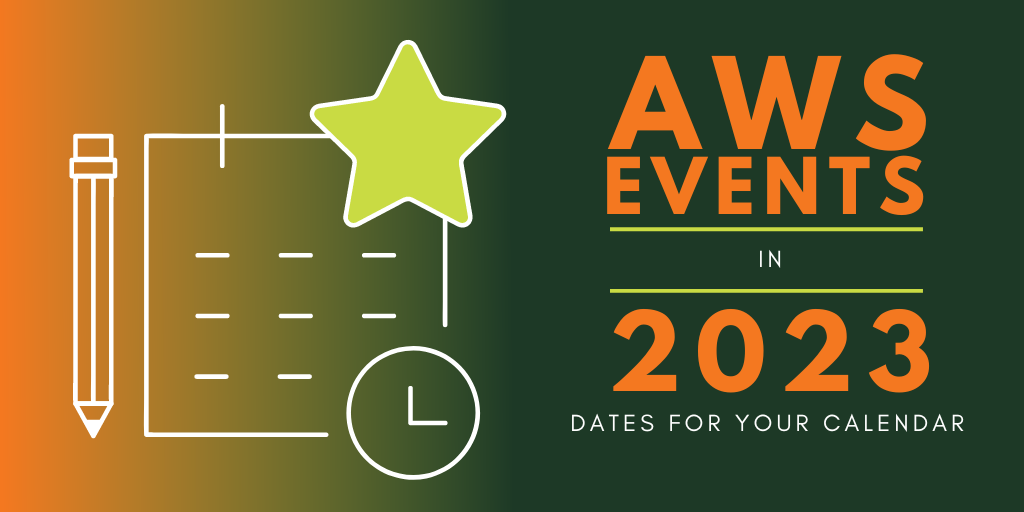 From major conferences like AWS re:Invent and cloud security-focused re:Inforce, to free community events like AWS Summit and AWSome Days, there's no shortage of opportunities to get together, learn, and network within the AWS community. 
To help you choose, we've rounded up all the important dates for your calendar, marking all the 'can't-miss' AWS events announced for 2023 so far.  
We'll be updating this post with new AWS events as and when they're announced throughout the year. So, if you've spotted an event—or are running one—that you think should be on this list, drop us a tweet at @_JeffersonFrank.   
AWS events calendar 2023

 

AWS Israel Community Day 
January 30, 2023 
Tel Aviv-Yafo, Israel  
After being side-lined for a few years due to pandemic restrictions, AWS Community Days finally return to Israel with a jam-packed day "from the community for the community". 
With an exciting selection of presentations and workshops — including a recap of re:Invent 2022, as well as a series of activities and talks on serverless, security, and more — the event will feature leading figures from across the AWS community, including Global Startup Advocate at AWS, Mark Birch.  
Organized and hosted by the Israel AWS User Group, the AWS Israel Community Day 2023 is free to attend but has limited capacity.  

AWS at MWC Barcelona 2023 
February 27– March 2, 2023
Barcelona, Spain
At the world's largest event for the connectivity industry, AWS will be among other giants of industry to exhibit ground-breaking products, demo new technologies and share inspiring thought leadership. 
Attendees will benefit from high-value inputs and perspectives from members of the AWS senior team, including CEO, Adam Selipsky, Senior Product Manager, Chris McKenna, and Director of Product Management, Amir Rao. A full list of relevant AWS sessions hosted across the event is available online.  

IMAGINE: Nonprofit  
March 14, 2023 
Washington, DC  
IMAGINE: Nonprofit is a conference presented by AWS that brings together non-profit leaders, purpose-focused technologists, and impact innovators. Focused on how technology can drive positive impact for both people and the planet, the one-day event takes place in Washington, DC this year, and is free to attend! 
Expect inspirational thought leadership sessions, mission-specific roundtables, and networking opportunities galore—perfect for those who want to know more about how tech can help them amplify their impact to make the world a better place.  
AWS Cloud Security Community Day  
March 17, 2023 
Mountain View, California 
The AWS Cloud Security Community Day will be hosted at Mountain View, California's Computer History Museum this year, bringing an extra-exciting day to an extra-exciting location!  
Featuring talks, technical and business discussions, workshops, hands-on labs, and networking led by expert users and industry leaders from all around the world, the day will inspire those from across the AWS community to learn, share, teach, buy, collaborate, and grow. 
The full-day event is free to attend (and even promises plenty of free food) and offers the chance for the community to form new connections, build on their existing ones, all while learning about the latest cutting-edge cloud security tools and practices. But the main mission of the day is simple: to help the AWS community involve itself in making the world a better place.  
AWS Public Sector Day 2023 
March 21, 2023  
London, England  
Helping public sector organization navigate the fast-paced, ever-changing world of cloud, the AWS Public Sector Day 2023 features keynotes, breakout sessions, hands-on workshops, networking hubs, and more. 
Taking place annually in London, this one-day event was previously known as AWS Public Sector Symposium London. It's intended to help the public sector accelerate its digital transformation and make sense of an increasingly complex tech landscape, so that it can develop new capabilities and build greater outcomes with AWS.  
Open to those in the public, voluntary, or education sectors, attendees can attend over 20 breakout sessions covering a wide range of topics, from AI and big data analytics, to digital transformation and skills empowerment.  

AWS Summit Paris  
April 4, 2023 
Paris, France
AWS Summit reaches the French capital in April, offering the opportunity to hear from AWS leaders, experts, partners, and customers.
With over 100 sessions to choose from, including technical breakout sessions, demonstrations, hands-on labs, and team challenges, the event at the Paris Convention Center is a must for anyone in the area!
AWS Community Day Nordics
April 20, 2023  
Helsinki, Finland
This free full day event is 'organized by the community – for the community', and is intended to promote AWS users in the Nordic region to come together and network, learn from together, and be inspired.
Taking place in Nordea Vallila Campus, attendees will learn best practices and latest trends for deploying applications on AWS, with a peer-to-peer learning experience and talks delivered by expert AWS users from the community – including AWS User Group leaders, AWS Community Builders, AWS Ambassadors and AWS Heroes.

AWS Summit Berlin  
May 4, 2023 
Berlin, Germany
Germany's AWS Summit day will be hosted at STATION in Berlin, with the free event promising attendees the chance to discover how the cloud is accelerating innovation for businesses of all sizes.
Advertised at both veteran AWS enthusiasts and new users, the day offers attendees the chance to develop new AWS skills through an exiting selection of over 100 sessions, including the chance to get hands-on with interactive workshops.
The day will also feature talks from AWS experts, including an opening keynote speech from Vice President and General Manager of Amazon S3, Kevin Miller.
AWS Summit ASEAN – LIVE in Singapore   
May 4, 2023 
Marina Bay Sands, Singapore
AWS Summit ASEAN returns to an in-person event for the first time since 2019, once again bringing the Southeast Asian cloud community together to connect, learn and build the future of the cloud.
The one-day event from the Sands Expo & Convention Centre offers attendees the chance to hear first hand from AWS experts on the latest products, services, and best practices, including exciting keynote speeches from senior AWS leaders. In addition to breakout sessions, discover experiential zones, lightning talks, workshops and more, attendees can also hear from AWS customers and industry leaders who have successfully built solutions on AWS across the region.
In short, this is one that should be marked on the calendar for anyone in the Southeast Asian AWS community, whether you are new to the cloud or an experienced user.
AWS Summit Stockholm  
May 11, 2023 
Stockholm, Sweden 
AWS Summit Stockholm offers the AWS community in Sweden and the Scandinavian region the opportunity to discover real-world success stories, cloud innovations, advances in AWS technologies and much more.
With over 50 sessions, the chance to meet and network with the AWS community, 1:1 sessions to quiz AWS experts, keynote speeches, and training opportunities from leading AWS experts (to name just a few!), the event promises to expand your horizons and inspire you to get more out of AWS.

AWS Summit Amsterdam   
June 1, 2023 
Amsterdam, Netherlands 
After a three-year absence, AWS Summit Amsterdam returns in 2023 and looks set to be bigger and better than ever before!
Hosted at the RAI in Amsterdam, the free one-day event will feature over 50 sessions, including talks, tangible demonstrations, interactive workshops and more, that cover a wide range of topics from new services and architecture to performance and operations.
No matter if you're just getting started with AWS or you're an experienced and proficient user attendees are guaranteed to learn something new at the AWS Summit Amsterdam.
AWS Summit London  
June 7, 2023 
London, England 
With over 80 sessions available on everything from AI/ML and Analytics to digital transformation and more, the highly anticipated AWS Summit London promises something for everyone when it returns in 2023. 
Looking set to be bigger and better than ever before, the free event intends to bring the cloud computing community together to connect, collaborate, and learn about AWS. Suitable for technologists from all industries and skill levels who want to expand their knowledge of AWS, the day will feature exciting keynote speeches from senior experts in AWS.

AWS Re:Inforce 
June 13-14, 2023
Anaheim, California 
AWS re:Inforce is a popular annual event where AWS leaders, builders, and experts come together to celebrate the latest advancements in AWS security, compliance, identity, and privacy solutions.  
In 2023 the event will be hosted in California, and is a must for managed security services providers, cybersecurity software companies, cybersecurity professionals from private and public sector organizations, and cloud security and risk mitigation consultants, from across all AWS environments.  
AWS Community Day Midwest 
June 15, 2023 
Chicago, Illinois 
The annual AWS Community Day Midwest takes place in Chicago this year, returning for its fifth year. The one-day AWS technical conference is user-run, with AWS user group community leaders planning, organizing, and delivering the event.  
Across the Community Day, the passionate group of volunteers leading the event aim to promote the exchange of information amongst the AWS user community, making market-leading knowledge more accessible and better understood.  
The day will feature a number of insightful talks and presentations from fellow AWS users sharing their expertise with peers, making this event a must-see for anyone in the AWS community Midwest who's passionate about accelerating their professional development.  

Coming soon.
Coming soon.

AWS Community Summit MCR 2023
September 28, 2023 
Manchester, England
The AWS Community Summit returns to Manchester in 2023, hosted this year at Victoria Warehouse.
With over 30 talks and sessions from leading figures in the AWS community, the day promises the chance to eat, drink and discuss the day's events with over 600 attendees from across the AWS community.
From learning from some of the community's most exciting leaders to networking with novice and veteran peers, the day is a can't-miss for anyone in the area. And better yet, free tickets are available for students and anyone in the early stages of their careers (self certified).

Coming soon.

AWS Re:Invent
November 27-Dec 1, 2023
Las Vegas, 
Nevada 
The annual learning conference returns in 2023 from Fabulous Las Vegas, Nevada, welcoming thousands of developers, engineers, system administrators, systems architects, IT executives, and technical decision makers from across the cloud ecosystem.
Featuring keynote announcements, training and certification opportunities, access to 1,500+ technical sessions, the Expo, after-hours events, and much more, Re:Invent is one of the most transformative event in tech, offering the AWS community an unmissable opportunity to meet, get inspired, and rethink what's possible.

Coming soon.
The latest insights from the AWS ecosystem.
The Jefferson Frank Careers and Hiring Guide: AWS Edition provides a unique insight into the Amazon Web Services community.