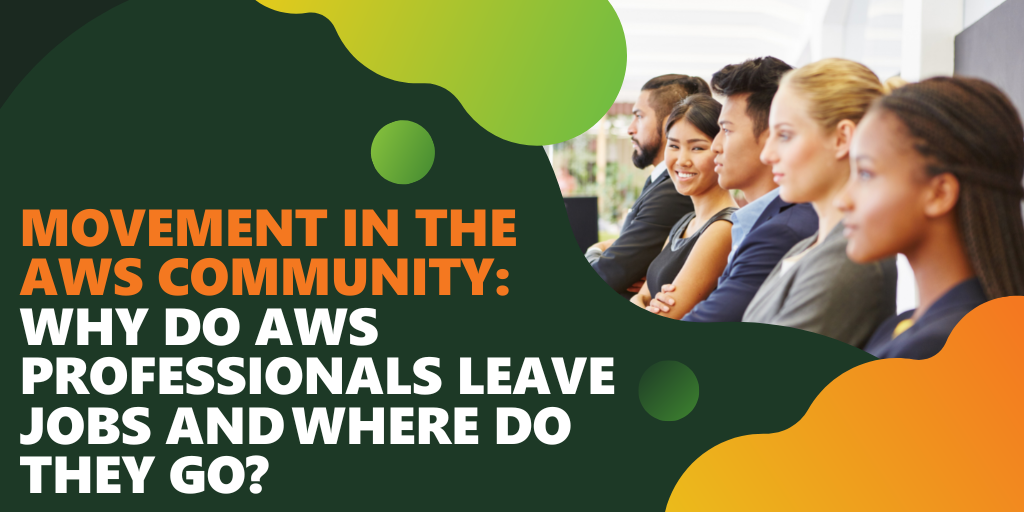 Amidst The Great Resignation and an ever-pressing talent crisis, there's been a whole lot of movement in the AWS community over the past few years.
And this movement looks set to continue; according to The Jefferson Frank Careers and Hiring Guide: AWS Edition, with almost a quarter (24%) of AWS professionals reporting that they are actively looking for a new position, and a further 13% planning to leave their role but not currently job hunting.
This leaves employers, hiring managers, and community leaders with questions: namely, why are AWS professionals on the move and, just as importantly, where are they moving to?
Finding the answers may just be the secret to winning the race for talent by better understanding how to attract and retain the best AWS professionals.
Why do AWS professionals leave their jobs?
When we asked AWS professionals in our Careers and Hiring Guide what attracted them to their current role, responses could be summarized by the following themes:
Opportunities for career growth
Personal development opportunities
The chance to work in a challenging role
The chance to learn a greater range of skills
The chance to pursue a better cultural fit
Ability to escape a toxic work culture
But with some many professionals moving within the AWS community, it's clear that these motivating factors don't last. So what changes?
1. The promise of a higher salary
Predictably, salary plays a very influential role in whether an employee chooses to stay or go, and with such high rates of pay being offered to specialist tech talent, it's little surprise that the AWS community is no different.
Our Careers and Hiring Guide found that almost a fifth (19%) of AWS professionals are dissatisfied with their current salary, citing the following reasons:
"My salary is not in line with the industry standard and I'm earning below the market rate."
"I undertake responsibilities beyond my current grade and position but I'm not being compensated for it."
"I feel undervalued for the work that I do."
Over half (53%) of AWS professionals report that a lack of salary increase/earning increase motivates them to consider a new role. And when considering that 76% of talent who moved jobs in the past year experience an increase averaging 25% to their pay packet, it's clear to see where the first problem lies: if you don't pay out for your top talent, it's likely somebody else will.
2. Not enough learning and development opportunities
Your best employees are enthusiastic about their own learning and development. Especially in rapidly-evolving technologies like AWS, talent is eager to continually upskill and grow – and in many cases, this training and development is essential to futureproofing their careers (and your organization's cloud strategy!).
Yet despite this, just over half (54%) of AWS professionals reported that they were satisfied with the learning and development currently being provided to them. Though financial compensation is always important, we're increasingly seeing training and development mentioned by candidates among the top reasons they're looking to change roles.
Candidates are most eager about training and development in the following areas:
AWS-specific technical training (including certifications)
Machine Learning and AI
Advanced technical training (including implementation, coding and scripting)
Change management
Data science
Databases, SQL and containers
DevOps and Big Data tools (including Python, Java and Kubernetes)
Management training
Cloud security
3. A lack of career progression
AWS professionals aren't just eager to develop their skills and expertise; they're also passionate about progressing their careers.
But again, it appears that many employers are falling short in this area, with little over half (53%) of respondents reporting that they're satisfied with their current career progression.
Candidates are putting growing emphasis on finding roles that support and facilitate their professional development, meaning professionals without clear career progression routes are being driven to look elsewhere.
If an organization leaves its AWS team wondering what their next steps are, it's likely they'll take those steps somewhere else.
4. More perks on offer elsewhere
As organizations get caught in bidding wars for top talent, it's AWS professionals who are coming out on top.
Candidates are taking advantage of the AWS skills gap, leveraging the high demand for their skillset to get more from each offer they receive—not just financially, but with work perks and benefits, too. In fact, 85% of permanent employees tell us that, salary aside, workplace benefits are important when deciding whether or not they will accept a job.
When we asked candidates what perks would entice them to accept or consider a new role, the top five responses were:
4 weeks or more paid time off (36%)
Monthly/bi-annual/year-end bonus (32%)
Homeworking (29%)
Flexible working hours (23%)
Health/medical insurance (20%)
With homeworking and flexible hours both sitting high on the agenda, it's clear that many professionals enjoyed the newfound freedom and flexibility of working arrangements throughout the pandemic.
So much so, in fact, that 82% of AWS talent tell us that the ability to work remotely remains influential in their overall job satisfaction, with 45% of those looking to leave their employer within 12 months unlikely to accept a role that involved working in an office five days a week. If your organization is pulling employees into the office unnecessarily, you might be driving some of your top talent away.
5. Suffering from burnout
Burnout can be defined as a feeling of exhaustion, inefficiency, or stress experienced as a result of being overworked. Unfortunately, this problem is becoming increasingly prominent in the AWS community, leading many professionals to reconsider their roles in favor of more enjoyable working environments.
While 37% of permanent AWS professionals experienced burnout pre-COVID, this was undoubtedly accelerated by the pandemic, with 43% of respondents experiencing burnout during this time.
6. No job satisfaction
All of these factors contribute to overall job satisfaction, which is undoubtably the biggest motivator in whether an employee changes roles.
While 64% of respondents agreed that they had overall job satisfaction, this leaves over a third of the community (36%) either dissatisfied or unsure about their job fulfilment. It's clear, then, that there's plenty still to be done.
From a positive work-life balance to new challenges day-to-day, job satisfaction can be dictated by a range of factors that will differ between candidates. Understanding which factors are most important to your team is the first step in improving employee job satisfaction (and your retention rates as a result).
This being said, a positive company culture is fundamental to the job satisfaction of every professional. Talent is rightly placing greater importance on the culture of their workplace, expressing a desire to work for an organization that shares their values and engages positively with its employees. If you're not developing an internal culture where everyone feels safe and valued, you can't be surprised when employees want out.
The ultimate resource on careers and hiring trends in the AWS community.
The Jefferson Frank Careers and Hiring Guide: AWS Edition provides a unique insight into the Amazon Web Services community.
Where are AWS professionals going?
Understanding why AWS professionals are leaving their jobs is only half the puzzle. With so many opportunities available, and new positions opening up every single day, candidates are overwhelmed with options. But if talent is moving across the tech sector and AWS community, where exactly do they end up? 
With near limitless career potential, AWS professionals have the privilege of exploring all paths before deciding on which is right for them. As a result, talent isn't always sticking with what's familiar; end-user professionals are moving to partner organizations, partner employees are moving to end-users, and permanent employees are making the switch to freelance and contractor work, and vice versa.   
Partner employees
Our Careers and Hiring Guide found that a significant 65% of professionals currently working for an AWS Partner would consider the move to an end user. When asked what factors encouraged them to take the plunge, respondents told us:  
Better work-life balance (56%)

 

Ability to work remotely (54%)

 

More stability (42%)

 

Better career progression opportunities (41%)

 

Possibility to develop skills across different AWS products (41%)

 

Better training and learning opportunities (39%)

 

Ownership over a project/system (31%)

 

Better benefits (29%)

 

Less stress (27%)

 

Less travel (25%)

 

More consistency (22%)

 
Many of these factors likely come as little surprise to those with experience in fast-paced, client-facing partner environments. These projects can often require longer working hours and frequent travel to client sites, negatively impacting job satisfaction and flexibility as a result.  
End
–
user employees 
Over three-fifths (64%) of end– user employees in our Careers and Hiring Guide would consider working for an AWS partner — a near identical proportion to the amount of partner employees considering a move the other way.  
Factors cited as most likely to attract end– user employees to a role with a partner include: 
Higher earning potential (80%)

 

Opportunities to expand on skills, knowledge, and experience with AWS products (79%)

 

Professional development (72%)

 

Ability to work on a diverse range of projects (62%)

 

Chance to tackle different challenges (50%)

 

Scope to make better use of my skills (46%)

 

The chance to work with a variety of organizations (44%)

 

Flexibility in lifestyle (36%)

 
With 8 in 10 professionals eying up a higher earning potential as a partner employee, it's safe to say that money still talks in the AWS community.  
But again, the importance of personal and professional development opportunities shouldn't be understated, with end– user employees ranking these motivations second and third respectively. Sure, higher earning power is the primary motivator, but partner organizations who can't pay the big bucks should consider providing training, funding certifications, and allocating resource to development in a bid to attract end user employees exploring new paths in the AWS community.  
Contractors
Just a third (33%) of freelancers in our Careers and Hiring Guide would consider switching to a permanent role in the coming year, citing the following reasons:  
Job stability and security (64%)

 

A competitive salary (64%)

 

Career progression opportunities (64%)

 

A stable income (57%)

 

Valuable work/feeling like your work will make a positive impact (50%)

 

A generous benefits package (43%) 

 

Remote working options (43%)

 

Flexible/agile working (43%)

 

Company culture/shared values (36%) 

 

A senior role with more responsibilities (36%)

 
It's unsurprising to see job stability and security as the most popular motivator tempting freelancers into permanent AWS positions. In fact, of the 39% of permanent employees that wouldn't make the switch to freelancing, over half (54%) cited this extra assurance and job security as their reason why.  
And with just over a third (36%) of permanent professionals telling us that they would consider switching to freelance/contract work within 12 months — significantly fewer than the amount considering a move to another permanent positions — it's clear that organizations can benefit from the business of movement in the AWS community.  
So what're you waiting for? Here at Jefferson Frank, we're proud to add over 12,000 qualified AWS professionals to our unrivaled database each year, meaning whether it's a contract, permanent or remote position, we've got the candidate for you. Upload your job today.  
Looking for top AWS talent? We make it easy.
Begin by browsing our extensive collection of skilled AWS professionals today.