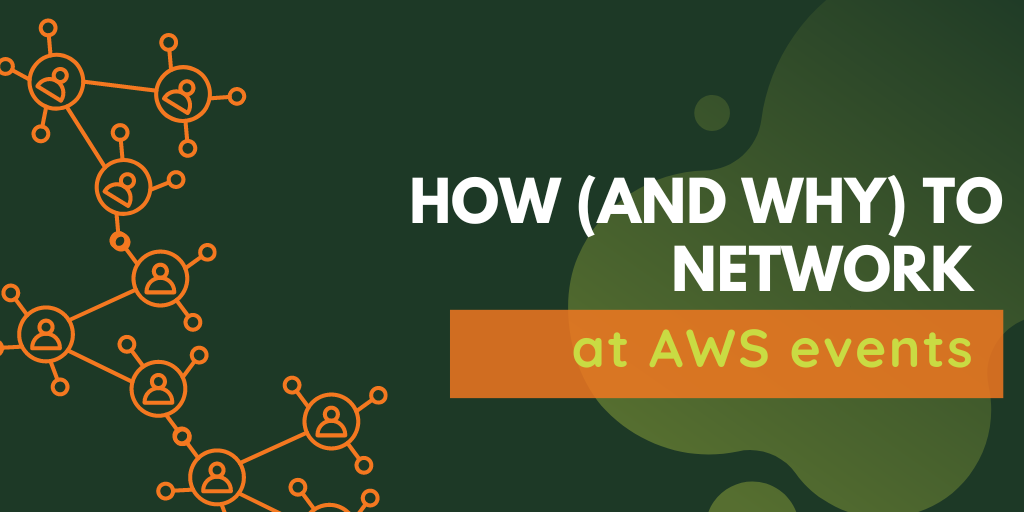 It's hard to avoid the word 'networking' in today's professional world.  
Building a social network of business interactions and relationships has become all the rage, with the emergence of LinkedIn revolutionizing its popularity and potential.    
And while 'putting yourself out there' to grow a professional network may not be everyone's favorite activity, the fact remains: networking is important.  
Events offer perhaps the best opportunity for professionals to build a network in-person. In fact, most of the AWS events in the calendar are built around the ethos of the community networking, educating, and inspiring one another—whether it's a local user group meet-up or an international annual conference.
Networking at events doesn't just mean attending dedicated networking events (although these, of course, do serve their purpose). There's networking potential at any AWS conference, talk, lecture, presentation, exhibition…we could go on!  
So with 42% of respondents in the Jefferson Frank Careers and Hiring Guide: AWS Edition telling us that they plan on attending an in-person event this year, we thought we'd offer a helping hand. In this post, we're showing you how (and why) to get the most out of  your next AWS event by coming away with valuable network of like-minded professionals.
Why networking is important for AWS professionals
More job opportunities 
With the skills gap creating an influx in demand for cloud talent that remains unfulfilled, it's safe to say that AWS professionals have plenty of options on the job market already.  
But with research showing that 7 in 10 jobs are not advertised publicly and as many as 80% of jobs being filled through personal and professional connections, networking can help tech professionals open the doors to a larger variety of opportunities.   
Our Careers and Hiring Guide demonstrates just how important career progression is to the AWS professional, with a third (32%) of those surveyed reporting that a lack of career and promotional prospects would motivate them to consider a new role.  
While networking isn't an absolute necessity for AWS professionals who are stepping into the job market, it can be an effective way to increase the amount and variety of opportunities available to you, maximizing your potential for career progression in a role that will feel most fulfilling, as a result.  
Of course, the benefit for contractors is a little more black-and-white: networking is a super-impactful way for freelance AWS professionals to expand their client base.  
Networking can also benefit your career development longer term. By having more opportunities available to you, you'll be able to gain greater exposure to a greater variety of projects — experience that 83% of respondents in our Careers and Hiring Guide found important in influencing an AWS professional's earning potential.   
More learning opportunities  
That's not to say that networking is only valuable to AWS talent on the move. Building a professional network also benefits the 48% of AWS professionals in permanent positions who expect to be working for the same employer in a year's time, according to the guide. 
The bigger your professional network is, the greater your exposure to new ideas, new conversations, new perspectives, and new information on all things AWS. Being active in the community is an invaluable way to build your knowledge and hone your skillset—and in such a rapidly evolving industry, it's crucial to keep your finger on the pulse!  
Right now, just 59% of AWS professionals are satisfied with their training and development, but by organically building knowledge from the forefront of industry conversations, you'll be able to learn more and upskill faster, making your training and development go further.  
Whether this translates into additional AWS certification or an improved proficiency in your work, employers value talent who are enthusiastic about bringing more to the table and will likely reward you, as a result.  
More soft skills  
Networking can also help you to build and strengthen a desirable set of soft skills, including: 
Confidence:

social interaction is

Networking 101. Though this can understandably be daunting for some professionals, the more you network, the more confident you'll become in reaching out to contacts, partaking in conversations, asserting your ideas, and being proactive in making your voice heard. 

 

Communication:

growing your professional network requires plenty of back-and-forth interaction, and this can help to strengthen your communication skills. This doesn't just mean that you're more comfortable with conversation openers and small talk (although this can be pretty useful, too!), but also that you're able to communicate important or complex ideas in a clear and comprehensive way. And better yet

—

the more variety you achieve in your professional network, the stronger you will become in communicating with a wider range of audiences, with varying levels of technical knowledge. This is invaluable in any AWS role where you must work with a range of stakeholders across tech and non-tech teams. 

 
The ultimate resource on careers and hiring trends in the AWS community.
The Jefferson Frank Careers and Hiring Guide: AWS Edition provides a unique insight into the Amazon Web Services community.
How to network at an AWS event
The best way to build your professional network offline it to attend events. And off the back of the pandemic, many industry events have become a great way to build a network virtually.  
A report from Great Business Schools found that only 39% of professionals socialize more online than offline, meaning that the majority on meaningful connections are still made in person. That being said, our Careers and Hiring Guide found that three-quarters (74%) of the AWS community planned to attend an online/virtual event this year, compared with just 42% who planned to attend in person.
Whether you prefer to attend online or in-person, AWS events still hold a tonne of networking potential.
How to network at in-person events
There is often plenty of opportunity to network at events of all types, whether it's dedicated breakout sessions or simply at lunch or breaktimes.
Approach confidently
The first step is to be confident in approaching other attendees—don't expect them to come to you!
Prepare by asking yourself, 'who do I want to network with?'—this might be prospective employers, clients, mentors, or peers you want to connect with. While this helps to give you some direction, remember that every interaction you have at an event is valuable. After all, all attendees are a part of the community, meaning everyone has something to teach everybody else.
Some people can understandably find approaching other attendees daunting, so don't be afraid to come prepped with some conversation starters. Effective conversation starters when networking at events include:
Have you enjoyed the event so far?
Are you familiar with any of the speakers?
Who do you work for/what is your role?
What brought you to the event?
Keeping it relevant to the event helps to relieve some of the initial awkwardness, and once you've successfully used these a few times, you'll find yourself becoming more confident in approaching others.
Ask questions
Asking questions is a great way of ensuring the conversation keeps flowing, and helps to build stronger relationships with those you converse with. It's likely they'll reciprocate and ask questions of their own, meaning this is a great chance to tell them all about you, too.
This can be particularly effective when introducing yourself to someone more experienced, helping to strike more meaningful and valuable conversation. Of course, in addition to networking, asking questions also presents the chance to learn—so make sure your questions are purposeful! 
Don't make each interaction an interview, however. Really listen to the answers they're giving, and tailor your questions accordingly. Is there something they've said you'd like to know more about? Have they touched on an area of your own experience or expertise? These are both examples of great opportunities to follow up after your initial interaction, turning it into a longer-term relationship that forms part of your wider network.
Follow up
Following up is networking 101, so be sure to seek contact details for anyone you strike a rapport with— an email address and social/LinkedIn account would be best!
Try to follow up within the first 24hrs of meeting someone, as this demonstrates that you're enthusiastic about keeping in touch and ensures you're still in their memory (the truth hurts!). Be sure to personalize your follow-up message—sending a generic, templated message is sure to undermine the authenticity of your approach. 
How to network at virtual events
It can be a little harder to network effectively at virtual events, but that's not to say they don't offer a chance to meet and interact with other members of the community. 
Jump on hashtags
Searching event hashtags on relevant social platforms like Twitter and LinkedIn is a great way to discover other attendees and find out their thoughts.
Don't be afraid to jump in and join the conversation by commenting on the content they're sharing around the event, as well as being proactive in sharing your own hashtagged content to help others find you too! Be sure to reply to any comments and messages you get—it's all about turning those interactions into relationships. 
Utilize the chat
Some virtual events will have a live chat where attendees can ask questions and, in some cases, create breakout rooms to chat with others.
Be sure to utilize this function when it's available, asking meaningful questions and striking up purposeful conversations with other attendees to find a wave of like-minded attendees eager to expand their network too.
Polish up your accounts
It pays to polish up your social platforms when networking at virtual events. One of the main advantages of networking online is that your account does the initial work for you—it tells people who you are, what you do, and what you know! 
As a result, providing your accounts are appropriately optimized to showcase you and your expertise, others will be more inclined to reach out or respond. This is particularly useful when getting involved in  conversations around the event on socials, or when moving connections formed on live chats over to other platforms.
A list of upcoming events and webinars from AWS can be found on the AWS site.   
On the lookout for great jobs in AWS?
Register today and get the latest jobs sent directly to you inbox.