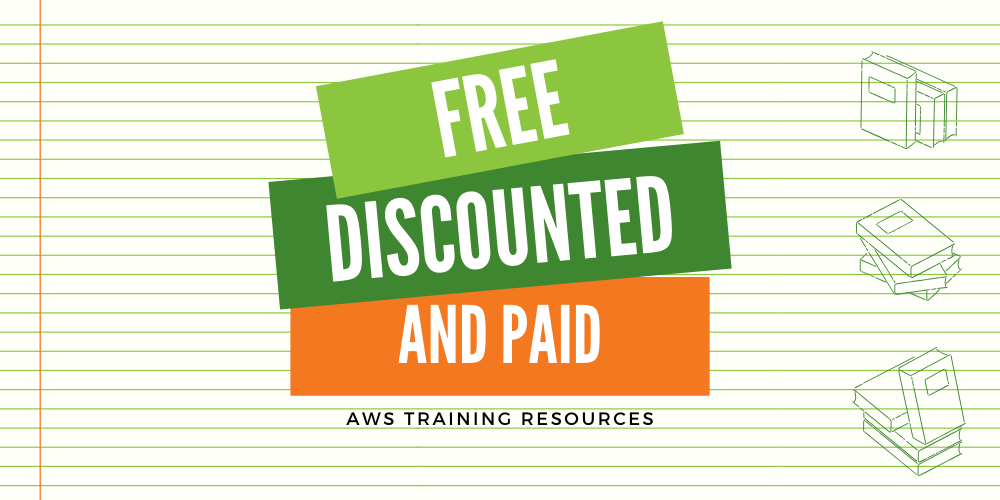 Looking to boost your AWS know-how? You're in the right place.
Whether you're searching for a new role, have recently been furloughed and want to use your time to develop your skills, or you're an AWS customer interested in bolstering your users' cloud abilities, there's no shortage of AWS training resources out there to suit every budget.
Let's take a look at some paid, discounted, and free AWS training to help you start upskilling right now. We've highlighted some great AWS courses for you to tackle, as well as some of the fantastic expert instructors whose training content will help you on your development journey.
This is by no means a definitive list, so if you've come across any great AWS training or learning resources, drop us a tweet and we'll add it in!
Free AWS training
AWS Learning Library
AWS itself offers an enormous collection of training and education content that can be accessed for free and consumed at your own pace, and the AWS Learning Library is an excellent place to start.
A digital treasure trove of e-learning, here you can find over 370 bitesize courses that can be filtered by theme, role, and skill level: there's something for everyone here.
The courses range in length from a few minutes to several hours, so you'll always have time to squeeze a few in on the fly, and are delivered either through e-learning content or video.
To help you get the most out of your personal development, AWS has created several learning paths that group together relevant courses.
Some of these paths are role-based, designed to help you build the skills needed to advance your career.
Others are solution-based, focusing on developing your ability to use and deploy specialized AWS services like advanced networking, databases, storage, or machine learning.
It's worth bearing in mind that some of these learning courses recommend paid, classroom-based courses; obviously, these are off the table for the moment, but there's plenty of other digital training contained within them to get you started.
Free AWS courses on Udemy
Udemy offers many of its AWS courses for free. Here are just a few of the most highly rated options.
Free AWS courses on Coursera
Coursera courses are free to view. You will need to pay if you want to take the quizzes and earn certifications, though.
You can pay for these on an individual basis, or sign up to Coursera Plus for $399 a year. This subscription can be canceled at any time, so the faster you learn, the more you save.
---
Top Coursera tutors
---
Free AWS courses on Linux Academy
Despite its paid subscription option, Linux Academy offers several Community Editions of its AWS courses for free.
Currently, you can get access to seven of these without charge. There are a few foundational courses covering the essentials for beginners, and some on more niche topics.
Many run upwards of 12 hours of content, all for free, so they're worth a look.
Free courses on A Cloud Guru
To give you an idea of the sort of thing you can expect from A Cloud Guru's courses, it offers a one-hour introductory course free of charge.
Free AWS video courses from ExamPro
AWS Community Hero and creator of freeCodeCamp Andrew Brown has been publishing a mix of free and paid AWS learning materials for current and aspiring AWS professionals alike over the last few years.
Alongside freeCodeCamp's online courses, Andrew's ExamPro YouTube channel has almost 800 videos covering a range of technical problems you might encounter on the job, as well as practical advice on how to register and prep for AWS certification exams. These videos are thorough. No, really thorough. Between the Cloud Practitioner, Solutions Architect, and Developer certification videos there's 25+hours of free learning materials!
The ExamPro website also offers an assortment of cheat sheets, flashcards, study guides, and quizzes covering the different AWS cloud certification paths, which you can buy for a discounted price.
Discounted AWS training
WhizLabs
WhizLabs is an online training provider specializing in certification training and preparation.
There are 17 AWS options available; one covering each of AWS's official certifications plus a handful of deep dives into various specialist topics.
Courses include extensive learning content encompassing the syllabus of each certification, hands-on labs to give you under-the-hood experience of AWS products and services, and practice exams to help you get ready to sit your big test.
Pricing
Depending on the certification involved, WhizLabs training courses usually sit between $30 and $100, with practice exam packages available for around $25 to $50 extra. Though their courses are paid, WhizLabs is currently offering 50% off its entire curriculum.
Udemy
There are more than 3,000 AWS courses for all levels on Udemy, from wide-ranging introductory courses to product deep-dives and certification exam prep.
Pricing
Udemy's paid courses tend to cost around $40, but they're almost always heavily discounted in some way: if you see one you like that's not on offer, it's worth signing up for email alerts, as it likely won't be long before the price comes down. There's also a 30-day money-back guarantee if your chosen course isn't what you're looking for.
---
Top Udemy tutors
---
Educative
Educative is an online training platform for all kinds of coding skills. Educative's courses are text-based and are peppered with embedded coding environments, so that users can practice what they've learned and get practical experience.
Most of Educative's content is language-specific rather than product-specific, though there are a handful of explicitly AWS-related courses which we've noted below.
For those interested in developing on or for AWS, however, Educative remains a great shout thanks to its extensive content on programming and development topics.
Pricing
There are two ways to purchase training with Educative: courses and learning tracks can be bought individually, or you can buy a subscription that gets you access to all its 140+ courses for a flat monthly fee of $18.71.
---
Top Educative tutors
---
Paid AWS training
LinkedIn Learning
Formerly known as Lynda, LinkedIn's wide-ranging training brand LinkedIn Learning is packed with AWS courses and learning materials. To date, there are over 100 courses and more than 3,000 video tutorials designed to help sharpen up users' AWS skills.
Courses are produced by AWS professionals and experts, with options for technical and non-technical cloud users alike.
Pricing
LinkedIn Learning works on an all-you-can-learn basis, with access to all courses available for $29.99 per month or $299.88 for the year if paid annually.
---
Top LinkedIn Learning tutors
---
Simplilearn
Simplilearn offers a handful of AWS courses. Most are role-focused, with content specific to teaching skills involved in certain AWS job roles like Solutions Architect or Big Data Engineer.
You can choose to take a course, or opt for a Master's Program, which is a bundle of courses related to a particular role or topic:
AWS Cloud Architect (5 courses)
Cloud Architect (11 courses)
Big Data Engineer (13 courses)
There are also some free resources you can grab through Simplilearn, too: the site hosts more than 200 articles, ebooks, and video tutorials on AWS that you can enjoy at your leisure.
Pricing
Courses on Simplilearn are priced individually, ranging from a few hundred dollars for foundational classes, while those that cover more advanced skills tend to be priced at $1,000+. Most courses can be done at your own pace by reading through the material, but there's also a premium version of many courses that includes online instructor-led training too.
---
Top Simplilearn tutors
---
Cloud Academy
Cloud Academy is a colossal online library of training courses covering all kinds of hands-on technical skills.
Their training is split up into learning paths, making it easy for you to know where to start and how to progress.
These paths don't just cover career-centric routes like skilling up for a specific job role or preparing for a certification, but also practical tasks such as migrating a business to the cloud.
There are currently 122 AWS courses, set along 38 learning paths that cover all levels from foundational, introductory knowledge to advanced specialisms like security and machine learning.
Most of them are less than sixty minutes long, meaning they're super digestible and easy to squeeze into your day.
Pricing
Individuals can get access to the library, which boasts more than 10,000 hours of training materials and practical labs, for $49 a month.
---
Top Cloud Academy tutors
---
A Cloud Guru
A Cloud Guru is an online learning platform that mixes fun, hands-on digital learning with video and labs, that give you first-hand experience with real AWS products.
A Cloud Guru was born from one AWS professional's discontentment with the dull, expensive AWS training on the market, and aims to make AWS both accessible and enjoyable to learn about.
Choose from more than 40 courses ranging from absolute beginner-level knowledge to specialties that cover everything from cost optimization and best practices to scaling Docker containers and working with Dynamo DB.
There's also prep courses for each of AWS's 11 certifications if you're planning on taking on an exam.
A Cloud Guru also offers labs that walk you through tasks like setting up AWS CLIs and guided projects that teach you how to build cool things on AWS.
Pricing
Pricing for individuals starts at $49 per month, dropping to $31.58 if paid annually.
---
Top A Cloud Guru tutors
---
Linux Academy
Linux Academy offers over 40 AWS courses, plus more than 300 hands-on labs, and 100+ practice tests for those gearing up to tackle certification exams.
Pricing
Pricing for individuals starts at $49 per month, dropping to $31.58 if paid annually.
---
Top Linux Academy tutors
---
Pluralsight
Pluralsight is a digital learning platform geared toward tech professionals. It offers a library of thousands of courses authored by more than 1,500 expert instructors.
There are currently more than 200 AWS-related courses on Pluralsight, with a good chunk of those aimed at intermediate level learners.
Pricing
$29 a month, or $299 for the whole year, gets you access to courses, paths, and skills assessments. If you want access to interactive courses, exams, and projects, it's $499, which covers you for 12 months.
---
Top Pluralsight tutors
---
Intellipaat 
Intellipaat is an online training platform that covers many aspects of cloud computing, and takes a career-focused approach to upskilling, offering 24/7 support for learners as well as help with resumes and interview prep.
Pricing
Intellipaat's AWS courses cost around $550 for 35 hours of instructor-led training, one-on-one support sessions, and lifetime access to course content.
---
ProjectPro
ProjectPro is a subscription-based platform that offers just-in-time learning and training courses, as well as easy-to-replicate code recipes, video tutorials, and project use-cases.
Pricing
ProjectPro subscriptions cost $279 for six months or $299 for the year.
---